/

/

/

6 healthy frozen and canned food you should be buying
6 healthy frozen and canned food you should be buying
By:
St. Luke's Health - The Woodlands Hospital | Published 02/10/2022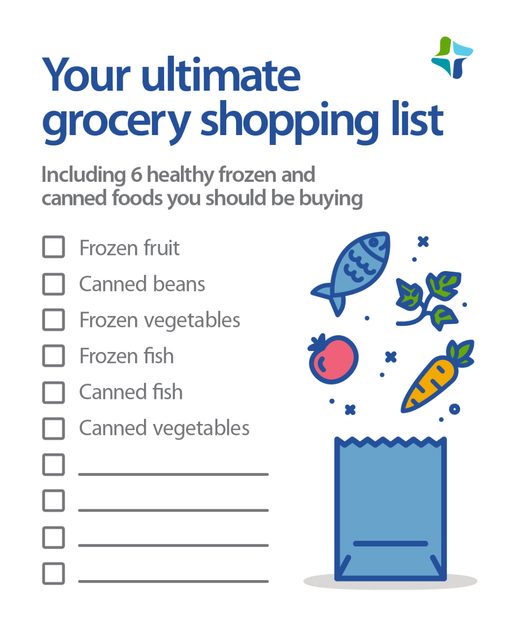 Finding and preparing healthy meals aren't entirely hinged on having fresh food and produce. Frozen and canned foods may get a bad rap, but they can also be as nutritious as their fresh counterparts and are more affordable and accessible all year round. Here are some of the healthiest frozen and canned foods you can buy:
Frozen fruit
Canned beans
Frozen vegetables
Frozen fish
Canned fish
Canned vegetables
Read on to learn more about each item and tips on how you can choose frozen and canned food options wisely on your next grocery run.
Frozen fruit
Of the healthy frozen foods, fruit is the most widely available. Frozen berries, for example, are harvested and packed at peak season, maintaining their nutritiousness once they are frozen. Compared to their fresh counterparts, frozen fruits are also more affordable and can even be more nutritious, as fresh fruits lose their nutrients the longer they go uneaten.
When choosing frozen fruits, make sure they come as close to their natural form as possible. Here are some ways how to eat frozen fruit:
Blended into fruit ice pops
Fruit smoothies or milkshakes
Jams or compotes
On their own as frozen snacks
Canned beans
Beans and legumes are an oft-overlooked staple but are among the healthiest, nutritionally dense foods you can have in your pantry. They are packed with fiber and protein but are low in fat, making them an excellent option for people trying to lower harmful cholesterol levels. Here are some examples of canned beans to include in your meals:
Chickpeas
Black beans
Pinto beans
Red kidney beans
Lima beans
White beans
Frozen vegetables
Studies show that vegetables don't lose many nutrients when undergoing the industrial freezing process. Frozen vegetables can sometimes be a more convenient option, as fresh vegetables tend to have a shorter shelf life once harvested. Here are some healthy frozen vegetables you should consider stocking in your freezer:
Spinach
Asparagus
Broccoli
Peas
Carrots
Kale
Squash
Zucchini

A great way to prepare frozen vegetables is to thaw and roast them, throw them into hot soups, or blend them into sauces or smoothies.
Frozen fish
Fish is among the healthiest meats out there, but buying them fresh can come at a steep price. Frozen fish lose no nutritional value, and flash freezing is a common tactic used by fishers and fishmongers to keep their catch fresher for extended periods. Here are some examples of frozen fish you can buy:
Halibut
Tilapia
Pacific cod
Catfish
Walleye
Swordfish

When choosing frozen fish, it's ideal to avoid oily fish such as tuna, salmon, and sardines as they don't freeze very well. To prevent degrading the texture and flavor of frozen fish, make sure to thaw them properly by relocating them from the freezer to the fridge overnight or putting them in a resealable bag to submerge in a pot of cold water for an hour.
Canned fish
While oily fish is not ideally frozen, they preserve well as canned foods. They are an easy way to give your meals a boost of protein and Omega-3, not to mention they are affordable and can stay in your pantry for long periods. Here are some canned fish you can stock up on:
Salmon
Sardines
Tuna
Mackerel

Because some canned fish can contain a high amount of sodium or oil, you should always check the nutrition label for sodium content or opt for canned fish packed in water and not oil.
Canned vegetables
Canned vegetables are a fantastic and healthy alternative to keeping fresh vegetables on hand, especially when not all vegetables are available all year long. Some canned vegetables even present a more convenient way to consume your daily vitamins, as they are easier to prepare and integrate into busy schedules. Here are some of the healthiest canned vegetables you can buy:
Spinach
Tomatoes
Corn
Pumpkin
Peas
Green chiles
Olives
Beets
Not all frozen and canned foods are created equal, so it's always best to check nutrition labels when you're unsure. Avoid foods that include any added fat, sugar, and salt, which may come in sauces, syrups, or seasoning. The American Heart Association recommends choosing unsalted items, as a high salt intake is linked to an increase in blood pressure. Higher blood pressure may raise your risk of kidney disease, stroke, or other heart conditions. Talk to a Baylor St. Luke's Medical Group primary care physician about making nutritional and dietary adjustments that best suit your lifestyle.
Articles by Month of Posting