Love is in the Air
By:
Fox Travel | Published 02/14/2022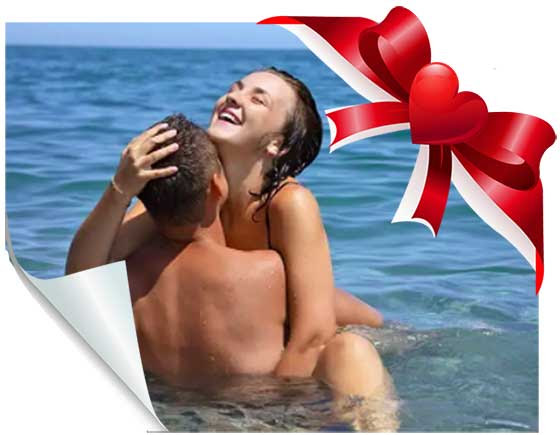 No matter how you plan your romance. There is nothing like a romantic getaway to fall in love again. Here are a few of our favorite US and International locations to get pampered. You can plan to visit them in any season. Whether you're looking for a vacation, celebrating a special occasion, or just a quite weekend to relax and unwind.
- - - -

Photo: Sedona Chamber of Commerce & Tourism Bureau
Sedona - It's easy to proclaim your love when you're suspended atop red rocks and looking out upon miles of colorful landscape. After working up a sweat hiking Sedona, Arizona's sandstone buttes, bring those romantic vibes indoors for a couples massage at one of the city's world-renowned spas.
- - - -
Savannah - Georgia's oldest city, filled with so much history and charm! Every detail of this city from the cobblestone streets to the riverfront. Features a bevy of shopping, dining and nightlife options, while nearby islands provide a relaxing respite. For charming digs in the heart of the city, hang your hat at one of Savannah's charming bed-and-breakfast accommodations. Head to Forsyth Park or Wormsloe State Historic Site if you and your beau are looking for the ultimate backdrop for memorable couples photos.
- - - -
Jackson Hole Wyoming - Though many come here for skiing. You'll also find a little adventure. Jackson Hole offers so many unique activities and experiences for couples to try. Share a dog sled ride through the beautiful forest lands in the winter, or take a guided horseback ride on a scenic trail during the summer months. These unique activities will get you outside of your everyday routine and provide an amazing new memory for you and your loved one to share! Other top romantic adventures include paragliding, white water rafting, and snowshoeing.
- - - -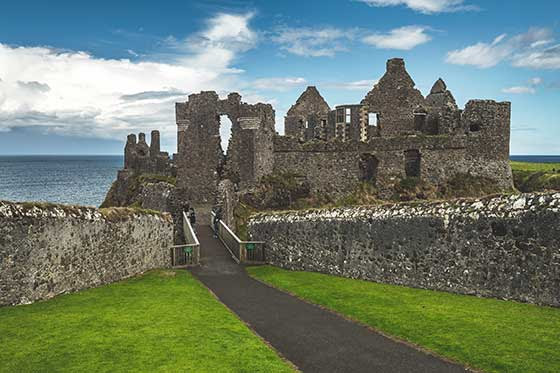 Ireland - Looking for lush green scenery, inviting pubs, and friendly folks? Want to learn more about your ancestors or discover the towns they once called home? A trip to Ireland will fit the bill.
Plus make this trip one remember by staying the night in a Castle. An experience unlike any other. Contact Fox Travel for information on various travel itineraries. Visiting Ireland has never been better!
- - - -
Venture on American's Cruise Line small ships as you experience the breathtaking scenery and wildlife of America. More intimate and personalized travel experience. Unlike cruising on the open ocean, river cruising is a smooth one with land never far out of sight and beautiful landscapes nearly close enough to touch. With all departure ports in the US.. leave your passport and worries at home. Over 35 itineraries available, contact Fox Travel advisors will help you find the perfect one for you.
Fox Travel - Group Trips
Virgin Voyages - Valiant Lady - June 12-19, 2022
This new cruise line is for Adults Only - Singles and Couples Welcome
Fox Travel escorted group trip. Will depart from Barcelona, Spain, visiting Toulon, Marini di Carrara, Ajaccio, Cagliari and overnight in Ibiza. Rates start at $1,550/person; tax and rates subject to change. Escorted and hosted by Marylin and Gus
- - - -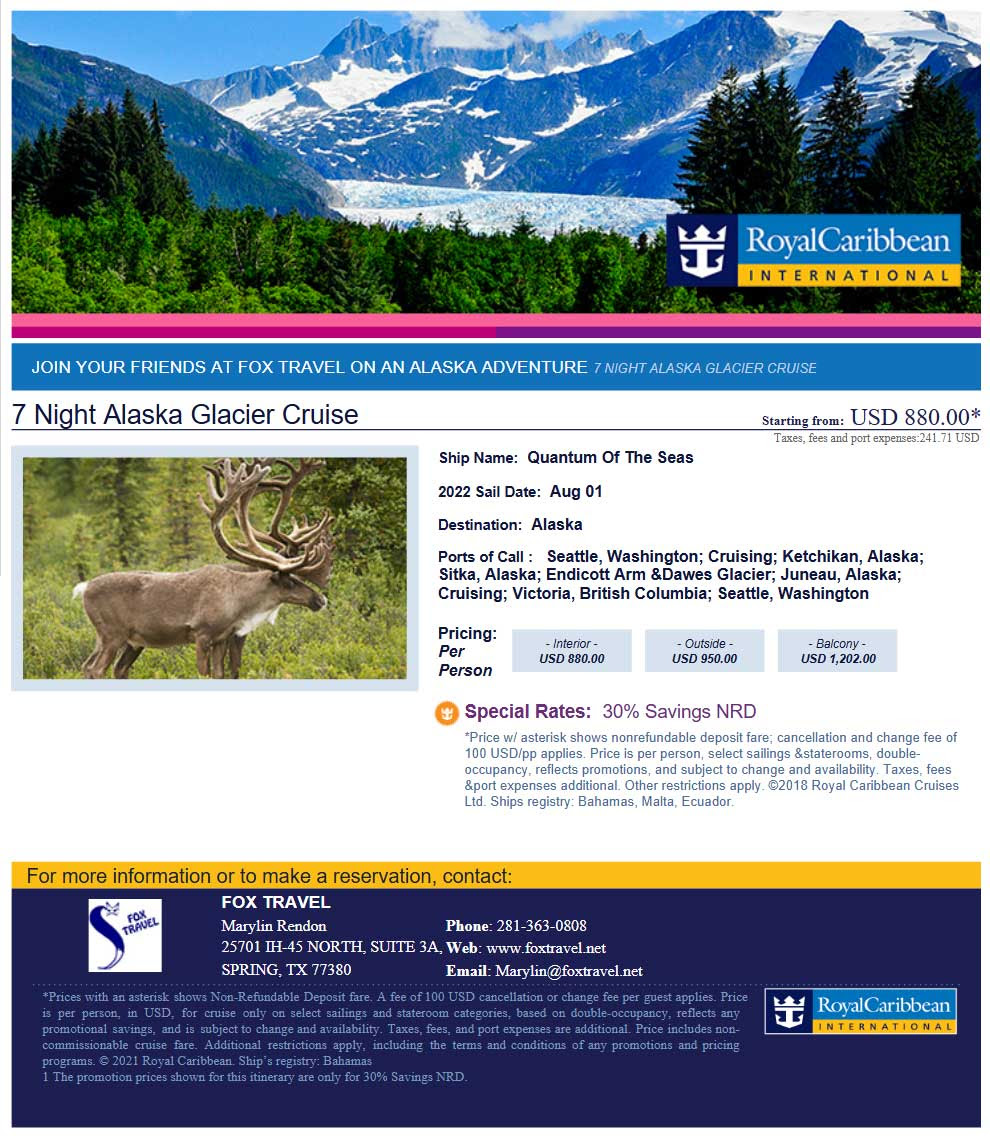 Click to Enlarge
Alaska Cruise - Set sail with Fox Travel on your 7-night Royal Caribbean Alaska cruise August 1-8, 2022 Visiting once-in-a-lifetime sights, sounds, tastes, and experiences. Witness The Midnight Sun, Endless forests, and majestic mountain ranges. With so many must-see attractions: dog sledding, flightseeing tours, calving glaciers, soaring eagles, big salmon, bigger bears, and massive whales just to name a few.
Limited space is available, so be sure to secure your cabin and enjoy the memorable moments that arise around every turn with an Alaska Cruise 2022 vacation. Escorted and hosted by Marylin and Gus
- - - -
Rhine Castles, Swiss Alps and Lake Como
August 29 - September5, 2022
Enjoy a 7-night river cruise aboard the AmaMora from Amsterdam to Basel and optional add on 3 night land package in Lake Como. Award winning rivercruise with breathtaking sights, sounds, taste and experiences. Plus modern mixed with medieval ports you may not have seen before. Escorted and hosted by Debbie Parker