/

/

/

Introducing... Difference Makers!
Introducing... Difference Makers!
By:
YES to YOUTH - Montgomery County Youth Services | Published 02/17/2022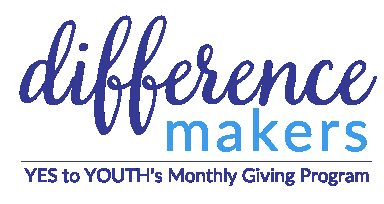 Too many youths around us are suffering. They want to feel loved and have hope. They want to understand how to cope with the surrounding stresses. They want to see a brighter future for themselves. In recent times the demand for our services has greatly increased and we currently have more than 160 families on a waitlist. Our hope is that this program will help us meet this demand by allowing us to add more Licensed Professional Counselors to our team.
Please consider being a part of Difference Maker's, YES to YOUTH's Monthly Giving Program, to help us achieve our mission and help more children, right here among us.
It's easy to join. We designed the program to be a quick and efficient way to give online. Simply click the button below to sign-up! By joining our monthly giving program, you will touch lives and show youth that our community cares about them.
With your monthly donation, it enables YES to YOUTH to provide the following services:
Healthy Supports Program for Pregnant & Parenting Teens
Prevention Presentations and Crisis Counseling in Schools
Decisions Parenting and Youth Skills Group
24-Hour Crisis Hotline
Individual, Group and Family Mental Health Counseling
Crisis Intervention for Youth and Families
Suicide Prevention for Youth and Families
BridgeWay Emergency Youth Shelter (Ages 10-17)
Street Outreach for Homeless Teens
We need your help to continue our efforts every month!
TOGETHER, we save lives.
YES to YOUTH - Montgomery County Youth Services strengthens the emotional and mental health development of youth and families by providing crisis intervention, counseling, and suicide prevention services. We provide a safe and nurturing home where abused, battered, sex-trafficked, homeless, and at-risk youth begin healing from the past and become empowered for the future.
YES to YOUTH
24-Hour Crisis Hotline - 888.756.8682
Appointments - 936.756.8682
Join us for Breakfast at Truluck's
Thanks So Much to Our January Donors, Supporters, and Volunteers
Michael & Patricia Duffel

Dr. Lloyd & Jacque Everson

Mackenzie and Nathan Johnson

Cars & Coffee with a Cause

Market Street Woodlands - Change for Charity

Northwoods Unitarian Universalist Church

Quality Home Products of Texas

The Woodlands Professional Firefighters Association
Volunteer Spotlight:
District 2-52 Lions Club
District 2-52 Lions Clubs gathered recently at the Lions Club Regional Winter Conference. Themed draw-string bags were sewn and filled with toiletries for our shelter residents. Marla & Rick Reynolds with the Cut and Shoot Lions Club delivered them to us. These Lions never get tired! They are such a great part of what makes our community special!
Meet Our New Volunteer Coordinator!
We're excited to introduce Cassie O'Reilly as our new Volunteer Coordinator! If you're interested in becoming more involved with YES to YOUTH, you can contact Cassie and she'll help you find the perfect way for you to give us the gift of your time.
Articles by Month of Posting