/

/

/

Adult Only Vacations for Couples – Mild, Spicy, Even HOT Travel Options
Adult Only Vacations for Couples – Mild, Spicy, Even HOT Travel Options
By:
Fox Travel | Published 05/06/2022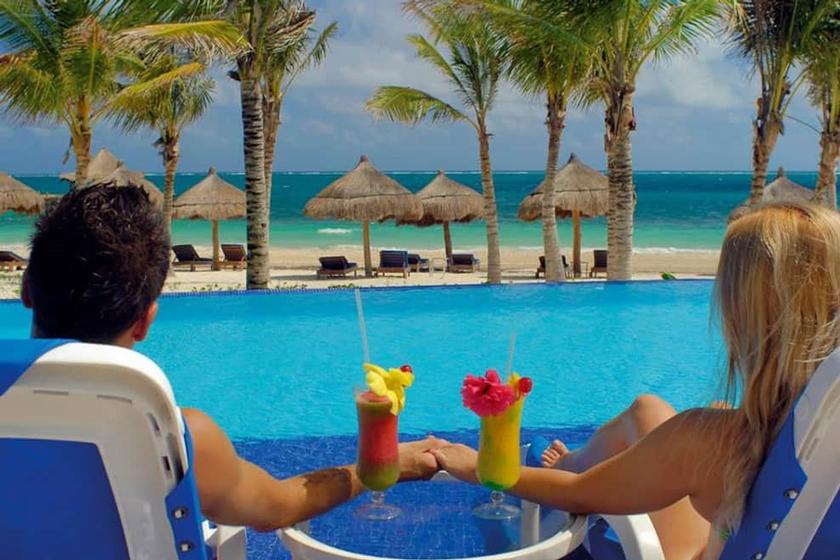 Adult vacations for couples are a perfect time to live a little. Shoot…it's always time to live a little. If you wait, one day you may look back and ask yourself: "Why wasn't I a little more adventurous?"
Why not have as much fun as possible while you're here on this big blue, interesting planet? Fun can come in many different ways. What we've found out from consistent travel inquires, there is one type of fun that tops the list.
This article will focus on adult vacations. It will cover mild to hot, and spicy resorts. Let's begin with mild. It's always good to start with a little flirtation and then work your way up to some more, well…adventurous options. By the way, all of the resorts listed below are all-inclusive and adults only.
Mild – Adults Only Vacations for Couples
Couples Resort – Adult vacations for couples
The theme at Couples is "Love Is A Trip." That's true, and notice that their theme focuses on love and romance. We're still in mild territory here. Some people reading this want mild but a little spicy. Three of their four resorts offer au natural sunbathing areas. So if you want to go home with no tan lines, ask your Fox Travel advisor about the right Couples Resort for you. All four (4) Couples are conventional adult properties and all-inclusive.
Couples Resort has four properties:
Couples Tower Isle – Has its own private (nude-don't worry, it's friendly … and a mild little island), with suites with balconies, eight spa villas, unlimited spa treatments (very enticing), six restaurants, five bars, four pools, and four Jacuzzis.
Couples San Souci – This is a more intimate property nestled between the mountains and the sea, with trails, pavilions, a mineral grotto, and a mineral spring pool. A bonus: Its own separate, secluded nude beach area with plunge pool, swim-up bar & grill for day time fun and sunning.
Couples Negril – A low-key property on 18 acres. It has five restaurants, five bars, two pools, four Jacuzzis, and a treehouse spa plus its own separate nude beach and sunning area, Jacuzzi & bar.
Couples Swept Away – The largest of the four right smack on Seven Mile Beach, on a 10-acre complex with fitness/sports center, six restaurants, three pools, and five Jacuzzis. Conventional beaches only.
What you will find at all four properties: 24-hour gourmet dining, fire pits, outdoor showers, hammocks, nightly entertainment, scuba diving, water sports, a stunning beach, and a world-class spa. Couples is the ideal spot for those seeking more romantic-oriented adult vacations where you are assured there will be no children.
It's our opinion that Couples Resorts is THE BEST HOLIDAY VALUE for couples in Jamaica!
Sandals Resorts:
Have 15 resorts on six Caribbean islands:
Sandals are the grand provider of all-inclusive adult vacations for couples. Here are where you'll find these amazing resorts. Some even have overwater bungalows for the ultimate vacation this side of Fiji!
Jamaica (6) (plus some resorts with overwater bungalows)
St. Lucia (3) (plus some resorts with overwater bungalows)
Bahamas (2)
Barbados (2)
Antigua (1)
Grenada (1)
Here is what to expect at Sandals Resorts:
All-inclusive
Many different restaurants with gourmet and casual dining
Acres of beaches, tropical paradises, 5-star amenities, serenity spots
First-class, 5-star accommodations including Love Nest Suites
Butler service
Activities day and night
Pools and jacuzzis around the resorts
A variety of full-service bars with premium beverages and Robert Mondavi wines
Golf, scuba, sailing, hiking, and sightseeing
Romantic over-the-water bungalows at The Grand St. Lucian and Jamaica's Whitehouse and Montego Bay
Stay and Play – stay at one their resorts and have exchange privileges with others (check availability of program for your resort when you book)
Direct and one-stop flights from many major cities
Free Non-Stop Round-Trip Airport Transfers
All Taxes, Tips, and Gratuities
Note: Only Sandals Royal Caribbean has a small secluded clothing optional beach on its island adjacent to its overwater bungalows. The resort is only a few minutes from Montego Bay airport.
Not so Mild – Adults Only Vacations for Couples
Virgin Voyages
Let's turn up the heat a little. Sir Richard Branson is a wise and daring man. He loves to take chances. He recently took another one with Virgin Voyages. More specifically, he took a bigger chance with Scarlet Lady, which is an 18+ cruise ship with a tattoo parlor, spa, and blow-dry bar. It's also topless-optional on the top deck aft. That's a little specific for our tastes, but this is still a start and we must please the semi-daring. We are heating up now, though. If you want the best experience possible, go with the Rockstar Suites, which are spacious and come with fully stocked bars. Adult vacations for couples has a brand-new option. They even have a topless deck for sunbathing. A big plus: Adult singles, couples and those young at heart and more are welcome and expected, whatever your flavor…your pleasure, your way.
Other amenities and activities will include Redemption Spa, with a hydrotherapy pool, mudroom, salt room, cold plunge pools, and quartz beds; an Evening Spa Party, where the DJ transforms the spa into a mermaid hideaway; the Test Kitchen, where you tell the chef your desired ingredients and he cooks up a mystery plate; Razzle Dazzle for brunch, where you choose between the Nice Menu (plants and vegetables) and the Naughty Menu (meat and booze); Wake, a steak/seafood restaurant; and a 24-hour diner. On the dining side, these are just a few options. There are 20+ restaurants on board.
Scarlet Lady sails from Miami to Puerto Plata in the Dominican Republic, Costa Maya in Mexico, Key West in Florida, and The Beach Club in Bimini, Bahamas. Scarlet Lady sets sail in 2020.
Temptations
Temptation Cancun Resort, 'The Playground for Grown-Ups', caters to adult singles, couples and triples (21 and over), offering a vibrant, passion-infused and top-optional environment for the chic, the confident and the free-spirited traveler. Through the vision of world-renowned creator of 'sensual minimalism', designer Karim Rashid, the 'NEW' Temptation Resort & Spa redefines Cancun's skyline.
This resort has something unique about their offering. It is deliberately designed for younger couples, singles and friends, with a high-tech, high-energy, modern vibe. When you visit Temptations, the crowd is (as a rule), late 20's through '40s but of course, you'll see younger and older guests too. They have areas where you can sunbathe topless as well.
Temptation Cancun Resort is an all-inclusive resort in the Mexican Caribbean and provides the atmosphere for a sensual vacation with unique entertainment, performances, and vibrant parties. It's the perfect place to mix and mingle. Come alone or with friends. Meet a new friend or friends. Or just relax and enjoy it. The hotel operates on an "all-inclusive" plan where your room, meals, snacks, entertainment, nightlife, bar drinks, taxes, and tips are included in one price.
Each of their uniquely designed rooms and suites offers a terrace or balcony, with views of spectacular gardens or the breathtaking Caribbean Sea. Discover newly innovated and renovated guest areas such as the electrifying Sexy Pool, or our relaxing Quiet Pool. You can enjoy seven specialized restaurants, a gourmet café, plus round the clock premium beverage service at five different bars. The resort also features a spectacular spa and fitness center to delight your senses.
Hidden Beach
The first thing to know about Hidden Beach is that you can be naked 24/7 but it's YOUR choice! At least you can choose to be naked at Hidden Beach Resort in Mexico. This is the only 5-star, and gourmet-inclusive all-natural, clothing-optional resort in the world. The 42 suites and Presidential Suite come with a secluded beach (butlers included), a personal concierge, and 24-hour room service. You will find traditional amenities, such as a pool and two bars, as well as couples massages and clothing-optional guests.
Maybe you should introduce yourself. If you're new, you might stutter when you do and mention vacay-vacay-vacations for adults only, but all the guests there had their first day too. You'll find many return visitors and they are always happy to put you at ease. Have a drink and you will find something to laugh about if you just open your mouth….nobody knows it may be your first time without clothes.. It will relax you and before you know it, you'll be experiencing a sense of freedom that comes from being in nature the way nature intended.
Hidden Beach is next door to their sister property, El Dorado Seaside Suites, with hundreds of rooms, another luxury Karisma resort for adults only (but not naked) and you can enjoy all their restaurants, bars, pools and activities too… all included in your Hidden Beach accommodations. Think of it as a two for one treat and Fox Travel has a special relationship with Karisma Resorts just for you.
Spicy – Adults Only Vacations for Couples
Desire Resorts on the Mexican Riviera less than an hour from the airport have the following theme: "Sexy & Wild." If you weren't sure what to expect, those words used together should provide the answer. Desire is a clothing-optional resort, geared at open-minded folks that…well, like to take their relationship outside the box. Clothing optional is fine at the pool, beach and hot tub.
Couples go to Desire Resorts for several reasons:
To spice up their relationship with the sensual vibe
To experience the freedom of clothing-optional in a warm, tropical paradise
To flirt (safely) and enjoy the attention
To meet other open-minded couples who might be looking for couples sexy fun
But if you're the type of guy (or gal) who can't take a hint, as when a woman looks over her shoulder with a smile and an invitation, then there is no hope. Just kidding!
With that premise in mind, this is where you go for pleasure – sensual or a bit exotic, whether that's with your significant other or someone else's significant other. If someone says, "Are you into the lifestyle?" that's an invitation.
If someone or a couple asks that question, you can say yes or no. Either is okay. It's just their polite way of saying you or they are not there for that. Does it matter if you are body perfect? Heck no! There is a broad range of people that go to Desire, young, older, fit and full bodies. You never know who you will meet. Just be prepared to have a great time.
When you're at one of the two beautiful Desire Resorts, you can take an intimate couples workshop, mingle with like-minded couples and enjoy a relaxing spa treatment (nude…only if you prefer). There is also a way to approach Desire. Here's the trick…
If you're not interested in mingling with people who are into the lifestyle, go to the beach. That's the unspoken location for people who just want to relax. If you're at the pool, it could go either way. Just let your intentions be known if someone approaches. If you want to get down and have fun, go straight to the Jacuzzi. Our team of adult vacation advisors will make sure you have a sensational time that fits your desires (no pun intended!). But always remember NO means NO!
Downright Hot – Adult Only Vacations for Couples (and Singles) – No Excuses
Hedonism
Hedonism is located in Negril on Seven Mile Beach in Jamaica. It's also one of the more affordable options on this list. Amenities include tennis, volleyball, pools, snorkeling, sailing, SCUBA and, well…sex. There is flirting and adult mischief, people from all ages and walks of life, but they one thing in common. If they are at Hedonism they brought their wild side. And they may have brought their spouse or be there as a single. Hedo is an adult resort that is not restricted just to couples …. plus Hidden Beach and Grand Lido Negril.
Hedonism has fun theme nights….so live your alter ego one night …. or all week. There's something written on their website that makes a lot of sense: "Life is too short to wait for pleasure." In other words, you go there to find your pleasure, your way!
This is a clothing-optional resort, but the real pleasure is to be found at the Romping Shop, which is an adult playroom. It's open from 10:30 p.m. – 3 a.m. The people who are welcome include couples, single women. Something tells me your interest has been piqued. If and when you arrive at the Romping Shop, you will find soft lighting, beds surrounded by waterfalls, and an open rooftop.
Conclusion
If you have been seeking a true adults-only vacation, you may have found your destination. If you choose anywhere else, you're likely to be missing out on the best experience of your life. Our adult travel advisors have years of experience planning, advising, getting great rates and making your adventure seamless. Don't be shy, they're not! The best part…" they've been there!"
Our Travel Advisors Marylin and Jennifer are Adult Travel experts and can help you book any one or a combination of resorts and cruises from mild to wild! You can message us on Facebook 24/7 or Contact Us M-F via phone or email.
Please, check out our page on adult-only vacations for couples