/

/

/

Easy and healthy instant meals our physicians love
Easy and healthy instant meals our physicians love
By:
St. Luke's Health - The Woodlands Hospital | Published 05/12/2022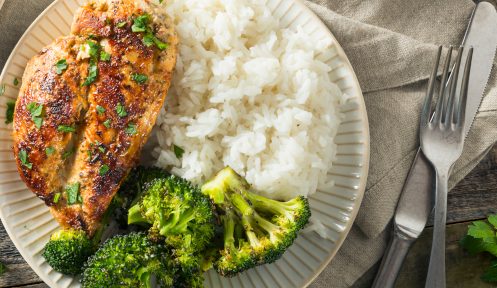 You buy fresh produce at the beginning of the week with the hopes of making a spectacular meal. Then, the end of the week comes along, and all that produce has gone bad. You no longer need to worry about using all your greens before they rot—instead, substitute these frozen or canned options that our Baylor St. Luke's Medical Group primary care physicians use.
Instant meal staples to keep in your pantry
When shopping for instant foods, there are a few things to consider. Look through the nutrition label for simple ingredient lists with whole foods and low to moderate amounts of sodium. Avoid buying packaged foods that include preservatives, trans fat, artificial sweeteners, and added sugars.
Dr. Derek He, primary care physician with Baylor St. Luke's Medical Group, explains the best way to shop for your pantry staples and some items on nutrition labels to avoid.
"In general, shoppers should be cautious of food products that are high in sodium and sugar/carbs. Make it a habit to read nutrition facts labels while shopping. Pay attention to serving size as it affects the '% Daily Values' calculated on the label. Nitrates and nitrites should be avoided due to their increased risk of colon cancer. Sulfite additives (sulfur dioxide, potassium sulfate, etc.) can severely affect those with asthma. Trans fats are associated with an increased risk of heart disease. Artificial food coloring may have a negative impact on children's development."
There are some food items you can keep stocked in your pantry to prepare multiple simple and healthy meals. Include these instant options on your next shopping list:
Canned black or pinto beans
Canned chickpeas
Low-sodium vegetable broth
Oats or instant oatmeal
Canned tuna or salmon
Salsa
Canned diced tomatoes
Instant rice
Corn tortillas
Whole-wheat pasta
Frozen vegetables
Frozen berries
Tips for preparing instant rice and frozen vegetables
A bag of frozen vegetables or a box of minute rice might not sound all that exciting. However, there are ways to spice up these staples and make them something you actually want to eat. Use these simple tips to improve pantry meals like instant rice and frozen veggies.
Dr. He offers his advice to make canned food options healthier.
"Canned foods should be drained and the contents be rinsed to remove excess sodium or salt. Do not consume any canned food that you suspect has spoiled or that was damaged. Remember to always refrigerate all opened canned foods. Do not use the entire packet provided in the instant rice and noodle products as it contains high amounts of sodium."
How to roast frozen vegetables
Some people don't think to roast frozen vegetables. You pop a steamable bag in the microwave, and there—you have an easy side dish. If you want to add a little flair to this timeless side, it's as simple as one, two, three. First, lightly coat your frozen vegetables with oil, helping to increase their surface temperature and not dry out in the oven. Second, spread the veggies out on a preheated baking sheet in a single layer and stick them in the oven. Third, flip them after 15 minutes at 450 degrees to get both sides nice and caramelized. And there you have it!
How to make your instant rice taste better
Make your instant rice a little special with different flavors you can infuse into the dish. You can use minute rice in a variety of meals, like breakfast bowls and stir fry. The additional flavor infusions you can add to the dishes come from cooking the rice in a saucepan. Instead of water, you can substitute other liquids like broth, fruit juice, or non-dairy milks.
Two easy and healthy pantry recipes
You can store all the items in these recipes in the pantry or freezer for optimal food lifespan needs. Serve healthy meals full of nutritious ingredients with these recipes.
Chicken and rice bowl with vegetables
Ingredients:
Frozen chicken
Bagged frozen veggies
Instant brown rice
Garlic powder (optional)
Italian seasoning (optional)

Steps:
Cook veggies, chicken, and rice according to package instructions.
In your bowl, layer rice, chicken, and veggies in any order.
Sprinkle with garlic powder and Italian seasoning to desired taste.

Bean quesadilla
Ingredients:
Canned black or pinto beans
Corn tortillas
Salsa
Frozen vegetables (corn, peppers, or onions)
Cheese

Steps:
Cook the veggies according to the package instructions.
Spread the black or pinto beans onto the corn tortillas.
Add the salsa, cheese, and veggies as fillings.
Top with a second tortilla.
Cook the quesadilla on a griddle or in a sandwich press.

Get started creating meals with staple pieces you have right in your pantry! If you have more questions relating to diet and nutrition, schedule a visit with a Baylor St. Luke's Medical Group primary care physician to get the best recommendations for your lifestyle.
Sources:
5 Healthy Pantry Meals You Can Make With 11 Cheap Staples | Well+Good
How to Choose Healthy Packaged Foods
How To Roast Frozen Vegetables | Healthy Delicious
Tasty Ways to Infuse Rice and Inspired Infusion Ideas | Minute® Rice
Articles by Month of Posting