Sail on a Lady
By:
Fox Travel | Published 05/15/2022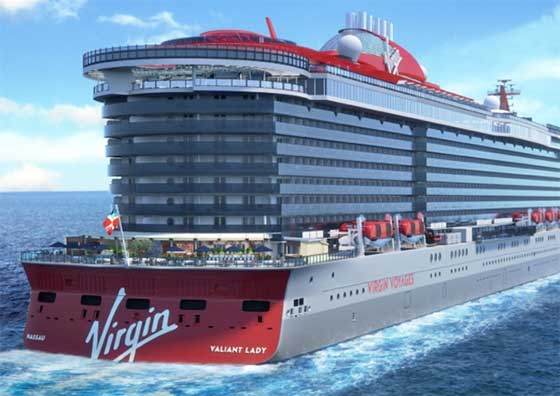 Join the fun this year or next with 3 sailing ladies from Virgin Voyages: Scarlet Lady, Valiant Lady and Resilient Lady serving ports of call including: Caribbean, Europe, South Pacific and Transatlantic destinations. Certain voyages include up to $400 in cabin credits and savings up to 40% on selected departures but the Deadline is MONDAY, MAY 16, 2022.
Sail with our escorted group - June 12-19, 2022
Better yet, sail with us next month from Barcelona to fabulous western Mediterranean ports of call including an overnight stay in Ibiza. Escorted and hosted by: Marylin & Gus from Fox Travel. Call us: 281-363-0808 or 800-256-2128 See more at: Fox Travel Group Cruise
- - - -
Entertainment:
The main shows consist of Never Sleep Alone (NSA), Ships in the Night, Dual Reality, THEUNTITLEDDANCEPARTYTHING, Cocktails and Revelry with the Diva (parts 1 & 2), and Scarlet Night. Not all shows are available on all sailings. They are all fantastic and not like anything you have ever seen at sea.
• Never Sleep Alone (NSA) – Cabaret vibe built around dating and relationship, with some audience participation.
• Ships in the Night – The closest thing to a traditional cruise ship show. Song, dance and moving backdrops.
• Dual Reality – An acrobatic retelling of Romeo and Juliet.
• THEUNTITLEDDANCEPARTYTHING – Theater in the round that moves around you. A dance show that includes a dance party.
• Cocktails and Revelry with the Diva (parts 1 & 2) – In simplest terms, a drag show. High energy song, dance, and more.
• Scarlet Night – This is the signature event. Wear Red, gather at the round about and then explore various entertainment acts around the ship. A different experience based on where you choose to go. Weather permitting it culminates with a party at the pool.
There are little pop-up shows that run about every 15 minutes or so, and occur randomly around the ship. These have a street performer feel.
There is a lot to do throughout the day. Trivia, bingo, scavenger hunts, art tours, art classes, bar crawl (Grog Walk), tea times, fitness classes and much more. Most are free, but some do have a charge. Most, if not all, of these can be booked through the app.
Restaurants:
If you love food, you are in for a treat. Virgin Voyages has been voted the best for food in variety, quality and creativity.
Restaurants onboard Virgin Voyages from sophisticated dining to casual fare, 20 eateries are included with your cruise fare. Six of the restaurants onboard accept dinner reservations, which you can book prior to your cruise. Walk-ups are also available at all the restaurants. But prime times fill up fast. If you are not sure of what you want, you can make reservations after boarding.
Pink Agave transports diners to the vibrant streets of Mexico City through bold lighting and the restaurant's authentic Mexican specialties, including tlayudas, memelas, sopes, tortas, esquites, tamales and a wide selection of mezcals.
Razzle Dazzle: Primary healthy and vegetarian-friendly restaurant onboard. The menu is filled with light and plant-based twist on classic comfort food. The restaurant is not vegetarian exclusive and meat lovers will be happy to know that it offers something for everyone through the fun naughty or nice versions of menu items. Bacon lovers - make sure to order a side portion of their perfect crispiness. They are amazing !!
The Test Kitchen: This restaurant bills itself as a laboratory eatery where education and experimentation come together to make its seasonal menu. Adventurous eaters with a taste for exploration will find the food both playful and inventive.
The Wake: A sophisticated take on an old steakhouse. This restaurant has an upscale vibe. Only restaurant that will have an upcharge for premium food items.
Extra Virgin: A definite restaurant to try and the most popular. The food is served here as traditional Italian trattoria fare, including classic Italian antipasti, such as beef carpaccio, fried artichokes, charcuterie board and fresh made pasta.
Gunbae: A lively Korean BBQ restaurant, as a "Social seating" so if you have a small party, you will like share a table with another couple/party. Each person will get a complimentary shot of soju to participate in a drinking game led by your server. If you lose, your table will shout "Gunbae! Gunbae!" until you drink your shot. As you can imagine, the restaurant can get pretty rowdy but it is a lot of fun !
The Galley:
Virgin Voyages has done away with the idea of a traditional cruise buffet, instead offering The Galley as an alternative. It's open for breakfast, lunch and dinner. No reservations.
Other food options around the ship are pizza, ice cream, poke bowls, small plates at the Dock and Dock House, and the Social Club Diner for sweets and snacks, like hot dogs, wings, pretzels, ice cream floats with alcohol, and a small candy counter. The app will tell you the hours that these are open.
Immigration and Health Protocols
Entry and Health Requirements for Spain and Virgin Voyages Cruise protocols will apply. Vaccinated guests only.
If you have any questions pertaining to the information above please Contact your favorite Fox Travel Advisor at 281-363-0808 or 800-256-2128