/

/

/

5 recipes for a healthy summer picnic
5 recipes for a healthy summer picnic
By:
St. Luke's Health - The Woodlands Hospital | Published 06/20/2022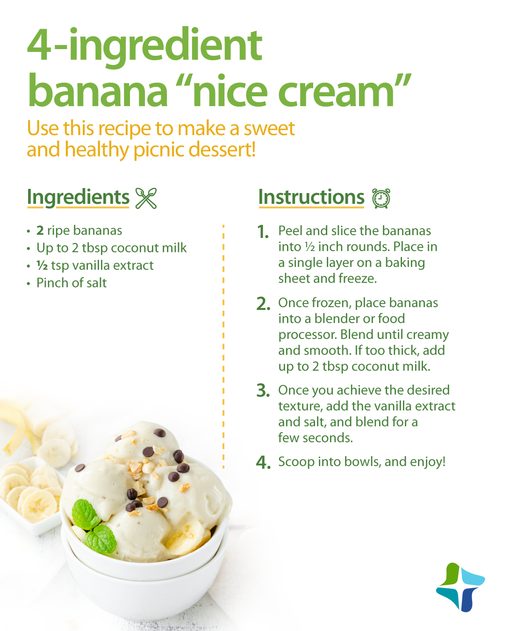 Summer is here, which means the sun is shining and the great outdoors is calling. Few things have the same summer feel as a picnic with friends and family, but if you're looking to stay healthy, the tempting snacks often found in a picnic basket might not be what you're looking for.

You don't have to miss out on summer fun to maintain your healthy lifestyle. We've rounded up some of our most picnic-worthy recipes to help you plan a perfect outing.
Naturally sweetened lemonade
An ice-cold, sweet drink is a refreshing start to any picnic, but the granulated sugar frequently used in lemonade can negate the drink's other health benefits. Fortunately, natural sweeteners are a great alternative!
Find lemonade recipes that use natural sweeteners.
Thai quinoa salad
Thai quinoa salad is a bright and bold dish that pairs perfectly with a sunny day. It's full of nutrient-rich veggies and fiber-packed grains that can give you plenty of energy for your post-picnic activities.
Healthy charcuterie
Charcuterie boards are a fun, delicious, and photo-worthy picnic meal. Make the most of it by choosing healthy ingredients such as lean meats, goat cheese, and seasonal fruits and vegetables.
Get more healthy charcuterie tips.
Summer iced teas
It wouldn't be a Texas picnic without iced tea! Like lemonade, sugar can reduce the drink's natural benefits. Adding natural sweeteners and fruit flavors to your iced tea can add flavor and maximize health benefits.
Find healthy iced tea recipes.
Banana "Nice Cream"
There's no better way to end a picnic than with a cold, creamy dessert, like our banana "nice cream." With just four ingredients, this sweet treat is easy to make. Check out the recipe below.
Articles by Month of Posting