/

/

/

Why Use a Travel Advisor? Here are the Top 10 Reasons!
Why Use a Travel Advisor? Here are the Top 10 Reasons!
By:
Fox Travel | Published 06/29/2022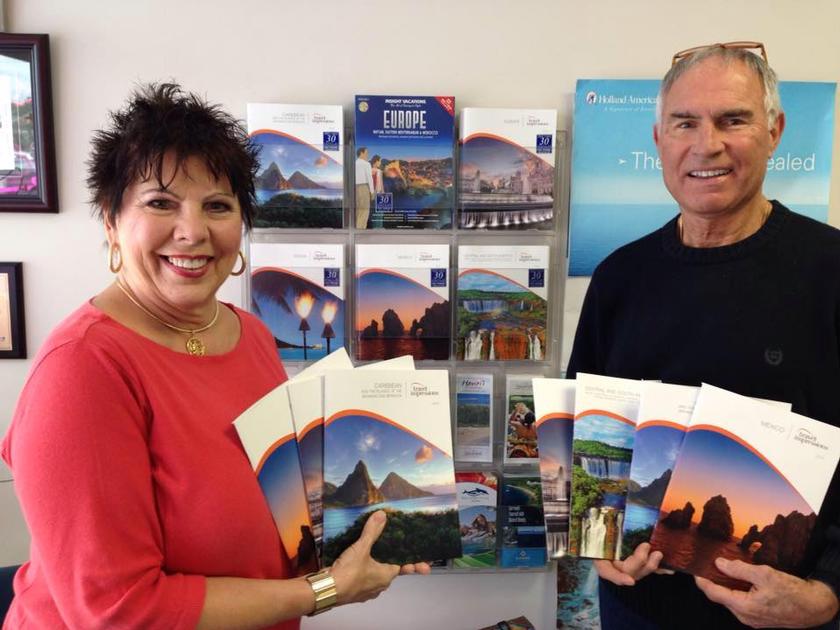 Many people want to know, in this day in age, why use a travel Advisors? Of course, as a travel agency, we would love to have you use our services to book your travel, but we don't want to take this time to talk about us, we want to talk about how using our services will benefit YOU!
Did you know that more and more people are turning to Travel Advisors to help them plan their vacations? In fact, the biggest group are Millennials. Does that surprise you? You would think that with the convenience of the internet the opposite would be true.
Now let's get to the 10 reasons why to use travel advisors and the benefits they can offer you. Oh! By the way, the map you see in this post is from our office. The little red pins are all the places we've been!
Here Are The Top 10 Reasons – Why Use a Travel Advisor?
1. Convenience
I know what you are thinking. Isn't it more convenient to be able to search on my time when I want to on where I want to go? Did you know that it takes on average 10 – 20 hours to plan your vacation? Between researching, figuring out where to go, reading hotel/cruise/destination reviews, etc. It is a lot of work.
Now try doing that on top of your normal 40+ hour's job, family, school, and life. Wouldn't it be more convenient to just contact an expert that has first-hand knowledge of resorts, cruises, and destinations that can give you all the answers you are looking for in minutes? Even if you enjoy the research, you still don't have that "insider" look.
Frankly, there are resorts and destinations we don't recommend for good reasons and we can steer you to better choices. We might even be able to come up with a different vacation that would better suit your needs that you would have never thought about!
We recently had a client set up a destination wedding. The resort they selected had a reputation of having old, dark rooms. We made sure she knew that so that they could consider other options.
2. More for your Money
Many times people think that you can find a better deal online. That just isn't the case. In most instances where you find an amazing deal online, it's too good to be true. You need to read the fine print, to look at the exclusions and limitations.
Your insane deal may end up costing you more than you thought. Clients will come to us and say they found this great deal online. But more times than not we are able to either meet or beat that unbeatable rate they found and get them some perks.
One of our agents Tahnee had some clients that she had booked their honeymoon the year before.
They called her up and let her know that friends of their just booked a great deal for a vacation to the Caribbean but they wanted to know what she was able to do for them. Not only did Tahnee find them the exact same itinerary, even down to the flights, but she was able to save them $100 including transfers, and as icing on the cake even got them a $500 resort credit to use while away.
So bring us your "deals" and let us take a crack at an even better deal!
3. Personalized Experience
Once a client books with an agent at Fox Travel, chances are they come back for other vacations that they need booked. Our agents develop a relationship with their clients. And why not? We are helping them plan something they will remember forever! Be it a honeymoon, a romantic getaway, a family vacation, or a group trip. Vacations are something that people remember forever, and we want to make sure that everything is perfect.
Take Alma's experience with her clients.
"I have been honored to have Betty and Koby Kobiashvili as clients since just after I started working for Fox. During the years, I have seen their three daughters grow up, assisted in their weddings, and set up visits back to Texas.
They now live in Florida, Virginia, and London. Betty and Koby entrust me with their most important commodity – their children. During the past hurricane season when Irma and all of the rest were headed right to Florida, they called me with a very urgent request. One of their daughters is married to a serviceman who has been deployed. She and her children have continued to live by the base near Tampa while he is gone. They needed me to find a way to get them to Texas safely.
I worked with all concerned and found a flight out the next morning from Tallahassee. I also found a hotel nearby where they could stay for the evening and safely leave their car. The hotel even worked to find a kennel nearby that would accept the family dog. While all of this was going on, Betty had to travel to London to take part in the birth of another daughter's first child. We had to change her ticket and Koby's to allow for all that was going on. When she returned, she delivered the attached beautiful gift from Fortnum and Mason to me for assisting her family.
She advised me that she knew that she could trust me with her daughter and grandchildren. Needless to say, I started to cry. The Kobiashvili's have since relocated to Virginia but still, call and e-mail me to do all of their family travel."
4. Save Time and Stress
You go on vacation to have a great time and get away from the stress of everyday lives. So why would you start your vacation stressed out? Planning a vacation shouldn't be stressful, but often times it is, and the more people you add into that planning the more stressful it can become.
With everyone having a different place they want to go, having the become the moderator can be stressful. As we said before it can take on average 10 – 20 hours to plan a vacation. Many people come to us saying they have spent dozens of hours researching only to not have an answer on where they want to go. As agents, we have up to date training on destinations, resorts, and cruises, and we have most likely been there, so we know what is good and what isn't. We do the research so you don't have to.
The bonus for us is making the most out of your vacation budget.
5. We've Been There!
Speaking of we've been there! It's true! We have! Between the owners and the agents at Fox Travel, we have traveled to over 150 different countries. There are only 195 countries in the world, so we have been to a majority of them. If you have a question about a certain destination, if the agent you are working with doesn't know, chances are someone in the office does!
A lot of our clients love to come in and see a giant map of the world up on the wall on the right-hand side when you walk in. On this map are pins of every country and city the owners of Fox Travel, Donna, and Jim, have been to. There are over 120 pins on that map from just them alone! It's amazing and a lot of our clients love to look at it.
Take Debbie's view of why her clients rely on her extensive experience:
"My greatest passion for travel begins and ends with my connections with my clients. I have a talent for being able to connect the client with the perfect cruise or trip. This comes from listening to my clients about things that are important to them, such as family, sightseeing and past experiences.
Clients find it very easy to talk to me about trips because I have traveled so widely. They appreciate that I can help them with everything from off the beaten path destinations right up to their bucket list trip of a lifetime.
Finding the right ship, the right cruise line, the right destination creates the best adventures. I have clients that have to be busy every day and others that want to relax and do nothing. I have clients that want luxury and others want out of the way places. I have clients that will try new places and things and others want to go to the same place again and again.
It's easy to book just the right travel because chances are "I've been there!"
6. There from Start to Finish
You've booked your vacation through an online travel portal, but your flights are delayed or canceled due to bad weather. Now what? Like thousands of other travelers that are stranded, you will all be calling the same number trying to get someone on the phone to help you out. Sometimes it could take hours just to speak to someone, only to find out they can't be of much help. Travel agencies are different. We are here to rebook your vacation at a moments notice. We know of travel delays and many times will be in touch with our clients before they have had a chance to call in. Check out this amazing client review we got after Hurricane Harvey hit.
Here are clients of Tahnee's experience during Hurrican Harvey":
"This travel agency is wonderful! From the beginning, we had Tahnee McHenry plan our trip to Cancun, Mexico. Tahnee booked our flights and resort, El Dorado Seaside Suites! Where Fox's service gets unbeatable is when my group of 6 encountered travel delays due to Hurricane Harvey. What was supposed to be a long weekend for my husband's 30th birthday turned into an 8-day trip due to the hurricane! Not only did our flights get canceled 3 different times while trying to get back to Houston, but the whole time the hurricane was passing through Houston,
Tahnee was constantly in contact with us booking and rebooking the flights and hotels. Further, she booked our additional nights at the resort since we were "stranded" in Mexico. Her continuous contact with us made our group feel so relieved about the travel situation. Also, thankfully, she had advised us to get travel insurance, which ended up covering our additional stay in Mexico. She also took care of filing our claims with the travel insurance provider. I REALLY cannot say enough great things about Tahnee, to me, she went above and beyond to make sure our travel woes weren't as bad as they could have been, I HIGHLY HIGHLY recommend using Fox Travel and specifically Tahnee McHenry for your travel planning. Without her, we really don't know what we would have done when it came to getting back to Houston after the hurricane."
7. We are Connected
Travel advisors have vendor reps that are assigned specifically to them by the resort, cruise line, destination, or travel company. We have built relationships with these reps so that if something were to ever go wrong on your vacation we can get our reps involved to help fix it right away.
Our reps are also amazing so that if we need to get a price match, they can help us do that as well. These reps are not available to the public and have a lot of pull in the company they work for. These relationships are important to have so we can make sure that our clients have the best experience possible and all the benefits available through our reps.
8. Accessible
Fox Travel has been in business for 34 years now! We are conveniently located off I45 and are one of the only travel agencies with a storefront in a 30-mile radius. That is a huge bonus if you ever want to stop in to pick something up or just to say hi! Our staff also picks up the phone by the 3rd ring and you will never go to voicemail during working hours! You can also message us on our Facebook page as we have an agent that monitors our messages 24/7/365!
And then there is the internet. With how easy it is to communicate via the internet, we can book your travel from anywhere in the US!
9. We're Passionate
At Fox Travel we are all passionate about travel. Everyone at Fox has traveled extensively for business and pleasure. We love what we do and we love helping people discover this amazing and beautiful world we live in. For us, we don't sell travel, we sell experiences that create memories that will last a lifetime.
Fox Travel has won Best Travel Agency in The Woodlands the last 3 years in a row with Living Magazine. We've also won Best Travel Agency in The Woodlands with The Woodlands Online.
10. Exclusive Access
As an American Express affiliated agency, you are able to use your American Express points directly with us. You will also get added benefits AMEX benefits not available when booking on your own or with another agency, like the resort or shipboard credits, exclusive dining, spa treatments, and more!
You will also benefit from negotiated rates from vendors that are only available through travel advisors. Fox Travel provides complimentary private limo service to the airport for high-value clients and vacations/cruise that exceed a certain cost.
Contact Us!
As you can see there are many benefits of booking with a travel agency and we hope that we have answered the question of why use travel advisors. We hope that when selecting an agency to work with that you contact Fox Travel and let us show you the amazing benefits yourself! Please contact Tahnee, Debbie, or Alma at 281-417-0796