/

/

/

Classes Next Week and Upcoming Events (July 4th - July 8th)
Classes Next Week and Upcoming Events (July 4th - July 8th)
By:
Memorial Hermann Canopy Cancer Survivor Center | Published 06/29/2022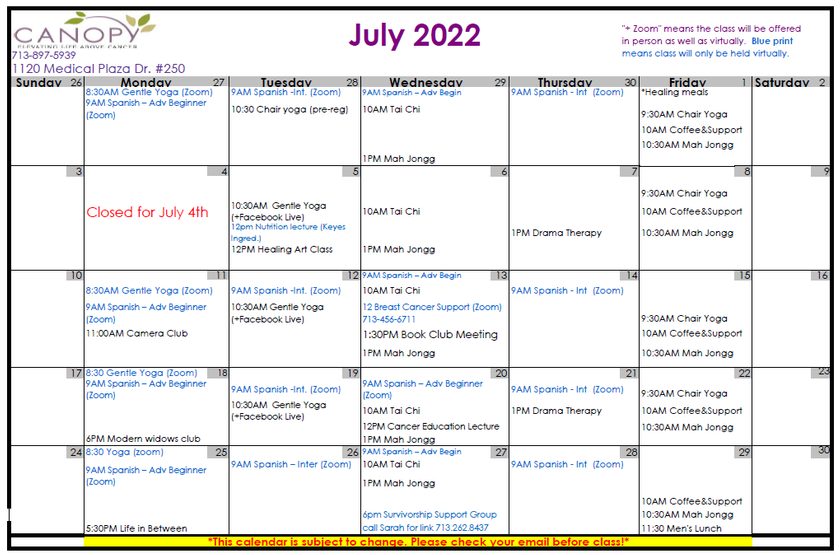 Canopy welcomes anyone affected by cancer. All services free of charge (thanks to generous philanthropic support). We offer both in-person and virtual services. Our activities include peer support groups, gentle exercise, art therapy, drama therapy, language classes, education, social activities, wig fitting, breast prosthesis and post-mastectomy bra fittings, and oncology-related counseling services. We also proudly offer "healing meals", prepared meals free to survivors recovering after surgery. We continue to operate from 9AM to 4PM Monday through Thursday, and 9AM to 2PM on Fridays.
UPCOMING CLASSES July 4th – July 8th
Monday, July 4th
Closed in observance of Independence Day
Tuesday, July 5th
10:30AM – Gentle Yoga: Offered as a hybrid class. You may attend in person or via Facebook Live. If you have a Facebook account, add Nuchapan Chianrapatanakom as a friend, and go to her page at 10:30AM she will start streaming the class.
12PM – Healing Art in-person class with Olimpia
12PM – Virtual nutrition class "Keyes to health" with Michelle Keyes. This class will take place over zoom:
Wednesday, July 6th
10AM - Tai Chi in-person class.
1PM – Mah Jongg: No partners needed.
Thursday, July 7th
1PM – Drama Therapy in-person with Peyton
Friday, July 8TH
9:30AM - Chair Yoga Class in-person.
10AM – Coffee & Support is an informal group for socialization & peer support.
10:30AM – Mah Jongg: No partners needed.
Articles by Month of Posting