/

/

/

Community | Grand Events 7.7
Community | Grand Events 7.7
By:
The Adventure Begins | The Adventure Stadium | Published 07/07/2022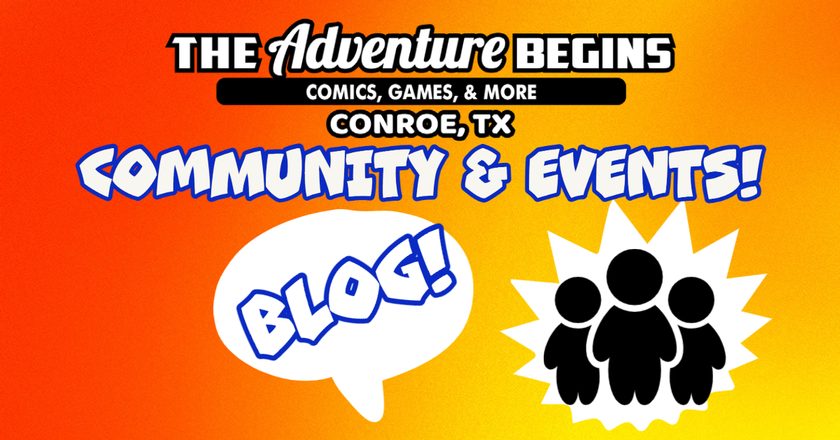 Welcome to the Adventure Community Blog. I am your host, Samantha. Happy July Everyone!! I hope this month finds you in cool weather and even cooler games!
This week we have some crazy events for you as well as some recurring events. First things first, let's get these events started!
Friday July 8th, we are doing a MTG Double Masters 2022 Launch Party Booster Draft! It starts at 6 p.m. The Top 3 players will receive additional prizing based on their placement, but all participants will receive Double Masters 2022 Launch Party Promo's. For more specific information check out our facebook page or website.
Saturday July 9th, we are hosting Star Wars X-wing: "The Droids You're Looking Fore" Organized play event! Players are expected to have Event Appropriate lists upon arrival to the event. Check-in and set up at 12pm. Event starts at 12:30. Event will consist of 75 min Swiss style rounds! For more specific information check out our website or facebook page.
We do have some staples that recur every week! You have a community waiting for you. Come one and all to the crazy week in and week out events.
Sunday:
Adventure League JR. ( 1st & 3rd Sundays, please pre register online) 4pm -8pm
Adventure League ( 2nd & 4th Sundays, please pre register online) 4pm - 8pm
Magic the Gathering: Casual Meet up 1pm -4pm
Super Smash Bros: ( 1st sunday of the month) 6pm - 10pm
Yu-Gi-Oh!: Tournaments every week 6pm- 10pm
Monday:
Miniature Mondays: Every Week 4pm- 9pm
Art Meetup: Every Week 4pm- 8pm
Tuesday:
Digimon Card Game: Tournaments and casual play 6pm-10pm Register Online
Wednesday:
Yu-Gi-Oh!: Every week 6pm - 10pm
Ladies Night: Casual Meetup (Every 3rd week) 5pm
Thursday:
Bring Your Own Board Game Night: Every Week (6pm-9pm)
Weiss Schwarz: Every week (6pm-10pm)
Flames of War/ Team Yankee: Casual Meetup Every Week (6pm-10pm)
DragonBall Super Card Game: Every week REGISTER ONLINE (7pm-10pm)
Friday:
Atomic Mass Games: Crisis Protocol, Star Wars X-Wing, Star Wars Legion: Every week (5pm)
Magic the Gathering: LIMITED TOURNAMENT- register & check dates online (6pm-10pm)
Saturday:
Warhammer 40k (11am- 8pm)
Warhammer Age of Sigmar (11am -8pm)
Battletech (11am- 8pm)
Star Wars: Legion (11 am- 8pm)
Pokemon: Casual Meetup (12pm-4pm)
Pokemon: Build and Battle Tournaments- Every 3rd Saturday (12pm-4pm)
Magic the Gathering: Commanders- every week (5pm start)

There Are some amazing things going on. Don't forget to check online at our website for any and all details. Check back next week for some more amazing events! Till, next week!
Visit our store HERE!
Our online store HERE!
Like us on FB HERE!
Like The Adventure Stadium on FB HERE!
The Adventure Begins | 525 Woodland Square Blvd. #130, Conroe, TX 77384 | 936-273-3223
Tags: cards, comics, sports, games, store, more, adventure, begins
Articles by Month of Posting