/

/

/

Comics Comics and more Comics!
Comics Comics and more Comics!
By:
The Adventure Begins | The Adventure Stadium | Published 08/22/2022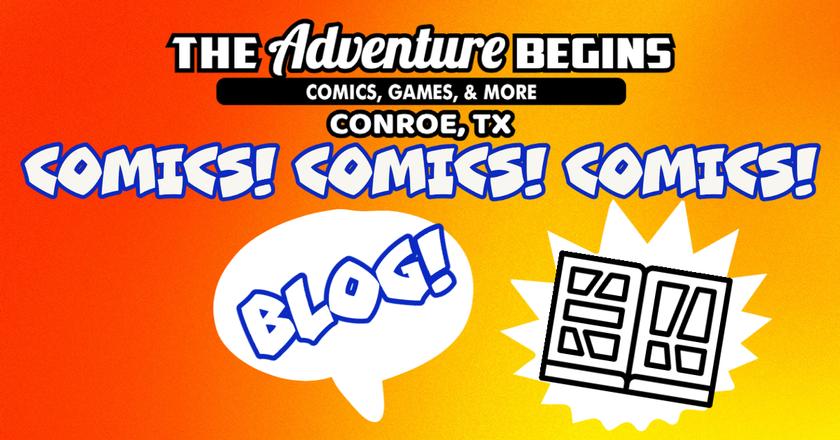 Welcome to the Grand Adventure Blog. I am your host Samantha. This week we are going to explore some crazy comics and mangas!! So be on the lookout for some amazing things!! Also, we have a new member of our BLOG TEAM!! Please welcome Macayla!!!
COMIC LOTTERY!! We don't have any comics this week as the shipment has been delayed! But don't be discouraged!! I will make sure to update you as soon as we have something!
Comics this week are so amazing! I am so excited to share these with you!! Without further ado!
I give you Grim #4. With her very afterlife at stake, Jess must confront a dangerous figure, raising questions about her death. Now a fugitive, Jess needs answers and is running out of options. Luckily, a new, powerful scythe might be the key to deciphering this entire mystery!
Next is a comic is Public Domain #3. Big things happen! Featuring the fan-favorite character "Dee" Donovan! That's her on the cover!!! This is a new to me comic, but I AM OBSESSED!!!
Last comic this week is I Hate this Place #4. What is a paranormal nexus, and how did Rutherford Ranch become one? Gabby, Trudy, and Dante search for answers, only to discover something else is stalking them.
MANGA CORNER!! Welcome to the manga corner where we talk about all things manga!! This week we have two mangas but they are going to blow your mind!
First manga up is Rooster vol 1. The neighborhood cock of the walk is more than just an ordinary rooster—he's humanity's greatest defender! His opponents may be ten stories tall, but nothing is bigger than his stout heart and his fearsome battle cry—cock-a-doodle-doo!
The next manga is SHWD vol 1. A hardboiled yuri tale about two special agent women fighting supernatural horrors! Special Hazardous Waste Disposal (or SHWD) has a mission to destroy mysterious biological weapons left behind after the last war. Though SHWD mostly hires men, their newest recruit, Koga, a buff female operative, is assigned to Sawada, the only other woman in the Tokyo branch. Before long, Koga finds herself falling for Sawada, whose powerful psyche compliments Koga's big muscles. Together, the unlikely duo must confront monsters beyond their wildest nightmares. Office romance meets buddy cops meets yuri horror!
Did you know we also do COMIC GRADING?? We do!! Come and see Macayla on the first Friday of the month with your favorite, or just a great comic you want to get graded. We have had some amazing entries and even better grades. All grading is done by CBCS and EGS.
Chaz and Dina are collecting comics and donations for comics for Kids and Troops. They have partnered with Comic Books for Kids/ Comic Books for Troops (https://www.comicbooksforkids.org/) to donate comics for kids who are sick and to send out to our troops all over the world. Don't have comics and don't want to purchase any? That is fine, there is a donation box where you can donate. All donations are welcome.
Be on the lookout for the next blog. We are having some fun and exciting things going on in August and next week is SEPTEMBER. Don't forget to come in if you have any questions about anything on the blog or if you just want to come by and say hello. Until next time!
Visit our store HERE!
Our online store HERE!
Like us on FB HERE!
Like The Adventure Stadium on FB HERE!
The Adventure Begins | 525 Woodland Square Blvd. #130, Conroe, TX 77384 | 936-273-3223
Tags: cards, comics, sports, games, store, more, adventure, begins
Articles by Month of Posting