/

/

/

Comics Comics and more Comics! 9/9/22
Comics Comics and more Comics! 9/9/22
By:
The Adventure Begins | The Adventure Stadium | Published 09/09/2022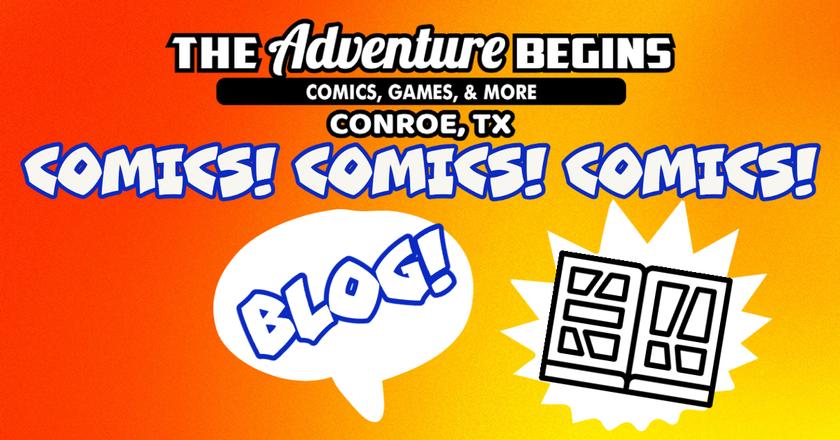 Welcome to the Grand Adventure Blog! I am your host, Samantha. This week we are going to explore some crazy comics and manga!! So be on the lookout for some new reading material!
Fun fact of the day: When Joe DiMaggio was playing with the New York Yankees, he loved reading Superman comic books. Believing reading comic books would tarnish his image, Joe was too embarrassed to buy them himself. He often sent fellow Yankee players to go buy the latest issue at the local newsstand.
COMIC LOTTERY!!
We have a LOT of comics coming to you this week for the lottery!! Be sure to look at the names and labels as some are the same comic but different variants!!
DCEASED WAR OF THE UNDEAD GODS #1 (OF 8) CVR D FRANCESCO MATTINA BODY BAG CARD STOCK CAR (1:10)
Comic Book Rec's!!
Comics this week are so amazing! I am so excited to share these with you!! Without further ado!
I give to you Poison Ivy #4. Workplace harassment complaints, health code violations, and inhuman work hours. All just a few of the things that your everyday human resources representative has to deal with. Lucky for you, Poison Ivy isn't your average HR rep. She's much more flexible and her punishments are far worse too! So be on your best behavior because Dr. Isley is watching.
Second on our list is Basilisk #11. Deep in the earth, the Five witnessed something awful that they'll never forget. Something connected to their equally fearsome abilities. In the present, Hannah is brought to the commune, while Vanessa's madness and blood lust take on a whole new level. Threatening everyone around her…
Last but not least we have Blade Runner: Black Lotus #2. Elle, aka Black Lotus, hoped she could leave behind her violent past and find a new life. But is that possible in a world where replicants are still hunted and feared? Expanding the world of Blade Runner with a new type of replicant!
MANGA CORNER!!
Welcome to the manga corner where we talk about all things manga! This week we only have one manga but it will blow your mind! Next week will have some exciting news as well for the world of mangas.
The first manga up is Josee, the Tiger and the Fish. College student Tsuneo loves the ocean and the creatures it harbors, and he dreams of studying abroad in faraway waters. All he needs is enough funds to go, so when a girl in a wheelchair suddenly barrels into his life, he readily agrees to work part-time as her caretaker. Getting close to the prickly Josee is easier said than done, but before he can give up, an impromptu trip to the beach shows them both that sometimes, they must take that first plunge to see the wonders that await. The hit animated film based on the striking story by Seiko Tanabe has been beautifully illustrated by Nao Emoto and collected in this single omnibus edition!
Did you know we also do COMIC GRADING?? Come and see Macayla on the first Friday of the month with your favorite, or just a great comic you want to get graded. We have had some fantastic entries and even better grades. All comic book grading is done by CBCS and EGS.
Chaz and Dina have partnered with Comic Books for Kids/ Comic Books for Troops (https://www.comicbooksforkids.org/) to donate comics to sick kids and our honorable troops.
Be on the lookout for the next blog. Don't forget to come in if you have any questions about anything on the blog or if you just want to come by and say hello. Until next time!
Visit our store HERE!
Our online store HERE!
Like us on FB HERE!
Like The Adventure Stadium on FB HERE!
The Adventure Begins | 525 Woodland Square Blvd. #130, Conroe, TX 77384 | 936-273-3223
Tags: cards, comics, sports, games, store, more, adventure, begins
Articles by Month of Posting