/

/

/

Classes Next Week and Upcoming Events (September 26th - 30th)
Classes Next Week and Upcoming Events (September 26th - 30th)
By:
Memorial Hermann Canopy Cancer Survivor Center | Published 09/21/2022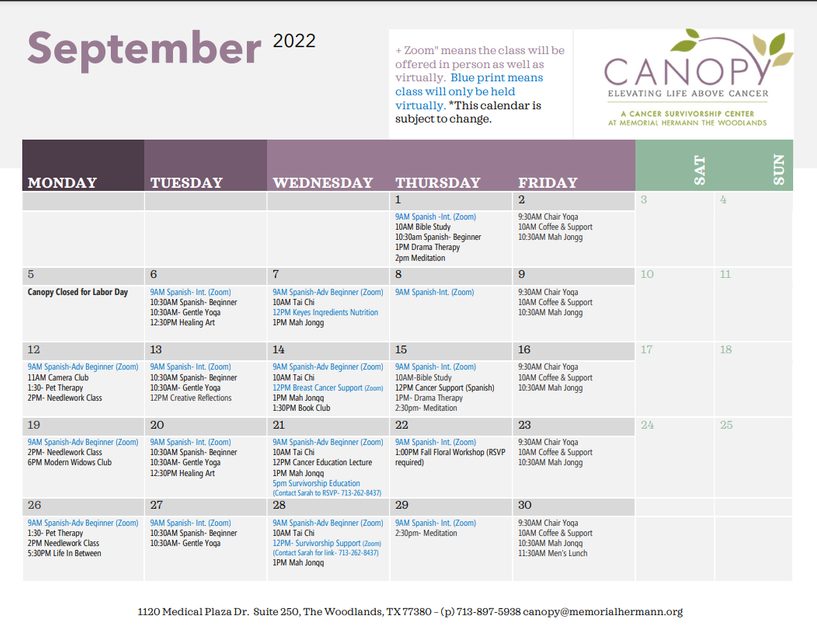 The mission of Canopy is to provide the finest support, education and integrative services to all those impacted by cancer regardless of where patients are receiving treatment. The Center serves as the primary location for activities aimed at helping patients and families throughout all phases of their illness, as well as assistance in navigating life after treatment. Created to be a warm and welcoming place with all elements centered on creating a calm and relaxing atmosphere for those who visit, Canopy is a home-away-from-home for cancer survivors and their families.
In the Pink of Health Luncheon- In the Pink of Health greatly contributed to the inception of Canopy Cancer Survivorship Center, and is a primary sponsor of Canopy. We are very thankful for ITP support and mission in our community to raise money for cancer related programs for the Montgomery and surrounding communities. For information about the upcoming 2022 In the Pink of Health Luncheon fundraiser on October 14, 2022, visit In The Pink of Health | Memorial Hermann.

Grit and Grace during Cancer Treatment- "Grit and grace go hand in hand," says Buttimer. "You can't just pray, meditate and be patient, but then skip your cancer treatments. You have to actually go to treatments, face them down and make tough decisions. Likewise, you need the contemplative practice of grace to make good decisions and reduce your stress levels". Read more here or share this story with a survivor today: Grit and grace during your cancer journey (piedmont.org)
Join us in person or virtually at noon today, September 21st to hear from Runsi Sen, Founder
of Ovarcome Ovarian Cancer Foundation. Learn about resources, support, and more about this organization with global impact. Join from any device: https://memorialhermann.zoom.us/j/99434663772?pwd=blU3YjJmY0x2dTdUWmQ5bnZBOGUrUT09
Fall Floral Workshop- 2 seats available for our fall floral workshop with Billy Mayberry on
September 22nd at 1pm. You don't want to miss this! Call to reserve your spot today! 713-897-5939
CLASS SCHEDULE
Monday, September 26th
9am Spanish Advanced Beginner (Zoom) *See note below
2pm- Pet Therapy
2pm- Needlework Class
5:30 pm- Life in Between for Stage IV Cancer Survivors
Tuesday, September 27th
9am- Spanish Intermediate (Zoom) *See note below
10:30am- Spanish-Beginner
10:30am- Gentle Yoga
Wednesday, September 28th
9am- Spanish Advanced Beginner (Zoom) * See note below
10am- Tai Chi
12pm- Survivorship Support (Zoom) (Contact Sarah to RSVP- 713-262-8437)
1pm- Mah Jongg
Thursday, September 29th
9am- Spanish Intermediate (Zoom) *See note below
2:30pm- Meditation
Friday, September 30th
9:30am- Chair Yoga
10am- Coffee & Support
10:30am- Mah Jongg
11:30am- Men's Lunch
** Spanish Classes with Clotilde (Intermediate & Advanced Beginner):
Please email Clotilde for the Zoom link: tilde.lake@gmail.com
Articles by Month of Posting