/

/

/

HVAC Fall/Winter Home Maintenance Checklist
HVAC Fall/Winter Home Maintenance Checklist
By:
Bradbury Brothers Cooling, Plumbing & Electrical | Published 10/30/2022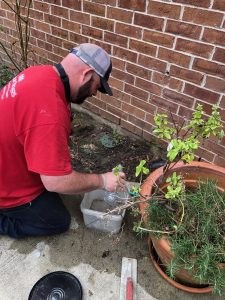 Remember Winter Storm Uri? Most of us enjoy winter because it brings the kind of weather we don't see much of here in Southeast Texas. But devastating conditions are possible, as we saw earlier this year, and it's best to be prepared. Our friends at HouseLogic.com have a checklist for homeowners to complete every fall/winter, and we think it's logical. It's never too late to winterize your home. Here's your Bradbury Brothers checklist for fall/winter home maintenance!
Stow your mower and other landscaping equipment.
Store water hoses and turn off the outside water.
Drain and turn off your sprinkler systems.
Prune your plants.
If your windows show signs of air loss or leaks (foggy appearance in the corners, condensation), seal the windows.
Clean your gutters and check your roof, especially around the chimney.
Inside, inspect the chimney with a flashlight; you're looking for birds' nests and other blockages. Check your fireplace damper; make sure it opens, closes, and seals tightly.
Insulate pipes with pipe insulation (available at local hardware stores).
Check for cracks, holes, and other openings on exterior walls that can be sealed with caulk or insulation.
Disconnect hoses from outdoor faucets and put an insulating cover over them.
Lastly, have your HVAC (heating, ventilation, air conditioning) system serviced by Bradbury Brothers.
HVAC Maintenance
No matter what the season, airborne allergens are always a problem in Texas. Of course, you will have cleaner air to breathe when your heating and cooling equipment runs efficiently. We call our HVAC maintenance a "tune-up," because, like an automobile, an HVAC system is mechanical.
A maintenance plan typically includes inspecting your heating system in the fall/winter and your air conditioning in the spring/summer. For your heating system tune-up, we will:
First, check your thermostat settings.
Second, tighten all electrical connections, measure voltage and check the current on electrical motors.
Third, we lubricate all moving parts.
Then, inspect the condensate drain.
Most importantly, we ensure the system starts, operates, and shuts off properly.
This is a short list of everything that is checked. Bradbury Brothers tune-ups are extremely thorough, with intent to make your home as safe and comfortable as possible.
Bradbury Brothers Cooling, Plumbing & Electrical
In conclusion, we truly care about your safety and health, and we know we can improve your air quality and lower your heating and cooling bills with our HVAC maintenance plan. Call 281.651.5484, 936.271.2030, or contact us online to schedule your 2021 fall/2022 winter HVAC maintenance check!
Articles by Month of Posting