Santa Hat Hunt
By:
The Adventure Begins | The Adventure Stadium | Published 12/07/2022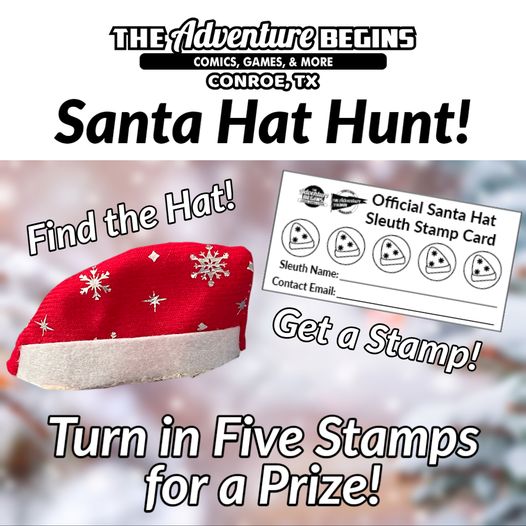 THE WOODLANDS, TX -- Hello everyone! Get excited for a new kid's activity happening at The Adventure Begins... The Santa Hat Hunt!
Each day on the first floor of the store, there will be a small Santa Hat hidden somewhere each day. This could on top of a statue, next to some paint, hiding in a demo game, or anywhere else!
Children ages 3-10 ( our Santa Hat Sleuths) will need to locate this Santa Hat and then will report back to the Main Register Employee once they have found it.
When the Main Register Employee confirms the hat's location, the Sleuth will receive a stamp on their official "Santa Hat Sleuth" card.
Each Sleuth can only get one stamp per day.
Once a card gets five stamps, the Sleuth can turn it in (with their name and a contact email filled in), they will be able to get a prize from the Holiday Treasure Chest!
On December 24, all of the turned in cards will be drawn from and the winner will receive $20 off a Single Item of their choice!
We're excited to see how many Santa Hat Sleuths we'll be seeing over the next couple weeks, so get searching today.
Articles by Month of Posting