/

/

/

Bundle up and head out: 6 tips for an injury-free workout
Bundle up and head out: 6 tips for an injury-free workout
By:
St. Luke's Health - The Woodlands Hospital | Published 01/09/2023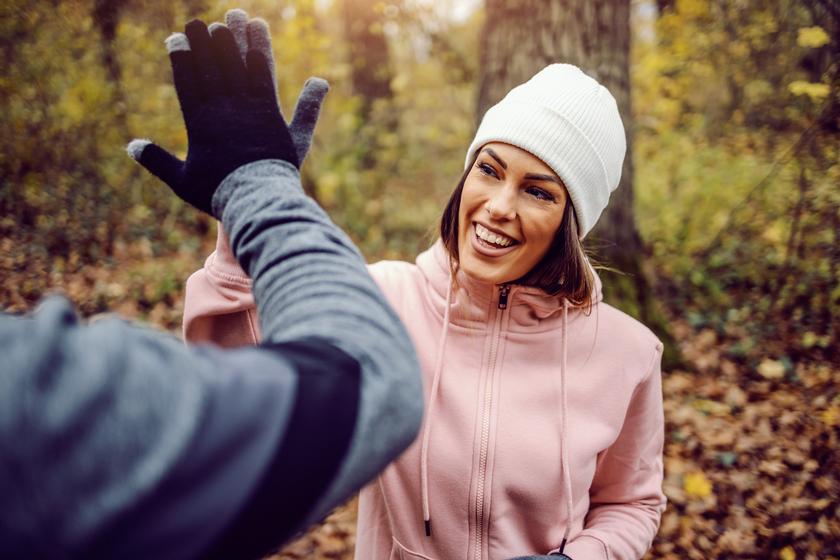 Exercising outside can be soothing. The fresh air and scenic routes make exercising more enjoyable than working at home or in your local gym. But what do experts say about taking a nature walk or running in the cold, snow, or rain? Think again if you're tempted to curl up in your bed with your favorite warm drink.
There are plenty of benefits to working out in cold weather. The winter chill might make you awake and invigorated, and the sunlight can improve your mood. You may be able to work out for longer, which means you burn more calories. Exercising also boosts your immunity during cold and flu season, so don't let the chilly temperatures damper your workout plans. Here's how to do it safely, but as always, check with your doctor before starting a strenuous activity:
It's all about layers but avoid cotton.
You've likely heard the term wind chill when strong winds make temperatures feel lower than they are. For example, a 30-degree day with 30-mile-an-hour winds feels like 15 degrees. And if you get wet from rain or snow, you will feel even colder. But take your time to stay inside. Instead, wear layers of clothes to keep you warm and protect you against harsh elements. Chances are what you have in your closet would do, except cotton, because it absorbs moisture rather than wicking it away. For your base layer, try moisture-wicking fabrics such as polyester, nylon, and Lycra. You can add a layer of fleece and top it with a thin waterproof jacket.
Be extra careful with winter chores.
Winter chores are excellent outdoor workouts and will make you feel productive. For every 30 minutes of snow shoveling, you can burn up to 200 calories. It works every inch of your body, including your legs, glutes, core, biceps, and triceps. On average, you can burn up to 600 calories for every hour of heavy yard work. But before you grab your shovel and lawn care tools, put on sturdy shoes, so you won't fall and slip. Avoid sneakers and choose shoes or boots with traction. And most importantly, listen to your body and signs that you may need to stop or take a break.
If you've lifted weights or done squats at the gym before, you know form matters. Keep the shovel close to your body if you plan to shovel snow. Bend your knees and lower your body with your back straight. Always lift with your knees, not your back.
Know the signs of hypothermia.
Just as we pay attention to warning signs of a heat stroke in the summer, body temperature drops can also be dangerous. The first step is learning the signs of hypothermia. Some are obvious, such as shivering and cold feet and hands, but others are more subtle. Watch out for lack of coordination, confusion, and slurred speech. If your body temperature falls below 35 degrees Celsius or about 95 degrees Fahrenheit, it can cause serious health problems. The reason is that your body can't produce enough energy to warm the internal body temperature. When in doubt, bundle up and pay special attention to children and older adults at higher risk.
Check the forecast.
It sounds like standard practice, but many people are busy during the holiday season and may forget to check the forecast (looking out the window doesn't count!). As a general rule, the risk of injury is higher when it's snowing or raining. If it's too windy or wet outside or if temperatures fall below -8 °Fahrenheit (-27 °Celsius), you're better off staying in. Consider an indoor workout instead, using an online video or your routine. In addition to layers of clothes, hats, gloves, and socks are essential for staying warm and preventing injuries.
Go easy on sugary drinks.
You may think water is only essential in the sweltering heat, but the truth is that water is as vital in winter. At this time of the year, thirst is not always the best indicator of dehydration. Refill your water bottle throughout the day, especially before and after workouts. Resist the temptation to drink too many pumpkin spice lattes or hot cocoa. They're loaded with unwanted sugar and fat. Avoid caffeine before doing heavy yard work or shoveling snow.
You can find a workout buddy.
Finding the energy or motivation to exercise when the temperatures drop can be challenging, but staying active is essential for optimal health. Try working out with a friend if you're having trouble rolling out of bed on those chilly winter days. It can be an opportunity to catch up, but most importantly, they can help hold you accountable. It's also more fun exercising with a friend or a group and cheering on each other. It can also make for a fun, healthy competition.
While it's true that we tend to catch colds and the flu in the winter months, low temperatures are not what make you sick. Viruses are. It just so happens that they spread more easily when people spend more time inside–such is the case in winter. Exercising outdoors in winter is generally safe. But if you haven't worked out or are older with a chronic condition, check with your doctor first. Your physician or advanced practice provider at St. Luke's Health can offer guidance to avoid health issues or injuries.
Sources:
Use these tips for getting healthy – and staying healthy – during the cold Winter months | American Heart Association
6 Tips to Stay Active This Winter | DNPAO | CDC
Winter Health Tips: Department of Health (ri.gov)
Exercising-hot-cold-environments.pdf (acsm.org)
Five Tips for Exercising Safely During Cold Weather | National Institute on Aging (nih.gov)
Can the cold make you sick? | American Heart Association
Articles by Month of Posting