/

/

/

COVID-19 and the Flu: Staying Vigilant
COVID-19 and the Flu: Staying Vigilant
By:
St. Luke's Health - The Woodlands Hospital | Published 01/12/2023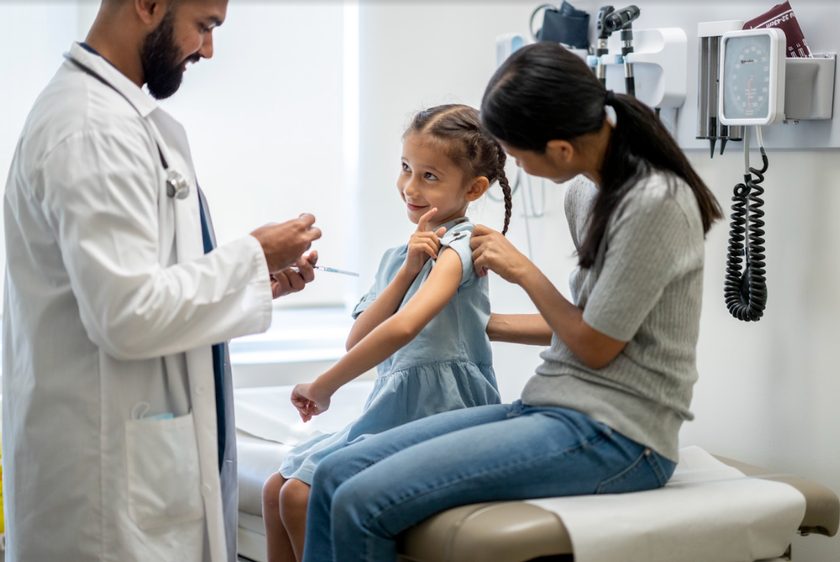 By Dr. Bradley Lembcke, Internal Medicine Physician, Chief Medical Officer and Senior Vice President, CommonSpirit Health, Texas Division
Since 2020, we've faced more than our share of challenges. The COVID-19 pandemic has redirected our focus as health care professionals and impacted decision-making in every aspect of care. After more than two years of adapting to the ever-changing pandemic landscape, it might feel as if we can breathe again as more people have gotten vaccinated and, compared to the height of the pandemic, hospitalization rates have dropped considerably.
While we can appreciate being in a much better place than we were two years ago or even a few months ago, it's not time to let our guard down. As omicron subvariants loom, and flu cases already reach record numbers, it's more important than ever to encourage our patients to take care of themselves and each other. This means getting vaccinated for both COVID-19 and the flu, and taking other precautions based on personal risk factors and the safety of others. We're also experiencing a wave of respiratory syncytial virus (RSV) cases among children and senior citizens, putting an additional burden on hospitals nationwide. Let's be diligent about keeping ourselves and others protected.
Spreading the Word
People have become used to living in a world affected by COVID-19, and this can promote a false sense of security. We all know people who have had COVID-19, recovered, and are doing just fine. Yet every day, a significant number of people are still dying in hospitals, especially those with additional risk factors, such as the elderly and those with weakened immune systems. Many people have let their guard down and are no longer social distancing or wearing masks in public places. Many are opting not to get boosted. It's up to all of us to protect each other, so please spread the word on the importance of getting updated boosters.
Although most people—health care professionals and patients alike—are more than ready to put the pandemic in the rearview mirror and return to normalcy, we're not there yet. The pandemic isn't over, and most experts predict winter 2022-23 will bring a new surge of COVID-19 infections and flu. The current omicron variant is highly contagious, and we must stress to patients that the latest boosters specifically target this strain of the virus, as well as the original strain. The vaccines have been proven to reduce the likelihood of severe disease, hospitalizations, and death.
The Centers for Disease Control and Prevention (CDC) recommends that all adults and children age 5 and older get boosted if it has been more than two months since their last dose. Those who have had a recent COVID-19 infection can get even better protection by getting boosted a few months after being sick. As of the end of October, only about 20 million Americans have received the new bivalent boosters. It's up to us as health professionals to continue to get the word out on the safety, efficacy, and the necessity of getting vaccinated and boosted. Staying up to date on vaccines and boosters now, before cases go up, means more lives can potentially be saved.
Preparing for the Flu
In addition to a new wave of COVID-19 infections, the winter season is expected to bring a serious flu season as well, what researchers call the "twindemic." The CDC reports a record number of hospitalizations due to flu, with cases peaking earlier than normal.
Many factors may contribute to this expected rise in influenza. The past two flu seasons hit record lows, in part due to COVID-19 safety measures doing double duty and protecting us from the flu. Now, our immunity may be down, making our bodies less able to stave off the flu virus and allowing us to be more susceptible to becoming sick.
Ideally, patients should get the flu vaccine by the end of October, but we should continue to encourage vaccination even if they missed the timeline. There have also been many questions about whether it's safe to get the flu vaccine and a COVID-19 vaccine or booster at the same time. Studies indicate there could be a slightly higher risk for achiness, fatigue, and other side effects, but coadministration is safe and can be a convenient way for patients to make sure they are protected.
For senior patients, the CDC preferentially recommends these three flu vaccines for adults age 65 and older:
Fluzone High-Dose Quadrivalent vaccine

Flublok Quadrivalent recombinant flu vaccine

Fluad Quadrivalent adjuvanted flu vaccine

If these aren't available at the time of vaccination, seniors can still get a standard-dose vaccine.
Setting an Example
As health care professionals, we must not only continue to stress to patients the importance of staying vigilant but also set an example ourselves. As a physician and someone with senior parents who have risk factors for the flu and COVID-19, I want to make sure I'm doing my part to keep them, and others, safe.
We must all be aware of our own risk factors, as well as those of the people around us. As the holidays, and a potential surge in COVID-19 and the flu, approach, let's each make sure we are doing what we can to protect ourselves, our family members and loved ones, and everyone around us. After all, we're in this together.
Articles by Month of Posting