/

/

/

Barn Cats: Willing to Work for Their Keep
Barn Cats: Willing to Work for Their Keep
By:
Operation Pets Alive | Published 02/08/2018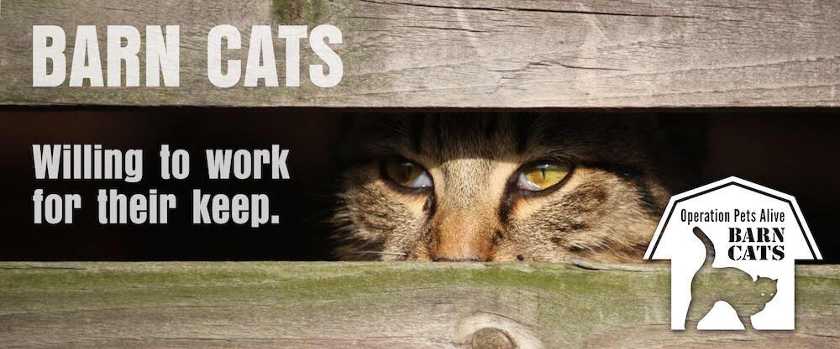 Why Barn Cats?
Our Barn Cats are healthy, spayed/neutered cats that are in need of new outdoor homes. These cats are feral (semi-wild) and are not suitable for indoor only homes. Ideal homes for these cats are farms/ranches, horse stables, warehouses, and other outdoor locations. They thrive in environments were they can hunt down rodents and snakes, which benefits you and your property as well! These animals still need food and water every day, as well as protection from potential predators and shelter as necessary (such as a barn).
?Barn cats are great companions for other animals on your property, they help keep rodent and pest control away and they even save you money! Why? Because each rodent they eat and each bug they deter is one less pest consuming your feed! Feral cats, particularly, do not do well in shelters. Our barn cat program is usually the only option for these cats. The best part, you are saving a homeless animal's life!
Are you or someone you know interested in a barn cat? Email us at:
We have many cats to choose from- we recommend you adopt two!
*Barn Cats can be adopted for just $ 50. Fee includes spay/neuter, ear tip, vaccinations and very specific instructions for acclimating your barn cat to its new surroundings. Caregiver must provide daily food and water, protection from elements and predators, and vet care as necessary.
Kibbles and Bits from Operation Pets Alive! Blogs: (4)
Articles by Month of Posting