/

/

/

Gardening in October: Flora and Fauna in the Forecast
Gardening in October: Flora and Fauna in the Forecast
By:
Lawn Ranger Company, Inc. | Published 10/01/2018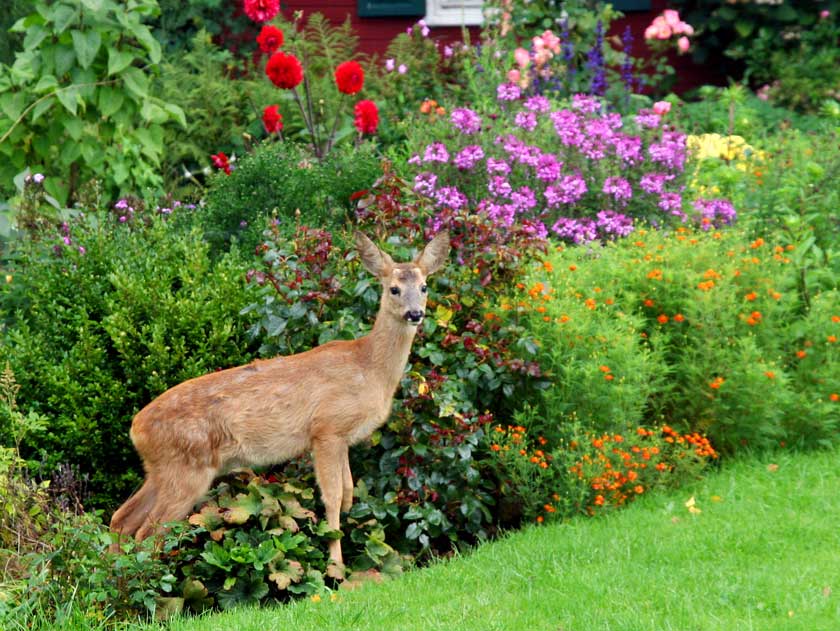 By Walt Crowder, Lawn Ranger Company Inc
.
I live in an acreage subdivision where wildlife is abundant. And like many of our readers, my landscape has its fair share of deer. This year is no exception; lots of those cute fawn frolicking through the landscape.
I am frequently asked about "deer-proof" and/or "deer-resistant" plant material. While there are very few plants that are actually "deer-proof," some plant materials do appear to be somewhat "deer- resistant"… depending on how hungry they are.
Those readers in my Subdivision who pass by my home have seen that I generally (not always) have good success with colorful flowers in my landscape, even on the outside of my fence. However, some people tell me they have found NOTHING that their deer won't eat! So, I have no sure-fire answers here, but I will offer some suggestions.
I have had pretty good success with Snap Dragon and Vinca or Periwinkle. Also, deer don't seem to like my Lantana. For a larger size shrub, my banana shrub plants have never become dinner for the deer. However, having said all that, it's true that if hungry enough, deer will eat most any plant. I have seen them eat rose bushes to the ground…thorns and all!
BROWN PATCH FUNGUS
In the fall of each year, brown patch fungus may appear on St. Augustine grass. The fungal spores generally become more prolific as we experience increased rainfall and cooler nights. We are already seeing some cases of brown patch fungus in some lawns, the result of recent rains or over-watering from the irrigation systems. Watch for "yellowing" circles, particularly in low areas that tend to retain moisture. You can treat the disease with fungicide from a garden supply store, or call for professional treatments from our renowned Green Lawn System. If you had brown patch last year, you will probably have a repeat in the same areas this year – unless you break the cycle with fungicide treatment.
OVERSEEDING
We will soon be moving into the dormant season for our warm-weather grasses such as St. Augustine and Bermuda. You can have a beautiful lawn year round by over-seeding with rye grass seed. Here are some points to ponder:
When should I overseed? You can plant Ryegrass seed in October and November. "Annual Ryegrass" is the least expensive, most readily available, and most commonly used. However, for a higher quality appearance, you may prefer to use "perennial ryegrass, " or a "perennial ryegrass blend." Although it is a bit more expensive, it will last a little longer into the spring.
Will overseeding damage my turf? Overseeding will not harm any of the commonly used warm-season grasses. In fact, overseeding tends to help the appearance of the lawn by reducing the growth of cool-season weeds.
What are the advantages and disadvantages to overseeding for the winter? Advantages include: A lush, beautiful, green lawn through the winter months; fewer weeds during the dormant season. We like to boast about having "beautiful lawns year-round." Disadvantages: Weekly mowing throughout the winter months; additional fertilization is necessary as the ryegrass draws nutrients that the warm-weather grass will need in the spring. NOTE: Do not mow an overseeded lawn until the seed germinates and green grass blades are visible. And do not apply a pre-emergent herbicide prior to overseeding.
FERTILIZER
It is a good idea to apply a late fall "winterizer" to the turf. This will promote strong root growth during the dormant months, and will help "kick-start" the grass next spring.
Articles by Month of Posting