/

/

/

Saving Sunlight: One Child's Story of Survival
Saving Sunlight: One Child's Story of Survival
By:
Memorial Hermann The Woodlands Medical Center | Published 02/05/2019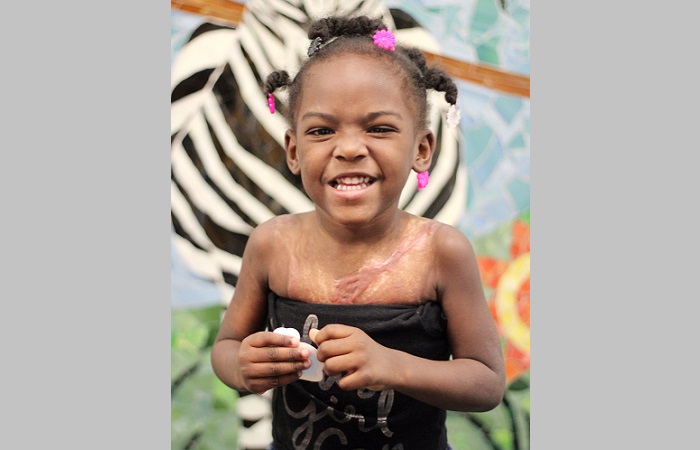 Precious Cole has a message for every parent: what happened to her 3-year-old daughter, Sunlight, in the fall of 2018 can happen to any child.
It started out as a quiet day at home. Cole was cleaning her house while Sunlight and her 5-year-old brother, Kemone, played in another room. After checking on her children in the playroom, Cole turned off a burner that was heating a pot of water on the stove and went to use the restroom. She recalled being in the restroom less than one minute before she heard a loud bang, followed by her children's cries.
"I ran to the kitchen and saw the stove tipped over. My kids were screaming and crying in the other room rubbing their skin," Cole said.
The hot water from the stovetop had splashed on both of her children. Cole instinctively grabbed her car keys and rushed her children to the nearest emergency room. Her son sustained burns on his feet, but Sunlight's burns were more severe, scalding her from the nose down. Due to the severity of the burns, both children were transferred to specialists at the John S. Dunn Burn Center at Memorial Hermann-Texas Medical Center (TMC). Cole said Kemone sustained first degree burns and spent three days hospitalized, but Sunlight sustained second degree burns, which covered 67 percent of her body.
Helping her children deal with the aftermath of the accident has been emotional for Cole. She learned her children had opened the oven door, and climbed on top of the stove. Their weight caused the stove to tip and the pot of hot water to spill. Sunlight has undergone surgery and therapy to help her walk again unassisted and is recovering well. Cole said she hopes by sharing their story, she can help others protect their children from the dangers of burns.
"I never thought something like this could've happened," Cole said. "My advice to other parents is to be very careful and keep your eyes and ears open because anything can happen in a matter of seconds."
Learn more about the different types of burns and how to properly treat some burns at home.
By: Jade Waddy
Articles by Month of Posting