/

/

/

Early Voting has begun for 2019 CISD Bond Referendum
Early Voting has begun for 2019 CISD Bond Referendum
By:
Woodlands Online | Published 04/23/2019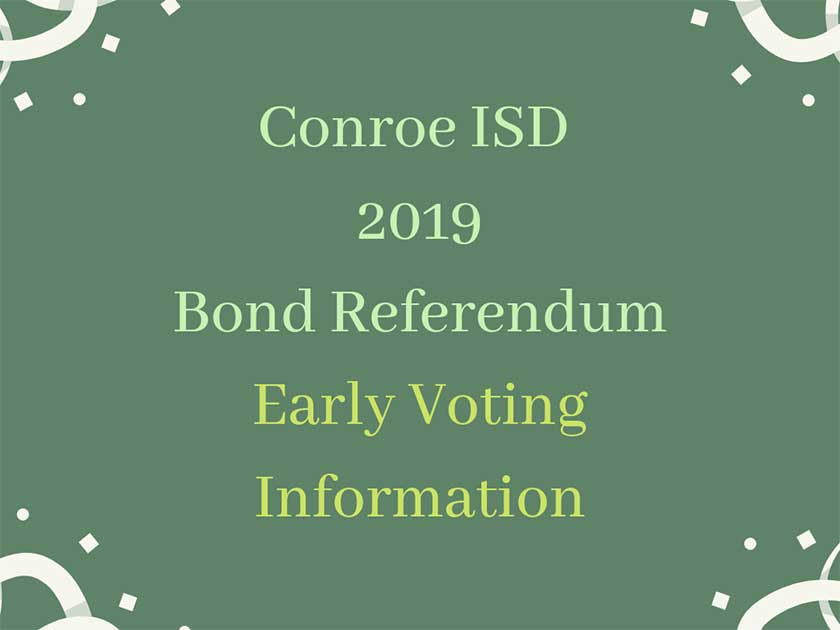 THE WOODLANDS, TX -- Nothing gets a conversation heated up quite like the subject of tax increases. Bettering the educational experiences of our children is at the fore of the 2019 CISD Bond Referendum. Early voting has begun. Below is a list of voting locations and times.
First, here are some bits of helpful information from the official website discussing the hot topic:
"What is a bond referendum?
A school bond referendum is a request presented to the taxpayers to give the Board of Trustees authority to sell bonds, secured by ad valorem property taxes, typically to finance building projects or other capital needs.
The bond referendum includes the construction of new schools and classroom additions to accommodate student growth; improvements and renovations to aged buildings and facilities to sustain capacity and accommodate growth; funding for Career and Technical Education facilities including robotics, automotive technology, and engineering design programs as well as an Agricultural/CTE Complex; a Teacher Training Facility; and the continuation of life cycle improvements and safety and security upgrades.
How much will the 2019 CISD Bond Referendum cost taxpayers?
A 1-cent increase is expected the first year of the bond. A 1-cent tax increase on a home in Conroe ISD valued at $300,000 is $2.29 monthly or $27.50 per year. CISD financial advisors project a maximum increase of 3 cents on the tax rate over the life of the 2019 CISD Bond Referendum. This is based on an average assessed value increase of 1.71% per year over the life of the bonds. Over the past 10 years, CISD's appraised value growth has averaged 6.9% per year. A 3-cent tax increase on a home in CISD valued at $300,000 is $6.88 monthly or $82.50 annually.
According to state law, citizens 65 years and older who have filed for a homestead exemption are eligible to have their school taxes frozen. If you are 65 or older and you have filed a homestead exemption, this bond issuance will not affect your tax bill at all."

Early Voting Began – Mon., April 22, 2019
Early Voting Ends – Tues., April 30, 2019
EARLY VOTING POLLING LOCATIONS AND TIMES
April 22 – 27 Monday – Saturday 8:00 am – 5:00 pm
April 29 – 30 Monday – Tuesday 7:00 am – 7:00 pm
Lee G. Alworth Building
(Main Early Voting Polling Place)
207 West Phillips Street, Conroe, Texas 77301
Magnolia Community Building
422 Melton Street, Magnolia, Texas 77354
South County Community Building
2235 Lake Robbins Drive, The Woodlands, Texas 77380
North Montgomery County Community Center
600 Gerald Street, Willis, Texas 77378
East County Courthouse Annex
21130 U. S. Highway 59 South, New Caney, Texas 77357
Lone Star Community Center
2500 Lone Star Parkway, Montgomery, Texas 77356
Limited Ballots, Special Forms of Early Voting and Ballot by Mail only:
Election Central
9159 Airport Road, Conroe, Texas 77303
For more information call the Conroe ISD Administrative Offices or go online at bond.conroeisd.net. You can also call the CISD Communications Department at 936-709-7707.
Articles by Month of Posting