/

/

/

Sheriff's Office promotes and honors members of Montgomery County law enforcement
Sheriff's Office promotes and honors members of Montgomery County law enforcement
By:
Woodlands Online | Published 05/16/2019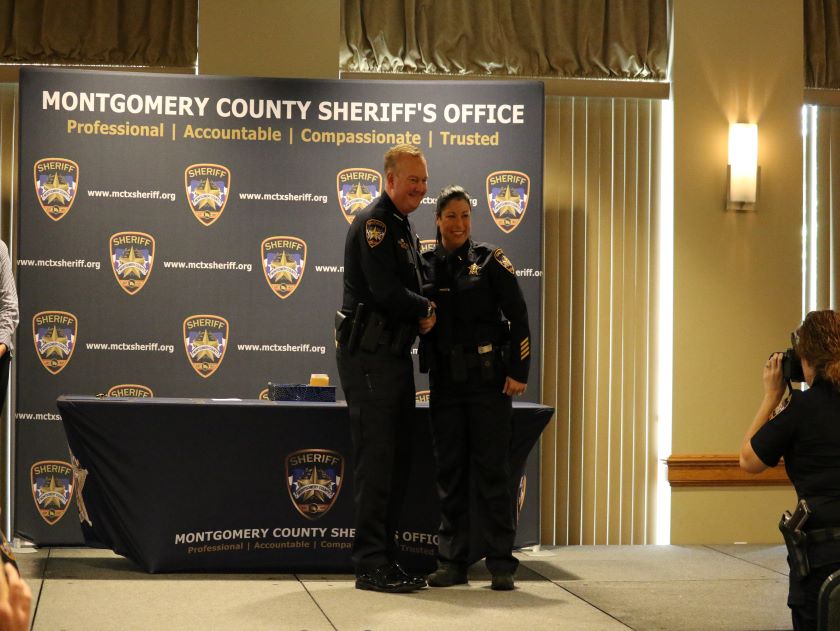 CONROE, TX -- Sheriff Rand Henderson and the Montgomery County Sheriff's Office held a ceremony on Thursday, May 16 to announce the promotion of 18 team members and honor individuals with 5-30 years of service.
Sherrif Henderson began the event by thanking the families in attendance for their support and spoke on how the Sherrif's Office will always be a second family for the team.
"When you send your loved ones off to work, you send them off to be with their second family," said Henderson. "That's something that we are really proud to have here at the Sherrif's Office is the close bond with one another."
After the Sherrif's welcome, the new promotions in each division were announced:
Administrative Services Division
Tim Cannon, Captain
Law Enforcement Services Division
Dan Norris, Captain
Patrol East Division
Jeremy Davis, Sergeant
Michael Burnett, Detective
Brad Crandell, Detective
Jeffery Durrenberger, Detective
Johnathan Jordan, Detective
Karen Martinez, Detective
Patrol West Division
Derek Cogdill, Sergeant
Bryan Mittag, Detective
Teresa Stone, Crime Analyst
The Woodlands Township Division
Andrew Senn, Detective
Michael Yow, Detective
Criminal Investigative Division
Stanley Jolly, Specialist
Riley Zapf, Detective
Executive Division
Elizabeth Curry, Supervisor
Jail Division
Jermaine Jenkins, Lieutenant
Stephanie Logan, Lieutenant
Each individual walked across the stage to receive their new badge and a certificate from Sherrif Henderson. The ceremony concluded with employees being recognized for at least five years of service. The highest amount honored was the 30 Years of Service group, which included:
Jimmy Malmay, Clarence Tidwell, David Wells, and Rocky Woodrick.
Articles by Month of Posting