/

/

/

Lazy Gardener & Friends for September 13, 2019
Lazy Gardener & Friends for September 13, 2019
By:
Nature's Way Resources | Published 09/13/2019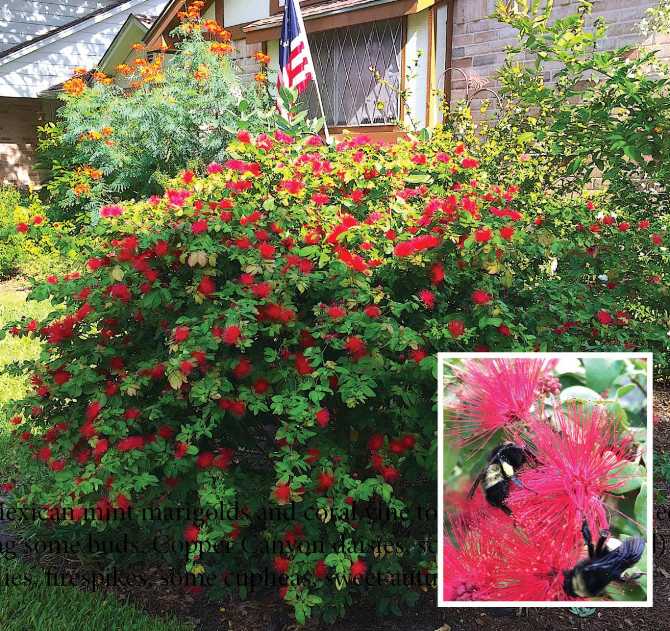 Paula Bazan's pink powderpuff and friends
Here is the 308th issue of our weekly gardening newsletter for Houston, the Gulf Coast and beyond. We really appreciate all of our readers hanging in there with us, sharing stories and inspiring us in so many ways.

This newsletter is a project of The Lazy Gardener, Brenda Beust Smith & John Ferguson. (John is with Nature's Way Resources). We also have a great supporting cast of contributing writers and technical specialists who will chime in and tweak away regularly. We would love to keep receiving your input on this newsletter, comments, suggestions, questions. Email your thoughts to: lazygardenerandfriends@gmail.com. Thanks so much for your interest.
BEE BENEFICIAL CONTINUES -- VEGETABLE GARDENING PITFALLS - BE FOREWARNED!
BY BRENDA BEUST SMITH
MORE BEE-BENEFICIAL plants with care tips came from Paula Bazan to help expand our Aug. 15: Good Times Ahead (If We Save Our Bees).
PAULA reports her pink powderpuff plant, right, attracts the most honey bees and bumblebees for her. Paula faithfully deadheads and removes seed pods from all her plants bees favor, including (in left upper corner), her pride of Barbados. (See this issue's "Have You Tried" recommendation below, between John's column and the calendar).
In late July, Paula prunes her flame acanthus, 'Hot LIps' salvia and Ximenia (gerberas) to ensure more new blooms for fall-arriving/year-round butterflies and hummingbirds. Snipping also triggers more flowers and/or beans/seeds on her purple porterweed, firespike, esperanza and golden dewdrop (duranta).
The price of success? Paula uses mosquito netting, long sleeves and ice packs around her neck to protect her from potentially-protesting visitors.
JUNE LEMOY wants to add that bees prefer single petal flowers (zinnias, black-eyed Susans) especially if they are blue, purple, and yellow, as well as flowering vegetables such as tomatoes and zucchini.
John Monroe wants to know if I've ever tried bee houses? Sorry, never have. I've had toad houses and bat houses. Google "bee houses." These aren't boxes with frames and queen excluders (we raised bees). These are more like uptown condos. Anyone used one? Only thing my bat and toad houses ever attracted were Husband's laughs!
PLANNING A FALL VEGETABLE GARDEN? So many incredible new and improved plant varieties are coming on the market, it's almost impossible to keep up with the latest and greatest. One good way is to shop the many Fall Plant Sales listed in our calendar below. Nurseries have to be very careful in ordering new-to-customer plants. We might not buy unfamiliar names.
At Master Gardener and other organizational sales, chances are members on hand to answer questions have already experimented with plants on sale and you may even see plants growing in on-site MG Demonstration Gardens.
For example, at Fort Bend MGs Oct. 12 Vegetable/Herb Sale chairman Barbara Buckley thinks gardeners will enjoy trying these three newbies below:
Utah celery grows in a bushy structure that allows thin stalks to be harvested as needed. Plant in the fall and have celery into late spring or early summer.
Rapini Broccoli - This plant has a sprout-like growth pattern. Its small ribs can be snipped for use, as needed, throughout the season.
Delicacy White Kohlrabi
A fall vegetable unfamiliar to many. The root, chopped and eaten raw, has a great crunch!
Most Master Gardener and other large group sales post inventories in advance of their websites. For example, the inventory for the Oct. 12 Fort Bend MG Sale inventory (9am-noon, Bud O'Shields Community Center, 1330 Band Rd.) can be found at fbmg.org
BUT BUYING IS ONLY THE BEGINNING. In our Spotlight Article below, Fort Bend County Master Gardeners focus on Fall Vegetable Garden mistakes that even our most experienced readers might make.
Be forewarned so you don't waste valuable time and energy! At the end of the article are some more great vegetable learning opportunities.
John's Corner:
"EAT TO BEAT DISEASE – The New Science of How Your Body Can Heal Itself"
by William W. Li, MD, Grand Central Publishing, 2019,
ISBN: 978-1-5387-1462-1
In this newsletter we often talk about the link between the soil, microbes, plants and our health. Especially the values of growing our own fruits and vegetables. This book is about using the fruits and vegetables we love to be healthy and beat disease.
This book is a story of the power of good healthy food to promote health and prevent disease. Dr. Li explains in easy to understand terms how and why some foods provide major health benefits. He explains the new science of how eating can enable your body to heal itself from cancer, dementia, and dozens of avoidable diseases.
This book is a good summary of research from all over the world on the benefits of eating healthy food.
We have long radically underestimated our body's power to transform and restore our health. Pioneering physician scientist, Dr. William Li, empowers readers by showing them the evidence behind over 200 health-boosting foods that can starve cancer, reduce your risk of dementia, and beat dozens of avoidable diseases. This book isn't about what foods to avoid, but rather is a life-changing guide detailing the hundreds of healing foods you can add to your meals that support the body's defense systems, including:
Plums, cinnamon, Sourdough bread, red wine and beer, black beans, San Marzano tomatoes, olive oil, cheeses like Jarlsberg, Camembert and cheddar.
With Dr. Li's plan, the foods you already love can be optimized to activate your body's five natural health defense systems--Angiogenesis, Regeneration, Microbiome, DNA Protection, and Immunity--to fight cancer; diabetes; cardiovascular, neurodegenerative, and autoimmune diseases; and other debilitating conditions.
Both informative and practical, Eat to Beat Disease explains the science of healing and prevention, strategies for using food to actively boost health, and points the study of well-being and disease recovery in an exhilarating new direction."
A New York Times Best seller.
Articles by Month of Posting