/

/

/

Lazy Gardener & Friends for September 20, 2019
Lazy Gardener & Friends for September 20, 2019
By:
Nature's Way Resources | Published 09/20/2019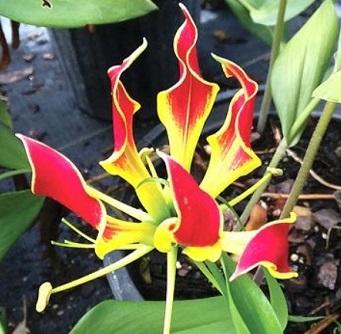 Dear Friends,
Here is the 309th issue of our weekly gardening newsletter for Houston, the Gulf Coast and beyond. We really appreciate all of our readers hanging in there with us, sharing stories and inspiring us in so many ways.

Thanks so much!

This newsletter is a project of The Lazy Gardener, Brenda Beust Smith & John Ferguson. (John is with Nature's Way Resources). We also have a great supporting cast of contributing writers and technical specialists who will chime in and tweak away regularly. We would love to keep receiving your input on this newsletter, comments, suggestions, questions. Email your thoughts to: lazygardenerandfriends@gmail.com. Thanks so much for your interest.

Please sign yourself up to receive this newsletter by clicking this link: "Join Our Mailing List". We will never sell or share our mailing list to protect the privacy of our subscribers.
Enjoy!
HISTORY INSPIRES, BENEFITS
OUR GARDENS TODAY
BY BRENDA BEUST SMITH
Our two guest experts today present a fascinating look at how the past and present are so intimately connected when it comes to gardening.
Well-known horticultural lecturer Jean Fefer generously shares her expertise and love of biblical gardening with plant lovers. In our Spotlight Article below she takes a look at how one can easily incorporate meaningful plantings from biblical times (geographically-speaking) in either special sites, or just throughout a landscape. Don't miss this preview of her free talks Thurs., Oct. 3, in Katy and Fri., Oct. 11. (Details on both follow Jean's article).
Heidi Sheesley, owner of Treesearch Farms, will speak Fri., Oct. 4, 9am at the Thurs.-Fri.,Oct. 3-5, 77th Annual Bulb & Plant Mart at Church of St. John the Divine, 2450 River Oaks Blvd. gchouston.org
Houston has benefited from many outstanding women horticulturists, but if I had to pick one as our "Wonder Woman," it would be Heidi Sheesley, right. She had been involved in garden efore I started garden writing (about 40 years). But I quickly learned she was a truly valuable resource.
Gardening was very different then from now. When Heidi opened Treesearch Farms as a wholesale grower in 1982, we planted mostly nationally-marketed imports from points north, east & west, varieties often weakened our intense heat/drought, monsoon rains and sporadic deep cold periods.
Weak plants attract insects and, as a subtropical Gulf Coast pocket, we have a bountiful supply. Chemicals provided the only relief which is why, back then, we ranked as one of the nation's leaders in sales of pesticide, insecticides, fungicides, etc.
Many other folks were moving here en masse, especially from northern areas. They wanted to plant their same familiar, mostly nationally-publicized, flowers and shrubs. Nurserymen may have loved natives and other hardy-for-us plants. But they had to stock what customers demanded. And they had to have them in bloom for best sales. At that point, most of our retail plants came from West Coast growers, who were able to supply them when we started shopping in February.
The steadily-increasing -- albeit still small -- group of ecology-minded gardeners continued to experiment with, and push for, hardier plants from our native populations and worldwide climates similar to ours (I used to call these "Gulf Coast Hardies").
The problem was getting better-for-us plants into the retail trade. Heidi was tough enough, determined enough and generous enough to hang in there when times got tough. She was totally committed to getting more low-maintenance plants into our gardens.
A true gardeners' "guardian angel," Heidi extended her community support to giving talks, helping groups with events, donating plants galore to public projects and -- best of all -- experimenting with new-to-us prospective "finds" promoted by area experts. Then she introduced the successful ones into the retail trade and helped promote them through her above activities.
And this didn't stop with ornamentals. Local "edibles" experts across the Houston area were experimenting with a wide range of fruit and nut tree varieties that actually like us and could easily handle our challenging soil, climate and insect populations. Heidi and fellow Treesearch expert, the late Bill Rhode, helped test and move successful ones into retail trade, including many we now take for granted.

So, when Heidi speaks, avid gardeners listen, including not only yours truly, but gardeners-in-the-know all over this area and beyond. The plants listed below will be among those she wishes gardeners here would try. They're among those she will will detail in her Fri., Oct. 4, 9am, Bulb Mart lecture:
GLORIOSA LILY
(Gloriosa rothschildiana)
A long time staple in the Treesearch Farms' gardens – stunning and rare! You must find a place in the semi-sunny part of your garden for this jewel.
GORDLINIA
(Gordlinia grandiflora)
Beautiful summer blooming ornamental tree that is love at first sight. Also called Fried Egg tree, White flowers with bright yellow centers appear all summer long. Great alternative to ever picky Dogwood.
INDIAN PINK
(Spigelia marilandica)
This native plant is often described as having one of the "most beautiful flowers in the world!" Another staple in the Treesearch Farms' gardens – shade to partial shade – rare in the trade.
ALICE STAUB AMENONE
(Anemone sp.)
Another rarity – yet this anemone survives Houston's heat! Will slowly colonize in the right spot – a beautiful addition to every garden.
SALICFOLIA
BEAUTIBERRY
(Callicarpa salicifolia) Prized for spring-to-fall pink bloom clusters, even more than berries. Bushy growth, morning sun. 6'+. Bees love! Great understory plant
HIMALAYAN BUDDLEIA
(Buddleia crispa)
Unique silver foliage and dusty pink blooms make this buddleia different from all the rest. Good drainage is a must
– so worth it!
(Note: the Bulb & Plant Mart is a project of the Garden Club of Houston and proceeds are used to finance GCH's many community projects):
THURS.-SAT., OCT. 3-5: HOUSTON BULB & PLANT MART, 5-7pm Thurs., 9am-5pm Fri, 9am-2pm Sat. Church of St. John the Divine, 2450 River Oaks Blvd. Garden Club of Houston event. gchouston.org/bulb-plant-mart-info/
BIBLE GARDENS (PLANTS OF THE BIBLE)
By JEAN FEFER
Harris County Master Gardener / Lecturer

It is exceptional a country the size of Israel, which comprises most the "Land of the Bible," supported over 2,600 plant species. The country is 1/2 desert.

The Bible mentions about 110 plants by name or description. Since the Old Testament was written originally in Hebrew and Aramaic, after 1,000 years of oral transmission, it is a challenge to figure out which plant one is actually talking about in a particular passage.

With so many translations, discrepancies depend on translators' horticultural knowledge or lack thereof. Modern botanical knowledge give a more accurate biblical plant identification. General climactic conditions have scarcely changed in the last millennia, leading to some confidence in plant identification. Even so, a fair number of plants may never be specifically identified.

Ancient Israelites' life revolved around agriculture. One would not find root vegetables (turnips or beets) used in the Bible text. They do not lend themselves to parables.

Wild edible herbs are found Bible text, such as the mustard seed parable (Matthew 17:20). Important fruit and nut tree gardens included date palm, olive, fig, walnut and almond. Many religious laws centered on agriculture!

Any Bible garden site has to take into account climate similarities and differences compared to the Holy Land. Possible specific focuses:
Herbs/condiments and uses now and then: Eg., flax is used now a health supplement. In biblical times it was grown for linen clothing.
Flowers? Lily and rose are the only two flowers named in the Bible. But lily, a generic name, applies to other flowers of the region, most grown from bulbs.
Important trees that anyone familiar with the Torah or the Bible immediately recognizes as important then and now?

My own choice is to study more unusual plants found in the text. I do not have a Bible Garden as such but I do grow:
·Etrog tree (Citrus Medica) (Leviticus 23:40). This primitive lemon, still grown in Israel today, is used as a ritual item for the Judaic High Holy Days. It produced fruit in 4 years from seed of a fruit produced in Israel about 15 years ago.
A small Carob tree that appears in the prodigal son parable (Luke 15:16). I'm waiting for it to produce some pods.
Rue -- a pretty shrublike plant with yellow flowers, but I find the odor and taste a bit off-putting.
Olive trees -- I donated my five trees to the Bible Garden at the Mt. Carmel Labyrinth and Garden in Freeman's Town.
My myrtle froze but I will plant another since it is involve in Judaic ritual.

I recommend:
"Plant of the Bible and How to Grow Them" by Allan A.Swenson.
"Plants of the Bible" by Michael Zohary is a good source for biblical significance of plants
*. *. *
NOTE: Jean will expand on Bible Gardens:
THURS., OCT. 3: BIBLICAL GARDENS by JEAN FEFER, 10 am, MUD Building, 805 Hidden Canyon Dr, Katy. Free, Nottingham Country Garden Club event. ncgctx.org
Friday, Oct. 11, presentation at the Jim FRI., OCT. 11: PLANTS OF THE BIBLE, 11:30am, Jim & JoAnn Fonteno Senior Education Center, 6600 Bissonnet St., Free. pct3.com/Senior-Centers/Jim-JoAnn-Fonteno-Senior-Education-Center
John's Corner....
BOOK REVIEW:
SICKER, FATTER, POORER – The Urgent Threat of Hormone Disrupting Chemicals to Our Health and Future and What We Can Do About It, by Leonardo Trasande, MD, MPP, 2019, Houghton Mifflin Harcourt Publishers, ISBN: 978-1-328-55349-2
In his newsletter we often talk about the link between the soil, microbes, plants and our health. Especially the values of growing our own fruits and vegetables. This book is about using the fruits and vegetables we love, to be healthy and beat disease.
Equally important is avoiding many common products that contain toxic chemicals, weather in our home, garden or our food. I found this book to be a great summary of many of the items we have talked about in this newsletter for years. This book is for those whom want to avoid expensive medical bill, save money and have a healthier lifestyle.
From the Amazon website:
"A leading voice in public health policy and top environmental medicine scientist reveals the alarming truth about how hormone-disrupting chemicals are affecting our daily lives—and what we can do to protect ourselves and fight back."
"Lurking in our homes, hiding in our offices, and polluting the air we breathe is something sinister. Something we've turned a blind eye to for far too long. Dr. Leonardo Trasande, a pediatrician, professor, and world-renowned researcher, tells the story of how our everyday surroundings are making us sicker, fatter, and poorer.

Dr. Trasande exposes the chemicals that disrupt our hormonal systems and damage our health in irreparable ways. He shows us where these chemicals hide—in our homes, our schools, at work, in our food, and countless other places we can't control—as well as the workings of policy that protects the continued use of these chemicals in our lives. Drawing on extensive research and expertise, he outlines dramatic studies and emerging evidence about the rapid increases in neurodevelopmental, metabolic, reproductive, and immunological diseases directly related to the hundreds of thousands of chemicals that we are exposed to every day. Unfortunately, nowhere is safe.

But, thanks to Dr. Trasande's work on the topic, and his commitment to effecting change, this book can help. Through a blend of narrative, scientific detective work, and concrete information about the connections between chemicals and disease, he shows us what we can do to protect ourselves and our families in the short-term, and how we can help bring the change we deserve".
Articles by Month of Posting