/

/

/

Texas Patriots PAC Hosts The Woodlands Township Board of Directors Candidate Forum
Texas Patriots PAC Hosts The Woodlands Township Board of Directors Candidate Forum
By:
Woodlands Online | Published 09/30/2019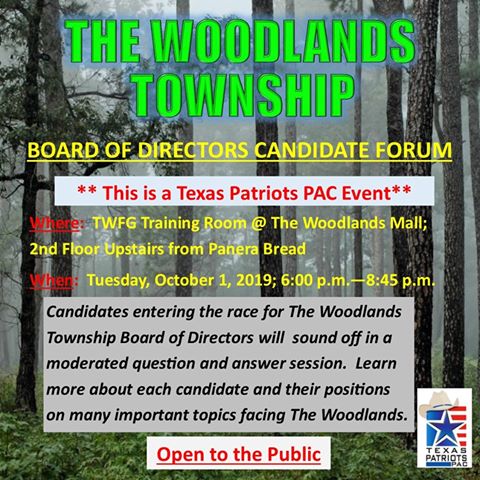 THE WOODLANDS, TX - The Texas Patriots PAC will host The Woodlands Township Board of Directors Candidate Forum on Tuesday, October 1, 2019 from 6:00 PM to 8:45 PM.
Candidates entering the race for The Woodlands Township Board of Directors will sound off in a moderated question and answer session. Learn more about each candidate and their positions on many important topics facing The Woodlands.
All questions will be posed by moderator John Bauman, VP of Texas Patriots PAC. Here is the breakdown of forum segments:
Position 5 Forum: 6:00 PM - 6:45 PM
Position 6 Forum: 7:00 PM - 7:45 PM
Position 7 Forum: 8:00 PM - 8:45 PM
All candidates running for Position 5, 6 and 7 have been invited to this forum.
This forum is open to the public and will be held at TWFG Training Room at The Woodlands Mall, 2nd floor upstairs from Panera Bread.
Articles by Month of Posting