/

/

/

How to Recycle in The Woodlands
How to Recycle in The Woodlands
By:
Woodlands Online | Published 11/12/2019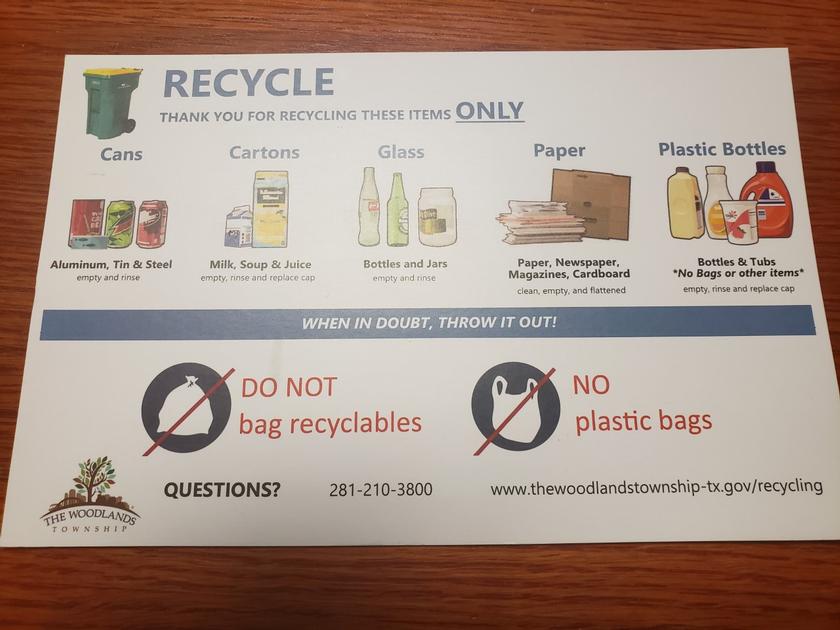 THE WOODLANDS, TX - In an ongoing initiative to help keep our community clean and to reduce waste, The Woodlands Township recently mailed out postcards indicating what can be recycled. Yes, the postcard can be recycled too.
According to the card, the following items can be placed in the recycling bins with the yellow top.
Cans: Aluminum, Tin and Steel (empty and rinsed)
Cartons: Milk, Soup and Juice (empty and rinsed; replace cap)
Glass: Bottles and Jars (empty and rinsed)
Paper: Paper, Newspaper, Magazines, Cardboard (clean, empty and flattened)
Plastic Bottles: Bottles and Tubs (empty and rinsed; replace cap)
The Woodlands Township urges residents not to bag recyclables, as plastic bags are not permitted to be placed in the yellow top recycle bins.
Plastic bags, such as grocery bags, newspaper bags, etc. can be properly recycled by taking them to a big box store. Walmart and Target, to name a few, offer bins at or near their entrance for plastic bag recycling. The plastic bag doesn't need to be from the store you dropped them off at.
Many residents believe that Styrofoam can also be placed in the yellow top collection bins. Like plastic bags, Styrofoam is not permitted in the residential bins and must be taken to a recycling center. For Woodlands residents, Styrofoam can be taken to the Precinct 3 Recycling Facility.
Almost all household waste can be recycled. Even batteries, light bulbs and appliances. For a complete list of what can be recycled and where to recycle, please click here.
Articles by Month of Posting