/

/

/

Lazy Gardener & Friends for December 6, 2019
Lazy Gardener & Friends for December 6, 2019
By:
Nature's Way Resources | Published 12/06/2019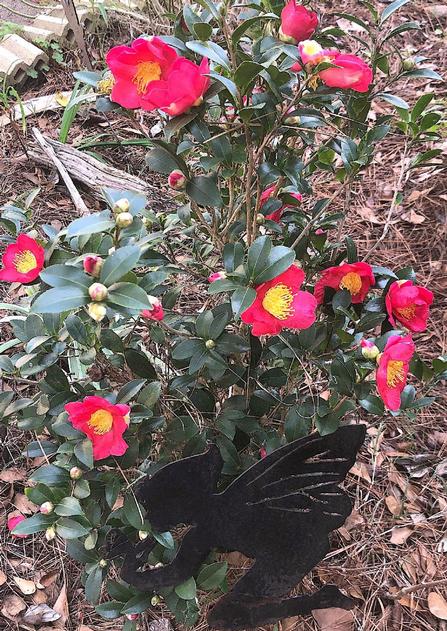 THE CAMELLIAS BLOOM IN WINTER ...

... when the skies are
cold and gray
When the sun shines
at its weakest and the
Spring seems far away
-- Frances Duggan (1946 -- )
"The Beautiful Camellias"
Such jouissance! My Yuletide camellia (above) is blooming at my front door! A longtime wish come true. I hope this continues until Christmas (when Yuletide camellias are always supposed to be in bloom). But even if it doesn't, I'm happy!
Although our new (post-Harvey) home is like our 50+-year-old lost one -- no one ever uses the front door! -- I can see my Yuletide through our living room window. What I see is what counts. And it's covered with buds that are just now starting to open!

I'm not sure why camellias aren't planted more often here. I've always thought of them as "queens of the garden." They have the same soil/care requirements as azaleas, which obviously have gotten much better publicity. Camellias are one of our very first and longest-blooming winter-flowering shrubs, starting around Christmas with Yuletide and continuing through spring with the other many varieties that love us. The rest of the year, the dark, glossy evergreen foliage provides beautiful frames for other bloomers.
I suspect one reason is -- in decades past -- debudding was oft-mentioned in articles about camellias. Strategically reducing the number of buds on a given stalk helped produce larger and more beautiful-than-normal flowers. This technique, along with gibbing (applying a bloom inducer), was (is) done mostly for more spectacular blooms for indoor display or for judged shows.
Just a personal observation from decades of interviews: men more than women seemed "turned-on" by camellias. Perhaps it was the challenge of using the techniques above to produce bigger, more beautiful, show-winning blooms than other guys could.
I could be wrong about this, but the demise of many area camellia societies over the years is definitely a fact. Our own longtime Houston Camellia Society seems to have lost its guiding light with the passing of longtime "tea flower" lover Greg Davis in 2012. Hopefully one day it will be revived. In the meantime, the Coushatta Camellia Society and at least two of our treasured botanical sites have continued to wave the camellia flag.
In our Spotlight Article below, Coushatta's current president Frank Ohrt will hopefully encourage more of us to try them. In addition to Coushatta's upcoming show/sale, we have two open-to-public gardens with incredible camellias to visit this month:
Bayou Bend Collection and Gardens, 6003 Memorial Dr., boasts around 120 camellias including 48 different varieties. A good time to see them would be Dec. 12-30 during the spectacular Christmas Village at Bayou Bend, 6003 Memorial Drive. Ticket info.

Mercer Botanic Gardens' 300+/- camellia trees and shrubs include species and named varieties, many of which survived the garden's recent devastating floodings. They're starting to bloom now so should be eye-poppers in time for Mercer's free Sat., Dec. 14, 11am-4pm Holiday in the Gardens celebration and plant sale (which will include camellias).

Private sales like this, and Coushatta Camellia Society's show & sale in January (along with locally-owned, independent nurseries) are often the best places to find varieties that do especially well in this area.
SAT. AND SUN., JAN. 18-19: 46th ANNUAL CAMELLIA SHOW AND SALE, 1-4pm, First Christian Church, 3500 North Loop 336 West, Conroe. Free. Coushatta Camellia Society. cousattacamelliasociety.com
* * *
Before we continue with camellias, however, an exceptional opportunity is coming up to take a more sophisticated look at . . .

How butterflies and other insects can lead us to safer gardening practices
Citizens' Environmental Coalition (CEC) is continuing its long tradiition of working with area organizations by hosting the Wild and Scenic Film Festival January 28-29 at River Oaks Theater, 2009 W Gray St. Included will be gardening-oriented films such as Clay Bolt's look at intricate details of insects. Aiden's Butterflies is about a boy's connection to monarchs and his community. To purchase tickets, visit CEC website The January festival is just one of many offerings as part of the Houston Green Film Series
* * *
URBAN GARDENERS often face unique challenges -- one reason, decades ago, the late Laurel Smith founded Houston Urban Gardeners to support city dwellers growing their own food in (back then) mostly backyards. Today vegetables and other edibles are seen in front yards as well. Some are really pretty -- but a bit of advice on how to do this without raising neighbor-ire always helps. (And I'd like to share your success stories and pictures!)
Houston Urban Gardeners is an incredible free, just-drop-in resource (no dues or membership). An excellent way to get in touch is at HUGS' Mon., Dec. 9, Holiday Potluck, 6:30 pm, West Gray MultiService Center, 1475 West Gray. Check it out. This link to HUGS current free newsletter also includes a list of vegetables to plant this month and next for a great winter edibles garden. Remember, we do garden year-round here!)
* * *
Now -- Camellias, queens of the garden!
"LAZY GARDENER SPEAKER LIST" & "PUBLICITY BOOKLET"
are free — Just email lazygardener@sbcglobal.net
Brenda's column in the LAZY GARDENER & FRIENDS HOUSTON GARDEN NEWSLETTER is based on her 40+ years as the Houston Chronicle's Lazy Gardener
* * *
L to r: Chandler's Elegans, an anemone form; Alba Plena, a formal double;
Terry Gilley variegated, a semi-double, and La Peppermint, a formal double;
Photos courtesy of the Atlantic Coast Camellia Society
PLANT CAMELLIAS NOW!
BY FRANK OHRT
President,
Coushatta Camellia Society
It's wintertime, and most flowers of summer are done. Don't despair. Winter is the season for camellias, loveliest flowers of all! Camellia sassanquas are beginning to bloom already. Japonicas and reticulatas are not far behind.
Most first questions about camellias are: "Where do I plant them, and when?" Perfect place: dappled sunlight under pine trees. But bright shade or morning sun are fine. Avoid hot afternoon sun. It will burn the leaves.

Not sure of a location? Put camellia there in a pot for a year. See how it does:
If leaves burn, it's getting too much sun.
If it has few flower buds, or none, it needs more light.
PLANTING:
Now is a fine time to plant camellias, though most people wait until after they finish blooming.
Don't wait too long. They should be well settled in before it gets hot outside.
Plant camellia in a roomy hole with a good layer of soil with a high percentage of organic matter below and around it.
The root ball top should be a couple of inches above surrounding bed.
Pile soil up around it, mulch well, and you're set.
DECEMBER CAMELLIA CARE
Check camellias for tea scale, tiny white specks on leaf undersides. Spray with Neem oil or dormant oil. Cover leaf tops and bottoms.
Bees visit camellia blooms. Systemic insecticides used now will get in blooms, killing bees. Be especially wary of neo-nicotinoids like "Safari," which are effective but particularly toxic to bees.
Consider "debudding" plants for better blooms. If there are more than one bud on the end of a twig, they will crowd each other and won't open nicely.
Pick one upward/outward-facing bud. Twist others off. You will have fewer flowers, but they will show their full beauty.
An excessive number of buds can lead to "bullnosing" in some varieties. A bloom opens partially, then the center falls off. Pretty frustrating!
While camellias are freeze-hardy on the Gulf Coast, their flowers are not. Blooms and buds showing color can be burned in a frost. But green buds will survive just fine.

If a freeze is coming, cut any blooms that are open, or mostly open. Enjoy them inside. A lovely camellia in the morning is almost as good as coffee!
*. *. *
NOTE: For more detailed information on camellia care and culture:
SAT. AND SUN., JAN. 18-19: 46th ANNUAL CAMELLIA SHOW AND SALE, 1-4pm, First Christian Church, 3500 North Loop 336 West, Conroe. Free. Coushatta Camellia Society. cousattacamelliasociety.com.
American Camellia Society, americancamellias.com. Look under "Care and Culture Resources."
NEWS FROM THE WONDERFUL WORLD OF SOILS AND PLANTS #104
One of the reasons vegetable gardening has exploded over the last few years is the extremely poor quality of our food supply. There are many reasons for this, destroying our soils with toxic chemicals, developing high yielding but nutrient poor crops (e.g. hybrids, GMO's), not replacing trace elements and micronutrients as they are depleted (lack of remineralization), destroying the organic matter and destroying life in the soil (e.g. tillage), etc.
For example, Broccoli in 1950, the varieties had 13mg/g of calcium versus 4.4 mg/g today. We have to eat 3 ears of corn to provide the same nutrition as just a few decades ago and today most corn is GMO varieties with higher levels of toxics on them.
The same thing has happened in common foods like milk as has happened agriculture and horticulture (corruption and greed). We know now that raw milk from organic grass-fed cows provides many health benefits.
After reading the article below I was amazed that raw milk is sold in Europe in vending machines. The Dr. Mercola newsletter has a very good article on how our food supply has been corrupted
.
A term that is starting to be banded about is the food-water-energy nexus. In the Crop Science Society newsletter (November 2019) there is an interesting article on this subject. Global warming is a major problem for all life on Earth due to greenhouse gasses like carbon dioxide (CO2). For example, in the mid-west using toxic chemicals to grow corn and soybeans causes the loss of 1,000 pounds of carbon per acre of land per year!
The loss of carbon (think organic matter) along with the depletion of nutrients (especially trace and micro nutrients). The resource base is the soil that is being steadily destroyed. It has become more fragile and extremely sensitive to heavy rains (erosion and flooding) and droughts that are becoming the new normal. This fragile soil is actually just dirt as it has no structural stability, it is more compacted, low in oxygen, etc. Almost daily I have someone come into the office with these same problems in their yard and garden.
As a result, the Intergovernmental Panel on Climate Change has stated that land degradation is one of the biggest and most important changes that humanity faces.
So, what can an average gardener do?
Use modern methods based on soil biology called "organic".
Do not till as it destroys soil.
Use diverse plantings of many different species of plants.
Increase the organic matter (good compost, aged native mulches, etc.)
Only use good quality organic fertilizers.
As a consumer, only purchase organic foods (especially from farmers markets)
As a consumer look for environmentally friendly products
We, as consumers, have to decide, do we want to part of the problem, or part of the solution.
Comment: I suspect if one had to pay for all the health problems caused by toxic chemical rescue agriculture from pesticides and herbicides, poor nutritional content, GMO damage, hormone disruption, erosion, greenhouse gasses, dead zones in the ocean, water pollution, and other environmental damages . . . the true cost of one hamburger at a fast food joint would be over $1,000. If as a people we would clean up the environment and our food supply, we as a society would not need things like mandatory healthcare and high taxes, saving every homeowner tens of thousands of dollars every year in hidden expenses.
As I researched various articles for today's column, I remembered this book by David Montgomery, PhD on how every civilization in history failed because they did not take care of their soil. ISBN-13: 978-0520272903
A new study confirms the benefits of gardening. The study has found that people living near green spaces are at much lower risk of metabolic syndrome, especially for middle aged and older adults (Barcelona Institute for Global Health, Journal of Environmental Pollution 2019).
Metabolic syndrome is a collection of conditions that occur together and include obesity, hypertension, high blood sugar levels, abnormal fat levels, non-communicable diseases like heart attacks, stokes, and diabetes.
This study confirms many other studies that exposure to green space can play a major role in preventing metabolic syndrome. The study also found that exposure to areas with more trees provided the most benefits.

One of my favorite herbs is Salvia rosmarinus commonly known as rosemary. This is a woody, perennial herb, with fragrant, evergreen needle-like leaves and white, pink, purple, or blue flowers, that is native to the Mediterranean region. Until 2017 when it was reclassified, it was known by the scientific name Rosmarinus officinalis, but is now a synonym. Rosemary is heat and drought tolerant and its flowers are loved by many pollinators.
Most of us know rosemary for its use as a flavoring for our food. What is more impressive is it health benefits which qualify it as a super food since it is full of polyphenols, flavonoids, and terpenes. Historically, rosemary was used for boosting the immunes system, helping the circulatory system, improving memory, and promoting hair growth.
Modern science has found that it provides benefits for brain health, eye health, diabetes protection, and much more. Rosemary contains rosmarinic acid and carnosic acid that have been show to protect brain cells from free radical damage. It has been shown to help reduce damage from strokes and help in recovery. It has also been found to help reduce age related macular degeneration. Additionally, it has been found to help with type 2 diabetes.
So, let's add rosemary to our gardens and enjoy it in our soups, stews, and sauces. Or as Life Extension suggests for an extra health boost, mix it into extra virgin olive oil and using it on a salad or over roasted vegetables.
What more can a gardener ask for in a plant as it is beautiful, pest free, drought tolerant, grows in any well drained soil, likes neglect, the flowers are loved by pollinators, it smells good, and it is delicious.
* * *
Have You Tried ...
LESLIE ANN CAMELLIA
ThIs small-leaved, dwarf Sasanqua camellia makes an eye-catching inground or container evergreen planting, with its profuse double white blooms edged in a rosy pink/lavender. Light shade but can take some sun. Tolerates most soils (unlike more acidic-soil loving camellias). Disease- and insect-resistant. A Louisiana Super Plant selection, 4'-6' tall & wide.
Leslie Ann camellias are carried by Nature's Way Resources (Map).
Or . . . contact our sponsor, Montgomery Pines Nursery in Willis, our other
sponsors below or your neighborhood nurseryman for possible sources.
Articles by Month of Posting