/

/

/

Smart Technology that Help Improve Your Home's Efficiency
Smart Technology that Help Improve Your Home's Efficiency
By:
Bradbury Brothers Cooling, Plumbing & Electrical | Published 01/31/2020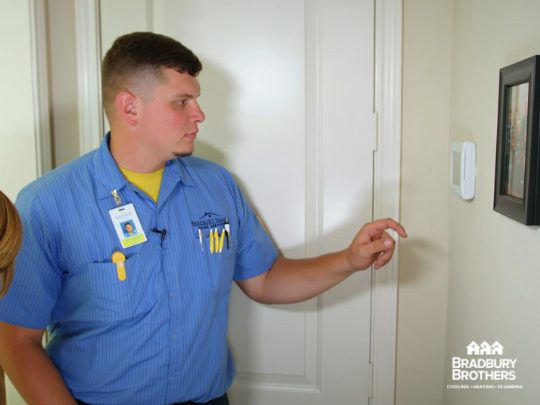 Having the newest gadgets is fun, and how often do we utilize these technological advances in our cars, at work, or as busy people on the go? One place not everyone has taken advantage of technology is in the home.
Over the past few years, numerous appliances and devices have been developed to make your home "smarter."
Even better, it can help make the systems in your house run more efficiently, saving you money. If you haven't delved into incorporating Smart technology into your home, here are some excellent ways to do so.
Smart Thermostats
One of the first home energy-saving technologies people think of are Smart Thermostats. They've gained notice and made optimizing your heating and cooling systems easier than ever. Two of the most notable systems are Nest and Ecobee. However, several other brands are swiftly making their entrance into the market.
Things that Smart Thermostats can do include:
Control temperature settings from your mobile devices and apps
Program different temperatures by day and time
Some have adaptive technology, allowing them to further optimize your heating and cooling system and adjust to the user's behavior through data collected
Certain systems include geofencing, a perimeter that lets your Smart system know if you're home or not, and adjust heating/cooling accordingly.
Smart Home Sensors
This handy technology keeps an eye on the systems of your home, and helps prevent major issues. Some of the things Smart Home Sensors cover are water, ventilation, air quality, and smoke detection.
Some popular sensors include:
Home Energy Monitor
Are you determined to improve your energy efficiency and save money? There are a number of home energy monitors on the market that let you do so. These include Home Energy by Sense, the Home Energy Monitoring System by CURB, and Ecoisme.
If you're ready to optimize efficiency in your Conroe, The Woodlands, Pinehurst, or surrounding area home, now is the time to do it. For a more energy efficient HVAC system, contact Bradbury Brothers Cooling, Heating & Plumbing.
Articles by Month of Posting