/

/

/

Solid Wood Doors VS. Hollow-Core Doors
Solid Wood Doors VS. Hollow-Core Doors
By:
Mr Handyman of The Woodlands | Published 02/10/2020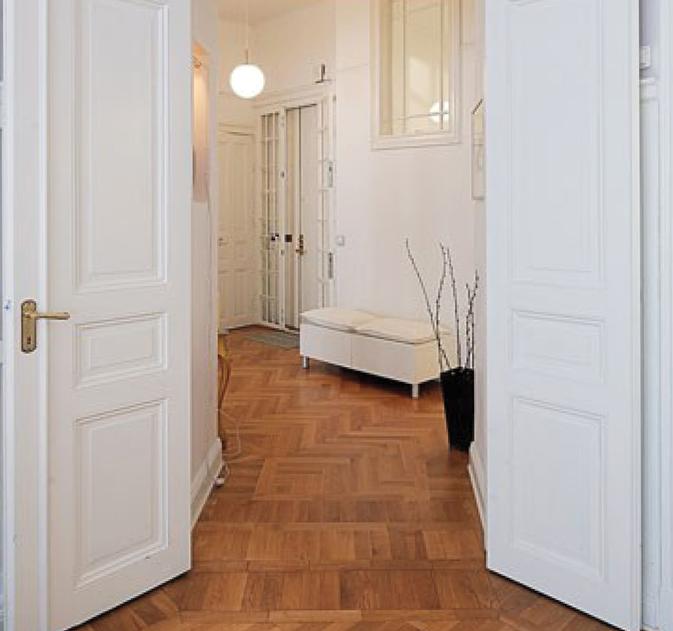 Whether you're upgrading the interior of your current home or in the process of finalizing the details of your new build, you'll need to make a number of decisions regarding fixtures and finishes. While your choice of wall colors or drawer pulls may only have aesthetic value, other elements can have a much greater impact on your budget and environment, and ultimately affect the privacy, or well-being of friends or family. Interior doors are one such item, and careful consideration should be given when deciding between solid doors vs hollow doors in order to maximize your comfort and investment, without breaking the bank.
Solid Wood Doors
Interior doors are utilitarian, but that doesn't mean they can't look good as well. For this reason alone, you may be tempted to install solid wood doors throughout your home, for a richer look and feel. Solid wood doors are made entirely out of real wood, and may be embellished with architectural details, and can be stained or painted as desired.
Solid Door Benefits:
Excellent insulation and sound dampening qualities.
Greater return on investment with potential buyers.
Less prone to damage.
An abundance of options with regards to wood type.
Solid-core wood doors are also available in fire-rated models.
Solid Door Setbacks:
Price, which can be 50 percent higher than the cost of a hollow-core door.
Prone to expansion and/or shrinkage due to fluctuations in temperature or moisture.
Added weight makes them more challenging to install.
Hollow-Core Doors
Comparing solid doors vs hollow doors is an important consideration with regards to your budget, when you consider that the average home has approximately 20 interior doors. The makeup of a hollow-core door is significantly different, with a honeycomb cardboard interior encased by fiberboard, or veneer, compared with the all wood composition of a solid door.
Hollow-Core Door Benefits:
Cost less that solid wood doors.
Lightweight makes them easier to install.
Hollow core makes them less susceptible to expansion and/or contraction.
Are often pre-primed making painting easier.
Hollow-Core Door Setbacks:
More readily damaged.
Harder to repair.
Provide little in the way of insulation or noise reduction.
Feels insusbstantial, which may turn off potential buyers.
Mix It Up
Deciding whether to install solid doors vs hollow doors throughout your home, doesn't have to be an all or nothing proposition. Consider compromising with a mix of these two types of doors, opting for solid doors where sound may be an issue such as bedrooms, bathrooms, home office, or study. Closet or pantry doors require no insulation or soundproofing and money can be saved by installing hollow-core doors in these areas.
For professional assistance with the selection, purchase or installation of your new doors, or any other residential or commercial repair, maintenance or improvement projects, contact your local Mr Handyman, or call us at (877) 256-3376.
Articles by Month of Posting