/

/

/

What You Need To Know About Covid-19
What You Need To Know About Covid-19
By:
Memorial Hermann The Woodlands Medical Center | Published 03/04/2020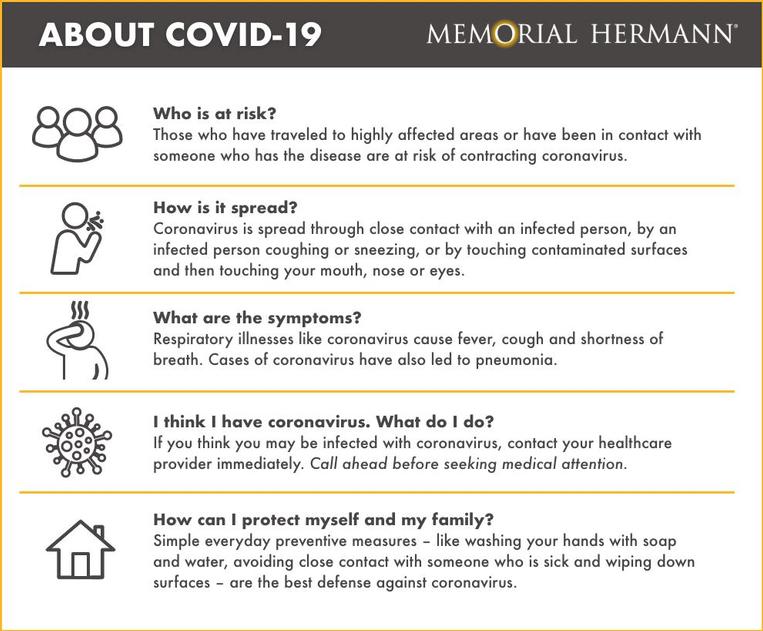 A Note from Dr. Angela Shippy, SVP, Chief Medical and Quality Officer
As officials from the Centers for Disease Control and Prevention (CDC) continue to caution the U.S. about the possible spread of coronavirus, I would like to assure our employees, patients, physician partners and the Greater Houston area that Memorial Hermann remains ready and committed to caring for our community and each other.
Memorial Hermann has a long history of reviewing policies, refreshing training and redoubling our efforts to ensure our facilities can safely and effectively care for our patients, including those with infectious diseases. Over the last several months – and in addition to safety processes and protocols already in place – we have prepared for the possibility of encountering a patient with coronavirus.
Based on current CDC recommendations, Memorial Hermann is ready and able to detect a potentially infected patient, protect all individuals within our hospital walls from exposure and respond with appropriate patient care. Members of our team are helping us stand ready by adhering to Memorial Hermann's coronavirus workforce and N-95 mask protocols, and following the CDC's patient screening guidelines.
While the headlines about coronavirus will continue to evolve, Memorial Hermann's top priority at all times is to provide high quality care to our patients while safeguarding the health and safety of our employees, physicians and volunteers. This is what ultimately allows us to create healthier communities, now and for generations to come.
Memorial Hermann will continue to closely monitor the situation in our own community and across the country. To keep up with the latest news on the outbreak, visit the CDC's website, http://www.cdc.gov/coronavirus/2019-ncov/index.html
Coronavirus FAQs
What is the Coronavirus Disease 2019?
The Coronavirus Disease 2019 (COVID-19) is a new respiratory virus first identified in Wuhan, Hubei Province, China. This virus was not previously known to cause human illness until the recent outbreak. It is believed that the virus was initially transmitted to humans from a wild animal. Human-to-human transmission is now the most common route of transmission.
What Are the Symptoms of COVID-19?
Similar to many viral respiratory illnesses, the symptoms of the virus mimic the common cold and include mild to severe respiratory illness with fever, cough and difficulty breathing. Symptoms may appear between two to 14 days after exposure to the virus. Also be mindful that we are in flu season and pollen counts are high, so there are many other causes for upper respiratory symptoms that are much more common than COVID-19.
How Does COVID-19 Spread?
As with any viral respiratory illness, COVID-19 can spread from person to person through small respiratory droplets, which are dispersed when a person with the virus coughs or sneezes and are then inhaled by another person. These droplets can also land on objects and surfaces around the infected person. Other people then catch the virus by touching these objects or surfaces, then touching their eyes, nose or mouth.
How Do I Protect Myself From Getting COVID-19?
There is currently no vaccine to prevent COVID-19. The best way to prevent the spread of germs is proper hand hygiene and cough etiquette. Below are some other tips:
Avoid close contact with people who are sick.
Avoid touching your eyes, nose and mouth.
Stay home when you are sick.
Cover your cough or sneeze with a tissue, then throw the tissue in the trash and perform hand hygiene immediately.
Clean and disinfect frequently touched objects and surfaces using a regular household cleaning spray or wipe.
Wash your hands often with soap and water for at least 20 seconds, especially after going to the bathroom; before eating; and after blowing your nose, coughing or sneezing. If soap and water are not readily available, use an alcohol-based hand sanitizer with at least 60% alcohol. Always wash hands with soap and water if hands are visibly dirty.
What Do I Do if I Think I Have COVID-19?
If you think you may have COVID-19 and are exhibiting symptoms, you should restrict activities outside your home. Do not go to work, school or public areas. Avoid using public transportation, ride-sharing or taxis. Should you need to seek medical care, please use telemedicine and virtual care options.
Will Taking Tamiflu Help Me Protect Myself From Getting COVID-19?
No, Tamiflu will not protect you from getting the novel coronavirus. Tamiflu is a drug to treat the flu, not a vaccine. The virus is so new and different that it needs its own vaccine. Researchers internationally have been working to develop antivirals, but at the present time, there is no specific treatment or vaccine.
How Long Does COVID-19 Survive on Surfaces?
It is not certain how long the virus that causes COVID-19 survives on surfaces, but it seems to behave like other coronaviruses. Studies suggest that coronaviruses may persist on surfaces for a few hours or up to several days. If you think a surface may be infected, clean it with simple disinfectant to kill the virus and protect yourself and others.
What Additional Safeguards Does Memorial Hermann Have in Place?
Memorial Hermann has taken proactive steps to protect our employees, physician partners, patients and community by implementing a workforce protocol based on CDC guidelines. This protocol includes screening members of our workforce who have traveled to affected areas, per the CDC, within the applicable time period, or who have had contact with someone who is under investigation for COVID-19 or has been confirmed with the virus. Based on screening results, we will then provide information on immediate next-level care or mandatory paid leave for employees for up to 14 days, as necessary.
Articles by Month of Posting