/

/

/

Lazy Gardener & Friends for March 6, 2020
Lazy Gardener & Friends for March 6, 2020
By:
Nature's Way Resources | Published 03/06/2020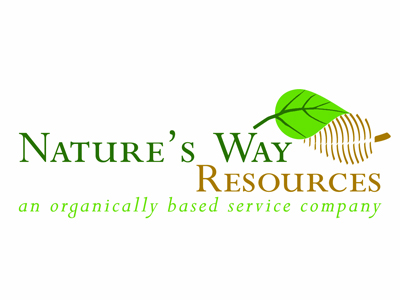 A TRUE GARDENER'S TREASURE... TOWERING TO TINY... POPPING NEIGHBORS' EYES!
By Brenda Beust Smith
John G. Fairey's eyes widen when he is asked to name a favorite plant,
as if he's been asked to choose his favorite child.
'Why, all of them,' he replies softly in a sandpapery Southern lilt.
-- PAM PENICK "The Plant Man" - Garden Design magazine, 2013
So begins an award-winning article by Pam Penick ("DIGGING" blog), just one of many articles that have -- across the globe -- sung the praises of John and his Peckerwood Garden, a true gardeners' treasure.
In the '70s, the artist John G. Fairey purchased an old Hempstead-area farm to nurture his treasure of gathered seeds. Increasingly these began to include rare and endangered plants -- among others that proved good for Texas gardens -- many gathered in Mexico and, eventually, from other countries as well. He named the now internationally-resourced garden after Beau's Peckerwood Plantation in "Auntie Mame."
The history of this unique horticultural delight includes massive damage from a 1983 tornado, a monumental boost from Mexico treks with Houston extraordinaire Lynn Lowery and, in 1999, a collaboration with the Garden Conservancy which, among other delights, helped John open his gardens periodically to the public. Peckerwood is a regular stop on the Garden Conservancy's national "Open Gardens" schedule of many of the nation's most significant private gardens.

One of Peckerwood's immediately-noticeable aspects is the way John Fairey-the-artist incorporates the visual, so visitors -- as he says -- "are forced...to touch and feel and smell, whether you want to or not." Direct vs filtered light, horizontal vs vertical branching, swirling palm fronds and spherical spikes blend with vivid color into soothing vignettes.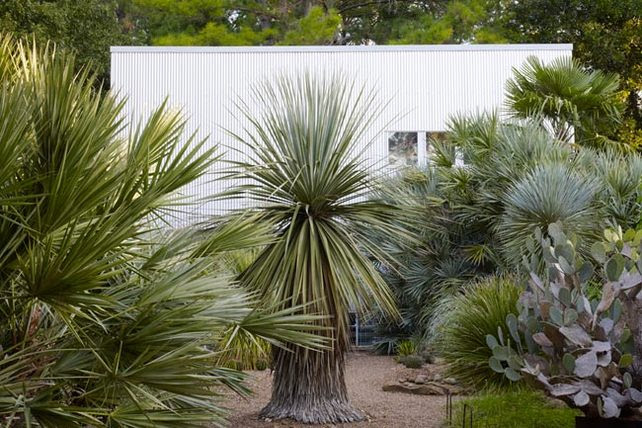 Visitors to Peckerwood are almost always welcome by appointment. A special treat Sat., Mar. 28, Peckerwood's annual Budding Out Festival. opens both the gate and plant nursery to the public. Not only will flowers be wearing their spring finery, but specialty plant and art vendors from around Texas will introduce unique inventories to the public.
In our Spotlight Article below, Peckerwood's Nursery Manager Craig Jackson gives us all a glimpse of a few unique Peckerwood plants he wishes all of us would try.
* * *
POPPING NEIGHBORS' EYES -- who doesn't like to do this! That's what's happening to passers-by at Jere Noerager's front yard who spot this species East Cape Poker (Kniphofia rooprei), right. Brilliant orange & yellow flowers (that open from bottom upward) are "chubbier" than typical red hot pokers. Although labels say stalks will be 3-4', Jere's now top 5'. Jere's name is probably familiar from his contributions to this column on ferns (he's a Texas Gulf Coast Fern Society stalwart) and shared advice from his Mercer Botanic Garden and Houston Zoo Garden volunteering.
Jere also popped my eyes with his Hong Kong Orchid Tree (Bauhinia blakeana), left. Jere reports it's 6" blossoms have covered the tree for a couple of months now with no sign of stopping. It's sterile, he says, hence the longer-than-usual bloom period and no pesky seedlings!
* * *
FROM TOWERING TO TINY . . . Whether you call them teacup, pixie, fairy, or just tiny container plantings, these miniature gardens are popular these days. Young aloe vera, hen & chicks, jelly bean plants, kalanchoes and zebra plants are favorite choices of Coldspring Garden Club members now preparing both readymade plantings and do-it-yourself tables for their annual Spring Fling sale. Succulents work best since they since these are more drought-tolerant. An absolute must: a drainage hole in containers! The free annual Spring Fling on Sat., Mar. 28, will be 9am-3pm at Coldspring Community Center, 101 E, Cedar Ave. in Coldspring. coldspringgardenclub.org
* * *
MEA CULPA, MASTER NATURALISTS! Huge thanks to Martha who noted in last week's local Master Naturalists listings that I failed to include two of our most active groups, Master Naturalist chapter, Galveston Bay Area and Native Plant Society of Texas chapter Clear Lake. As Martha so rightly pointed out: "Both of these serve the southeast area of Houston and beyond." If you missed John Ferguson's great Master Naturalist column, read it here.
* * *
And now, Craig Jackson's Peckerwood Garden Spotlight Article. .
* * *
"LAZY GARDENER SPEAKER LIST" & "PUBLICITY BOOKLET"
are free — email request to: lazygardenerbrenda@gmail.com
Brenda's column in the LAZY GARDENER & FRIENDS HOUSTON GARDENNEWSLETTER
is based on her 40+ years as the Houston Chronicle's Lazy Gardener
* * *
TREASURES TO SAVOR FROM PECKERWOOD GARDEN
By CRAIG JACKSON
Nursery Manager, Peckerwood Garden
BAUHINIA GALIPINII
This sprawling red orchid shrub from South Africa will make August, September and October your favorite months of the year! Plethora of red-orange flowers held aloft over typical bi-lobed foliage will attract butterflies galore. Root hardy in zone 9a, possibly lower in a protected area.
ANISACANTHUS (Anisacanthus puberulus)
Anisacanthus like no other! This species,
puberulus, has a much kinder and gentler appearance than the
cultivated species but, hailing from central Texas, still has
impressive drought resistance. Flowering is less profuse, which means reseeding is negligible.
QUERCUS GLAUCA (Ring-cupped oak, Japanese blue oak)
Decades ago, Peckerwood acquired the original seed
from the Fujita Seed Co, LTD in Osaka, Japan. Now those mature trees
are thriving on all parts of the property including areas that have never received any supplemental water. Beautiful multi-trunk form and 100% evergreen
foliage make this our best selling tree.
CONDALIA HOOKERI This Hill Country gem was brought to us by Will Fleming and has really been a quiet stand-out in the dry garden. In addition to lime green foliage in spring and jet black edible berries in fall, this buckthorn has a smaller form than its rambling kin Hill Country folk are used to seeing. Better with some shade. Low water.
NOTE: SAT., MAR 28: ANNUAL BUDDING OUT FESTIVAL 10am – 4pm,
Peckerwood Garden, 20559 FM 359 Rd. Hempstead. Free. 979-826-3232; peckerwoodgarden.org/budding-out-festival/
* * *
NEWS FROM THE WONDERFUL WORLD OF SOIL AND PLANTS #111
A new study from the University of Portsmouth has discovered that mature plants help younger plants survive and as a result they are more successful themselves. This is contrary to the assumed long held belief that plants are always in competition. In ecology this process of helping young plants (nurturing?) is called facilitation. This supports other research that diversity is the key in having healthy gardens or ecosystems. Journal of Perspectives in Plant Ecology, Evolution and Systematics, 2019
We often talk about the importance of trace elements for the soil to animal and human health. A talk that started researchers to study the link between elements (minerals) in the soil and human health was given by Dr. Joel Wallach in 1994. Every thing he mentioned in this talk has been confirmed numerous times by other researchers. This talk is now available on YouTube for free. The talk is not only informative but at times funny with his country boy humor to make a point.
"Dead Doctor's Don't Lie", by Joel Wallach, DVM, DO – nominee for a Nobel Prize
For many years I have been teased with comments like "Compost Grandma and enjoy her forever". There is now a company based in Seattle called "Recompose" that provides this service. Composting has been used for many years in agriculture as a clean and effective way to get rid of dead animals. In addition to Washington state, Colorado is also considering legalizing the process as it is less costly and safer than traditional methods.
The University of New Mexico Health Sciences Center has found a new environmentally friendly way to kill mosquitoes. The researchers discovered that mosquito larva love to eat yeast. They have developed a way to incorporate orange oil into the fungus we call yeast, hence when the larva eats the yeast with the orange oil they die. They found this method is especially effective for the mosquitos that carry dengue, chikunguya, and Zika diseases. Field trials are in progress in Brazil. Journal of Parasites and Vectors, 2020.
Researchers at the University of Montana have discovered that birds communicate by the sounds they make even from different species. Many species of birds have developed special sounds that are specific warning calls that state "snake on the ground", "flying hawk" or "perched hawk".
Other birds recognize these calls and pass them on. This communication can be relayed and speed through the woods at 100 mile per hour. For example, when a bird hears the warning call for a hawk they dive into the nearest bushes for cover.
A chickadee can vary the call to even the type of threat (low threat like a great horned owl versus high threat pygmy owl). They also determine if the threat is direct or just "fake news". As stated by one of the researchers "There is a lot of intelligence being used". Journal of Nature Communications, 2020
With the news full of stories about viruses, what can we do to strengthen our immune systems? Many medical studies have shown that fermented vegetables and pickled vegetables help us to be more resistant to viruses.
One of my favorites is pickled okra. Okra is a warm season vegetable that grows extremely well along the Gulf Coast and a great way to stimulate one's immune system. It is an excellent source of vitamins C and K-1, both are known for strengthening our immune system. It is a source of protein and fiber, full of antioxidants and polyphenols that help fight inflammation. Additionally, the lectins in okra naturally suppress some types of cancer cells. As a bonus it also has contains some A and B vitamins.
Okra produces large yields in small spaces all summer long and will grow in most soils with minimal care. As a member of the mallow family It has beautiful hibiscus like flowers.
It is a great addition to the spring vegetable garden, and yes for the purists out there, okra is technically a fruit and not a vegetable.
* * *
HAVE YOU TRIED . . .
ORANGE FLAME JUSTICIA
(Justicia chrysostephana)
This beautiful long-blooming root-hardy tropical is easy, rewarding and a magnet for hummingbirds. Richest color is triggered by very bright shade or early morning sun. Rounded clusters of 2" orange-yellow tubular flowers with large rich green tropical foliage on small (2') herbaceous plant. Great for warm shaded patios. Easy and rewarding, the Golden Crown Jacobinia flowers throughout the year creating a small herbaceous plant to about 2' high and wide. Excellent for hummingbirds! An excellent choice for a warm shaded patio as a specimen plant or in mixed containers.
ORANGE FLAME JUSTICA is carried by Nature's Way Resources (Map).Or . . . contact our sponsor, Montgomery Pines Nursery in Willis, our other sponsors below or your neighborhood nurseryman for possible sources.
Articles by Month of Posting