/

/

/

Lazy Gardener & Friends for April 9, 2020
Lazy Gardener & Friends for April 9, 2020
By:
Nature's Way Resources | Published 04/09/2020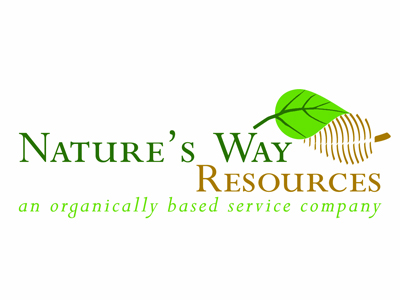 CORONAVIRUS CANCELLATIONS
If your event in our calendar below is cancelled, please let us
know as soon as possible at lazygardener@sbcglobal.net
NATURE'S GIFT OF CALMNESS & NORMALCY IN A WORLD THAT'S ANYTHING BUT
by BRENDA BEUST SMITH
"Hope we will move from 'vulnerable to victorious' soon!"
-- Suzzanne Chapman, Mercer Botanic Garden,
sharing a wonderful phrase used by Stephen F. Austin
University President Scott Gordon in "Lumberjack Network"
Asking great gardeners which plant is the most outstanding in terms of blooms and colors right this minute in their gardens is like asking a mother which of her children is the most fantastic. Getting most them to name JUST ONE as the very best was almost impossible!
Maybe, just for a moment, it would be good for all of us to savor just a little bit in the beauty nature is providing at this bleak point in time.
Spoiler: the two that surprised me the most I've saving for the very end. Hopefully all of these will bring a smile and/or help you fill in a bare area, to make sure you have a really beautiful Easter yard next year.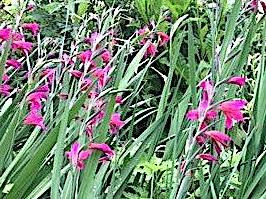 Take DR. BILL WELCH of antique rose fame. His first pick: Byzantine gladiolas (above). But then had to add Belinda's Dream roses, below, that "bloom 'most all of the time!"
SUZZANNE CHAPMAN of Mercer Botanic Garden listed at left (clockwise from left, pictured below) Pentas, 'Tokyo', Serissa (with its variegated leaves ideal for small gardens or containers), Salvia coccinea and the multi-colored yesterday-today and tomorrow (Brunfelsia)
Poppies and Louisiana iris highlight Gudrun Opperman's garden. Turns out, bees LOVE Poppies, which are strictly spring annuals for us. Plant seed in fall and already started plants in spring. GUDRUN's pass-along Louisiana lris (far right) were seconded by ANGELA ROTH who also rang the bell for these below.
Angela's highlighted green, yellow and pink roses below are in Pin Oak's Diversity Rose Garden, built with a grant from the Garden Club of Houston. Amaryllis, below right, is a star in Angela's own home garden
DALE PHILLIP's two orchid trees (Bauhinia) are still covered with flowers even after our heavy recent rains pink-carpeted his yard with fallen blooms! This is the largest of his two.
LAUREN SIMPSON's wildlife habitat, St. Julian's Crossing, boasts Winecups (Callirhoe involucrata) are instant eye-catchers and are beloved by bees, left.
DON DUBOIS had a hard time picking a "most spectacular" from his Montgomery County prairie-turned-pollinator paradise. Finally, he finally pinpointed Gulf Coast Penstemon, left.
His other picks below are worth noting: Top row, l to r, Dahlberg daisy, Heliotrope, Coral bean, Prairie Penstemon and Prairie Phlox. Bottom, l to r, Gaillardia, Purple Top Verbena, White Prickly Poppy, Green Milkweed and, overseeing all, his garden's native rabbit.
NOT ALL SPRING COLOR IS FLORAL! In a recent newsletter, our Have You Tried column spotlighted rough-leaf dogwood. John Ferguson recently shared this picture, right, of his rough-leaf dogwood's Fall color that lasted long into this spring!
AND NOW, TWO PLANTS THAT TRULY AMAZED ME. I don't think I've ever seen peonies and rhododendrons successfully grown for an extended period in the Greater Houston area. But new varieties and climate change are altering horticultural scenes everywhere!
GAYE HAMMOND'S ITO PEONY 'TAKATA' has 5" blooms. She says this one, called 'Yumi," throws blooms in sprays as well as singles. Peonies in a Houston garden! That's one thing I never thought I'd see!
WHILE RHODODENDRONS don't normally do well in Houston proper, Gudrun's like the Kingwood area. Now about 6 years old, this one does well in part shade with good drainage. drainage. Gudrun warns it's very slow growing. She thinks she got it at a Stephen F. Austin Mast Arboretum sale (Nacogdoches).
I HOPE THESE REPORTS provided a welcome diversion in these strange, challenging and very scary times. If you have a flower that's creating a magnificent spray of color right now, do share a picture!
Above all, BE SAFE! -- Brenda
* * *
ALL EARTH DAY HOUSTON 2020 CELEBRATIONS
scheduled at Discovery Green for Sun., April 19, 2020,
and subsequent Discovery Green Conservancy events
through May 15 will be rescheduled in 2021
* * *
"LAZY GARDENER SPEAKER LIST" & "PUBLICITY BOOK LET"
are free — email request to: lazygardenerbrenda@gmail.com
Brenda's column in the LAZY GARDENER & FRIENDS HOUSTON GARDEN NEWSLETTER
is based on her 40+ years as the Houston Chronicle's Lazy Gardener
* * *
NEWS FROM THE WONDERFUL WORLD OF SOIL AND PLANTS #115
I was listening to a customer last week talking about how they love to watch birds in their yard. They then mentioned that they did not have near as many birds as they used to. Next they stated they needed to purchase a Bt product to kill all the caterpillars in their yard as they were falling out of the trees.
What they did not understand is that 90% of bird species when laying eggs or raising babies, require a high protein energy dense diet. By eliminating the caterpillars they were effectively getting rid of the birds as they could not grow and reproduce without their major food source.
Why does nature have the caterpillars eat the energy-dense new leaves in the spring AND have the birds build nests and lay eggs? God knew what he was doing. The birds (or wasps) will eat most of the caterpillars, the foliage will quickly regrow and the cycle of life will continue.
I also suspect the feeding by caterpillars on the foliage provides other benefits we just do not understand at present (see article below on secondary plant metabolites).
Another benefit of gardening. A study in the journal Ecopsychology (April 2020) has found that gardeners had significantly higher levels of body appreciation and pride. They also had a better understanding and appreciation of body functioning. This led to better mental and physical health.
Have you ever wondered how long a seed may remain viable? Scientists at the Hadassah Medical Center and the Hebrew University of Jerusalem collected date palm seeds from the archeological site called "The Fortress of Methuselah" that were dated at over 2,000 years old which sprouted into date palm trees.
The North American Butterfly Association now offers signage and certification for butterfly gardens. One can visit their website and register your garden and for a small fee get the sign below or one on Monarchs.
Many years ago, I attended a lecture by Jerry Brunetti on secondary plant metabolites. A few years earlier Jerry had been diagnosed with terminal cancer with only a few months to live. Jerry did his graduate work in animal nutrition and owned a feed company at the time. By using his knowledge of nutrition, he cured himself of cancer and lived another couple decades. One of the things he talked about was how a plants immune system does not waste energy to make chemicals to fight insects until they are eaten on by a pest. He called these chemicals secondary plant metabolites and they were the anti-cancer compounds. Hence, if one wanted to maximize the benefits of eating vegetables look for the ones whom leaves had been nibbled on by insects.
Research by scientists at Texas A&M published in the journal Nature's Scientific Reports (December 2019) has found that organically grown produce (plants) benefited nutritionally from "wounding" caused by insects. They found that the damage by insects caused a stress response in fruit and vegetables which in turn triggered the plant to produce high levels of antioxidant compounds.
Scientists at Iowa State university having been studying planting prairie strips around crop land. After 10 years they found that adding a prairie to a small portion of the farm yields impressive benefits by improving water quality, reducing erosion, creating habitat for beneficial insects, and providing nutrient retention. The results have been so impressive that the federal government is providing grant money through the Conservation Reserve Program (CRP) and the Environmental Quality Incentives Program (EQIP) for land owners to plant prairie strips on their property.
The Organic Consumers Union has a nice article with lots of nutritional information called "Coronavirus – What Are the Best Alternatives for Self-Care".
* * *
HAVE YOU TRIED . . .
INDIGO AMORPHA
(Amorpha fruticosa)
Also known as False Indigo, this large, loose airy fragrant shrub produces blue > purple flowers April-June. Sun-part shade, drought-tolerant, likes most soils, cold tolerant, Favorite of native bees, butterflies and other nectar insects.
INDIGO AMORPHA is carried by Nature's Way Resources (Map).
Or . . . contact our sponsor, Montgomery Pines Nursery in Willis, our other
sponsors below or your neighborhood nurseryman for possible sources.
At Nature's Way Resources we have uploaded our Master and Native Plants inventory online to implement a curbside pickup for orders. Any questions and orders for the plant nursery can be directed to Carol at nwrnursery@gmail.com.
Articles by Month of Posting