/

/

/

Haircuts, Manicures and Massages: Is it Safe to Go Back to the Salon?
Haircuts, Manicures and Massages: Is it Safe to Go Back to the Salon?
By:
Memorial Hermann The Woodlands Medical Center | Published 05/07/2020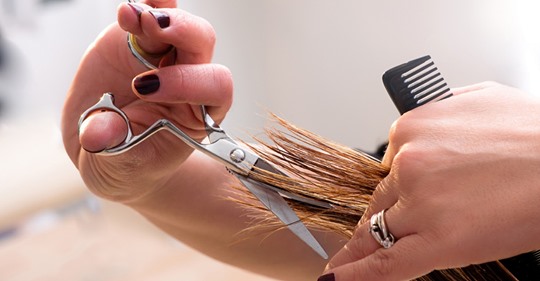 Finding ways to relieve stress can be tough during the global pandemic. Normally, taking some time to care for yourself at your hair or nail salon is a great way to relax, but in these days of social distancing, trips to the salon have been put on hold.
Now that our community is beginning to take steps toward slowly getting back to normal, you may be wondering when you can safely resume your self-care activities. We are all eager to resume life as we knew it, and things like massages and manicures would go a long way toward restoring our overall wellbeing. But in order to keep people healthy, the return to normal is a slow process that takes time.
Can we go to the salon? The short (and frustrating) answer is: not yet.
"We are being conservative and telling patients to plan for the end of the summer to get back to normal, non-essential activities like massages and nail appointments," says Meghan Hunter, DO, a family medicine physician with Memorial Hermann Medical Group. "But the truth is that we don't know how this will play out in our community. We are preparing for the worst and praying for the best."
Experts don't fully understand which activities are safe at this point. "There is no real consensus," Dr. Hunter says.
Because experts' opinions are somewhat varied, a good strategy is to play it safe and delay salon appointments. "It's difficult to know when to move back to business as usual, but it's not yet. It's still too early," she says.
According to Dr. Hunter, it may be safe to return to these activities sooner than anticipated, but that remains to be seen. "A lot depends on what people do now and in the coming weeks," she says. "If people remain vigilant and smart, now, taking proper social-distancing precautions and practicing good handwashing techniques, the threat of COVID-19 in our area may die down faster."
Returning to Hair Salons
It's tough to get a haircut while maintaining six feet of social distance, so it is not a good idea to go back to the hair salon yet. Even if you wear a mask and wash your hands, there is still a risk of contracting or spreading COVID-19. Haircuts can sometimes feel essential, but they really aren't and they should be postponed until the pandemic further subsides.
Returning to Nail Salons
It is also a good idea to delay your manicure and pedicure appointments. While you are waiting to get back into the nail salon, be sure to take good care of your fingernails on your own. "Clean nails are an important part of hand hygiene," Dr. Hunter says. "You can harbor germs underneath your nails, which can be transferred to objects that others are touching. Ideally you should keep your nails short and clear of polish, so you can see if they are clean and free of debris after washing your hands."
The CDC recommends keeping your fingernails short and out of your mouth. Resist the urge to bite or chew on your nails and cuticles, and remove old nail polish that may be lingering from your last manicure.
Returning to Massage Therapy
A relaxing massage is a great way to reduce stress, but you should avoid scheduling an appointment in order to keep yourself and your massage therapist safe. "There's really no way to have a massage while practicing social distancing, so it's best to wait a while longer," Dr. Hunter says. "There is still an element of risk, and we just don't know enough yet to say that it would be safe at this point."
Experts are constantly learning more about the spread of COVID-19, and as the pandemic progresses and eventually subsides, they are clearing the way for a gradual reopening of society. Social distancing is working, and our community is slowing the spread of the virus. Eventually it will be safe to get back to your normal activities, but for now, stay out of the salon.
Recommendations change as COVID-19 progresses, so be sure to stay current on updates from the CDC and follow the advice of your healthcare providers. For more information on COVID-19, visit the Memorial Hermann Coronavirus (COVID) Resource Center at memorialhermann.org/coronavirus.
Articles by Month of Posting