/

/

/

Adult Only Vacations – 7 Things You Did Not Know
Adult Only Vacations – 7 Things You Did Not Know
By:
Fox Travel | Published 07/08/2020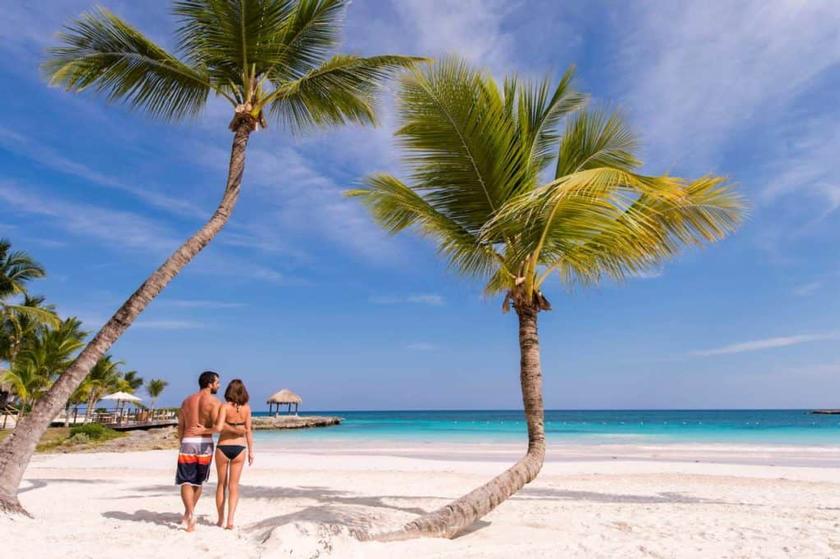 More and more frequently, we are getting inquiries and bookings for adult-only vacations. Over the years, our Travel Advisors have become pros at fielding questions about adult-only travel. Here are some tips to take the confusion out of adult-only travel.
So here are 7 Things You Did Not Know About Adult-Only Vacations:
1. It's okay to leave the kids behind (especially after all the months staying at home!)
We know it can be hard for devoted moms and dads to take a vacation without your children, especially if they're young or early teens. But waiting years for real "us" time is not exactly a formula for a strong relationship and staying connected.
We all get caught up in the hustle of balancing work, family, let alone nurturing the most important relationship we have with our spouse or significant other. Parents tend to put everyone else's needs ahead of their own and pack too much into each day. Think of travel as an opportunity to recharge. Remember, one of the greatest gifts we can give our children is a happy, energized parent.
Taking the occasional adult vacation, just the two of you, allows you to reconnect and grow your relationship without all the daily distractions. A bonus – your children will see they miss you!
Now, having said that, if your children are very young and you don't feel that you can leave them behind, several resorts offer children's areas, childcare, and adult-only areas. Ask any of the Fox Travel Advisor, and they can give you direction on which resorts cater to families, but understand the needs of couples have some time to enjoy alone or with other adult couples. We can fill you in on which resorts feature separate adult areas with adult activities while knowing your kids are having a blast.
2. Adult vacations come in many flavors, some spicier than others
Cruises, all-inclusive resorts, outdoor-centric like hiking, camping, sailing, and train adventures are just a few of the adult vacations that we book at Fox travel. The "flavor" of the trip often depends on what travelers long for like relaxation, physical activity, freedom from distractions, re-connection, and of course, romance.
In this part of the blog, let's talk about a particular "flavor" of adult vacations – spicy! You know you're looking for a little bit of everything stated above, and you want a little more. Maybe more freedom, more passion, more excitement, and adventure. Then you might want to know that several resorts in the Caribbean and Mexico offer au natural sunbathing areas. There is even a five-star, all-inclusive resort in Mexico where guests can be au natural anywhere on the resort grounds.
But you don't have to limit yourself to resorts. You might want to know that there are cruises each year that is a complete ship take over for couples only, some offering nude sunbathing. In fact, "Nacations" are growing in popularity with billions of dollars in discretionary income spent to travel to resorts and beaches that provide these adventurous travelers destinations. So popular, that this article appeared on CBS online, "Why travel's latest trend — the 'nacation' — is gaining momentum." At Fox Travel, we specialize in all kinds of travel and can help you navigate all the great choices. You can even use your American Express points to pay for your "Nacation."
Virgin Voyages recently launched its first cruise ship, the Scarlet Lady, sailing out of the port of Miami. They offer a unique cruising experience on a state-of-the-art ship. You even get to visit their private port of call, Bimini in The Bahamas. With no children are allowed, racy entertainment, and cabin configurations that are designed to bring friends, it's a cruise like no other. Our Travel Advisors are booking Virgin Voyages right now.
Many excellent all-inclusive resorts around the world cater to couples only. There are luxury cruises on small ships that offer a unique way to visit beautiful and historical places that often have more mature travelers. European River cruises are very popular with adults of all ages.
3. That adult only vacations are not necessarily the same as romantic travel
There are loads of different reasons for enjoying an adult-only vacation. Learning about history without boring the kids, educating yourself about other cultures, enjoying more physical activity outdoors, pursuing a hobby like scuba diving, or hiking or gathering memories that last a lifetime. These vacations may be with your special someone, by yourself but you may be traveling with adult friends.
European River cruises are not only luxurious; you immerse yourself in the history and architecture of Europe. Alongside more modern architecture are buildings, built in the 15 and 1600s. Europe is an excellent destination for walking and bike tours, which gives you time to explore at a slower pace and get lots of exercise or check off a bucket list trip.
Of course, the Caribbean is a particularly popular destination. For active adults, there are so many things to do and to see besides lounging on the beach with a piña colada or a margarita. That tropical cocktail is waiting!
An adult-only vacation that is on a surprising number of people's bucket lists is African safaris. It's one thing to see animals in the zoo, but it's a lifetime experience to see them, and they're own natural environment. Of course, that could be a family trip as well, suited to older children as the journey is long getting there.
So whether do you want to see the Eiffel Tower in Paris, climb Machu Picchu in Peru or relax an overwater bungalow in Bali, Jamaica, St. Lucia or Mexico, we can assist because we've been there.
4. The hottest adult only vacations are not always hot
Some of the hottest adult-only vacations may really be cool. Cruises to Alaska are our number one requested cruise.
Although there are no cruises that are exclusively for adults in this category, the smaller luxury, all-inclusive voyages rarely have children. Their activities and amenities are more geared to adults. So if magnificent scenery, being pampered, and incredible sea life resonates with you, you will love an Alaskan cruise. For more about cruising for adults, here is our blog on the topic.
A growing segment of adult-only vacations is Canadian and European train vacations. Canada has an exceptional rail system that allows you to travel from one stunningly gorgeous place to another. The Orient Express in Europe is another popular train vacation. We find that people often go with friends on train vacations.
5. The hottest adult-only resorts that you will love
There are adult-only resorts all over the world. Some of these resorts are in the mountains, others are Lakeside, but by far, the most popular are beach locations, especially those with a tropical climate. Many of these resorts are all-inclusive.
At Fox Travel, we are specialists in the preferred resorts we recommend to our clients. We make sure that all of our travelers get the best rates, perks, resort, or spa credits, often only available to travel agents. If you're thinking of booking a resort that we have had poor feedback about, we will let you know that as well. We know everyone travels on the budget and will provide you with options to fit your budget and your desires.
But not all are equal in terms of the value for the dollars you spend. Chances are if you call us to book an adult-only vacation, it will be at the resort that we have been to or ones that clients have visited and given us their feedback.
In Europe, for example, there are adults-only hotels and resorts in every country. But you'll find the most significant number of these resorts in the warmer countries. Spain leads the way with most adults-only resorts. There are hotels, resorts, and B&Bs in Greece, Croatia, and Italy, from lavish to charming.
If you'd like to stay in the United States, there is quite a variety of adult resorts depending on whether you want the mountains, the desert or the beach. Unsurprisingly, Miami and the Florida Keys with its tropical climate and turquoise waters are the most popular destinations, followed by California. But the deserts and mountains have their appeal too.
Speaking of tropical, the majority of our bookings are at resorts in the Caribbean and Mexico. Let us share some of our favorites. And if you are thinking of traveling for a special occasion, like a destination wedding, anniversary, or about vow renewal, each of these resorts is the perfect location with the ideal amenities.
Couples Resorts has four locations in Jamaica. Fox Travel does more bookings for Couples Resorts than any other adult, all-inclusive resorts with good reason! Each resort is a stunning location with amazing beaches. The resort is all-inclusive, and the service is impeccable. Couples has a flair for creating the ultimate romantic environment. One little-known detail is that three of their four resorts have an au natural sunbathing area, which is a surprisingly popular draw.
The Karisma Resort group has five incredible yet unique resorts on the Riviera Maya in Mexico.
1. Karisma's Maroma Beach resort is on one of the gorgeous stretches of beach in all of Mexico. But what makes this resort extra special is that they are the first to have overwater bungalows in the Western hemisphere. The bungalows include glass floors and places and private access to slip into the warm Caribbean waters.
2. A bit further south, and closer to Tulum, is Karisma's most popular resort, the El Dorado Royale and the very private Casita Royal. It is an adults-only paradise where you are encouraged to slow down and savor each moment of your stay. You'll find world-class chefs, gourmet restaurants, your very own concierges, and bars that pour only from the top shelf.
3. Karisma's Hidden Beach Resort, next door to the Royal is a 5-star hotel with all the quality you get at their other resorts with a unique twist. Talk about a unique adult-only vacation! Hidden Beach is a very private clothing-optional environment. Guests are allowed to be clothing-free at all times and in all places on resort grounds, although most people dress for dinner. Guests can also access all the El Dorado Seaside amenities and restaurants (clothed) as part of their all-inclusive package. Call one of our Fox Travel agents for more information or pricing on this resort.
Karisma has resorts in Jamaica, Punta Cana in the Dominican Republic, and Europe.
Excellence Resorts are adult paradises. They have three all-inclusive luxury resorts. Two of their resorts are in Mexico on the Riviera Maya on the Caribbean side. Their third resort and our favorite is in the Dominican Republic in Punta Cana. The resort is situated 30 mile stretch of a picturesque tropical beach. One of the reasons we love this particular resort is that the surrounding areas are fascinating to explore, and there are many things to do both on land and sea.
Sandals Resorts are sprinkled on six different Caribbean islands. Each resort Is a five star, all-inclusive experience like no other. What they each have in common is they are on some of the most beautiful beaches in the world. Sandals have several resorts in Jamaica, including one in Negril. Here you will stay on one of the most beautiful stretches of the famous 7-mile beach where you can even find stretches for nude sunbathing. Jamaica is a very diverse island with waterfalls, rivers, and of course, beaches. Whichever one of their resorts you book throughout the Caribbean, you'll find many activities such as scuba diving, snorkeling, boating, jungle zip lines, river rafting, and even a few rounds of golf.
Of course, there are many other adults-only all-inclusive resorts in the Caribbean, like Secrets. We're happy to talk with you about the ones you are considering. We have one more hidden gem to tell you about. Rendezvous Resort. They have only one resort, and it's on the island of St. Lucia. If you have never been to this stunning island, use the excuse to stay at the Rendezvous Resort. If you are looking for a quiet, intimate location where romance and pampering can be found, you will love your St. Lucia vacation. The spot is truly away from the hustle and bustle of life.
For the younger, edgier crowd, Temptations Resort Cancun, this adult-only vacation might just be perfect. Called the "Playground for Grownups," Temptations caters to a millennial and younger GenX clientele. The invigorating, adventurous atmosphere provides guests with endless fun and entertainment like theme nights.
Another resort for younger couples is Karisma's Sea Side Suites. With a party vibe and innovative tech amenities, millennials and younger GenX's love this resort. Give us a call for more information about booking Temptations or Karisma's Sea Side Suites with all the perks and protection a travel agent provides.
Of course, we know about many other adults-only resorts. We'll find just the right adult-only vacation with all the benefits of booking with a Travel Advisor. We will also let you know if we've had negative feedback on a resort you are considering. To read about more adult-only resorts, read our blog The Top 8 Best Adult Only Resorts here.
6. The benefits of planning adult only vacations
Relax and recharge – that's the point of a vacation, right? We all have stress in our lives, and as much as we love our kids, parenting can be one of those stressors. You might even find that taking a break allows you to be a better parent. Modern adult life is hectic. It's essential to recharge your batteries once in a while. Just the planning process can start your vacation, mainly if we help with the details. Go ahead, get excited!
It can make your relationship stronger – it's essential to have "couple time" and strengthen your bond, which is ultimately a good thing for your family. Remember how much fun you have when it's just the two of you, to talk about adult stuff or see an "R" rated movie? Not that you would change anything or a minute, but stepping back in time and focusing only on each other creates time for the intimacy that is so important to your bond.
Uninterrupted social time – whether you're traveling with your mate or with friends, it's a real treat not to have to entertain kids and be able to do uninterrupted and adult activities. When is the last time you were entertained vs. providing the entertainment?
Gramma and Grandpa time – if you're fortunate enough to have parents nearby, then taking time away just for the two of you, gives her kids or teens time for bonding with their grandparents. What grandparent doesn't look forward to having grandchildren all to themselves?
It's Fun – ask yourself, "Is it time for some old fashion fun?". Sure it's fun going places with the kids, taking family vacations, and doing kid-related activities. But sometimes it's good to remind yourself how much fun you have doing adult activities. Fun and relaxation provide balance to your otherwise busy life.
7. That it's the fastest-growing type of travel
Almost 40% of our website traffic is for our adult-only vacation pages. It's not that couples and friends have not been traveling without children before; it's that more adults are actively seeking adult-only experiences.
The number of adults-only resorts has boomed over the past few years to entice couples looking for relaxation, romance, and even spicy alternatives for vacationing. Imagine that romantic dinner on a tropical beach with no interruptions while enjoying a glass of wine or a tropical drink. Several resort brands even have clothing-optional or topless sunbathing areas for that "no-tan line" vacation.
The all-inclusive resorts each seek to come up with unique, moreover the top packages than other resorts. And that is great for you, the traveler.
At Fox Travel, we've experienced an increase in adventure and theme travel as well for adults. There is a vast world out there getting smaller and smaller, and competition for travel dollars makes seeing the world more accessible.
Why Book with Fox Travel?
Well, aside from the fact that we are fun to work with, there are many advantages to working with a travel advisor. We save our customers money and tons of time; we get the rates and perks only available to travel agencies and often resort credits. Although online booking offers can appear to be the best deal, usually by the time they've unbundled the deal and added exclusions, they are more expensive. The other thing you just can't beat is we've been to every one of the resorts we recommend and have a relationship with the resort managers and owners. Here is a page on our website about The Top 10 Reasons to Use a Travel Agent.
So how do you get hold of one of our knowledgeable (and fun) Travel Advisors to talk about an adult-only vacation or family travel? Glad you asked! You can call 800-256-2128 M-F from 9 is to 5:30 pm, email us M-F at info@foxtravel.net or message us seven days a week on Facebook. Remember, If you are an American Express cardholder, ask us about paying with points.
To learn more about Team Fox or our Travel Advisors, visit our team page.
For the book online folks, you can use our Book Online page and still get all the perks of working with a travel advisor!