/

/

/

The importance of play
The importance of play
By:
The Woodlands Children's Museum | Published 08/03/2020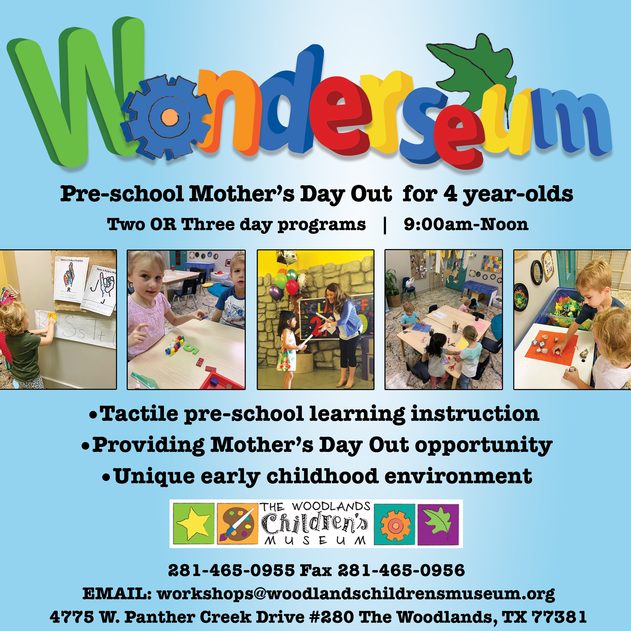 Wonderseum for 4 year-olds
Wonderseum was created to assist with the need for an expanded Mother's Day Out program, providing pre-school objectives in our community. It was built on the belief that PLAY comes FIRST and that PLAY provides a secure environment for discovery and learning. Recognizing that 4 year-olds need social interaction and cognitive development, our program is offered 2 or 3 days a week with a class size of only 10, allowing our educators to have an abundance of time to engage with students.
This past year, our little "wonders" graduated on stage celebrating a one year journey of creative learning in a nurturing environment. With a Reggio Emilia inspired environment and located inside the museum, they were presented with projects that embellished their fine motor skills and self-expression, while preparing them with Kindergarten readiness skills.
Math exploration provided open-minded activities discovering number recognition and counting through graphing with shells, cards, dominoes and pompoms. Clothespin number wheel was played, Leap Frog counting was mastered and geometric shapes were introduced while threaded beads taught addition and subtraction.
What's in a name? Beans, buttons, and dried leaves. Children were taught name recognition by placing loose parts into the outlined letter of their name creating opportunities for strengthening their hand muscles by writing in chalk and salt trays.
What's that smell? In science we explored the 5 senses and discovered what body part is responsible for hearing, tasting and smelling, while using a mirror. Cloud formations were studied and insect cycles were explained by creating stain glass butterfly art projects.
Balance was explained by building a balance scale while using Playdough to engineer structures with sticks.
Music enrichment presented children with the opportunity to experience the joy of music through weekly music classes where they sang, danced, and moved to a variety of music genres, discovered facts about different cultures and explored rhythm and rhyme.
Every class included hands-on experiences with activities involving parachute play, bean bags, scarves, rhythm instruments, or puppets. From acting out classic musical pieces such as "Carnival of the Animals" by Camille Saint-Saens to drawing/scribbling their feelings when listening to different styles of music, boys and girls were able to immerse themselves in a celebration of music!
Each day ended with a circle time reading that allowed each student to ask questions and express their thoughts and feelings of the story.
Wonderseum environment provides open-ended discussion and a "playful" approach to learning and discovery, while empowering children with an easier transition to kindergarten.
Please send a packed lunch AND snack with your child since the children will be eating lunch to introduce them to the new schedule they will experience upon entering Kindergarten.
More information here.
Registration form here
The Woodlands Children's Museum has provided great effort in creating this program to be convenient and affordable. There is a $10 non-refundable application fee that must accompany the child's application. Enrollment is subject to availability. Once the child's enrollment is confirmed, a confirmation letter and registration packet will be available and forwarded via e-mail. A $50 non-refundable curriculum, materials and supply fee is due at the time of completed registration packet.
Tuition may be paid in 4 equal monthly payments. $25 discount applied to PRE-PAID semester registration Museum refund policy applies. Please see the registration form for policy terms. Class size is limited to 10 children.Dates for Wonderseum
TWO-DAY PROGRAM
September 10th through December 17th
Meets Tuesday and Thursday from 9am-Noon
Member $860 ($215 monthly)
Non-Member $940 ($235 monthly)
No class 10/29 for SpookTacular event and Thanksgiving week 11/24 and 11/26
THREE-DAY PROGRAM
September 9th through December 18th
Meets Monday, Wednesday and Friday from 9am-Noon
Member $1288 ($322 monthly)
Non-Member $1368 ($342 monthly)
No class 10/30 for SpookTacular event and Thanksgiving week 11/23, 11/25 and 11/27
Articles by Month of Posting