/

/

/

Homeschool workshops now enrolling
Homeschool workshops now enrolling
By:
The Woodlands Children's Museum | Published 08/03/2020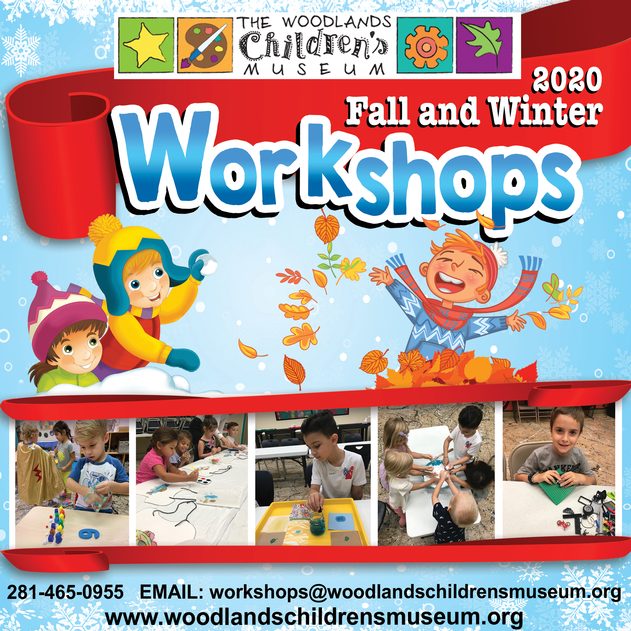 Our dynamic small group Fall and Winter Workshops offer age appropriate activities that are especially designed to foster creativity, promote self-expression and develop a young child's imagination.
Curriculum is designed to support the cognitive development of early learners through hands-on engagement. Critical thinking skills are nurtured through cause and effect interactive discovery learning techniques using the arts, dramatic play, squishing, sorting, mixing, swirling, collecting and building.
Our workshops are presented by experienced educators with a talent for piquing children's natural curiosity.
Scientifically ARTrageous Ages 6-8 year-olds meets TUESDAYS 9:00am-11:00am
Combining the curiosity of science and the beauty of art, children will embrace an exciting opportunity to discover basic concepts of science through art experiences. Knowing that children love to explore, experiment and discover, the focus is to build on this natural curiosity while combining the beauty of art and the fascination of science. Children will share this journey discovering and exploring the combination of art processes with science hypothesis and outcomes.
Tuesday 9:00am-11:00am
Dates 9/8-10/13, 10/20-12/8* *No classes 10/27 and 11/24
Member $99, Non-Member $119
Got Science? Ages 4 & 5 year-olds meets THURSDAYS 9:00am-11:00am
Curriculum is chosen to create a journey through the science spectrum of biology, chemistry, human anatomy, space and physics, while exploring physical and chemical properties of different elements, compounds and mixtures. Young scientists performing different slimy, fizzy and gooey experiments, discover answers to science questions like "Why does the moon keep following me?" while exploring our solar system, touching base with a few insects, dinosaurs and mammals and discovering all about "you." This workshop is scheduled for two six-week sessions with new curriculum each six-week session.
Tuesday 9:00am-11:00am
Dates 9/8-10/13, 10/20-12/8* *No classes 10/27 and 11/24
Member $99, Non-Member $119
LEGO® Frenzy Meets Righteous Robotiks 5 to 6 year-olds meets WEDNESDAYS 10:00am-Noon and 4:15pm-5:45pm
Aspiring engineers are introduced to the WeDo™ kits from LEGO® Education, building LEGO® models featuring working motors and sensors then programming their robot models to solve problems and create innovative projects. Children explore advanced concepts of building, such as balance within structures,ways of building structures and stability by building different models to help strengthen design development and problem-solving skills. While discovering energy, buoyancy and balance, children explore pulleys, levers, gears, wheels and axles by building simple models with LEGO® robotics pieces to satisfy a specific purpose, while exploring basic construction concepts, simple machines and how gears work. Curriculum is designed to develop skills in science, technology, engineering and mathematics. Righteous!!!!!
Wednesdays 10:00am-Noon
Dates 9/9-10/14, 10/21-12/9* *No class 10/28 and 11/25
Member $109, Non-Member $129
Wednesdays 4:15pm-5:45pm Note 90 minute class
Dates 9/9-10/14, 10/21-12/9* *No class 10/28 and 11/25
Member $99, Non-Member $119
E.A.R.L.Y. Robotics Meets EV3 Ages 7-10 year-olds meets THURSDAYS 10:00am-Noon and 4:15pm-6:15pm
Combining the well-known E.A.R.L.Y. Robotics program, created by NASA, that introduces 7 to 10 year-old boys and girls to engineering, with the new and expanded LEGO® MINDSTORMS® Education EV3 cross-curricular STEM curriculum, is certain to provide a hands-on solution that develops a strong understanding of the basic fundamentals of building and mechanical principles while engaging students by providing the resources to design, build and program their creations. The combination of E.A.R.L.Y. and EV3 can help develop creativity, critical thinking, collaboration and communication. Students build robots and realistic motorized models from LEGO® kits in a team-building atmosphere. Teams select pilots to operate the robot motors using basic on/off switches and manipulate through given obstacles and challenges to help complete missions. The EV3 system is a compact and powerful programmable computer that makes it possible to control motors and collect sensor feedback using the intuitive icon-based programming and data logging software.
Programming is done by dragging and dropping icons into a line to form commands allowing students to build simple programs, and then easily and intuitively build on their skills until they are developing complex algorithms.
Students with previous Robotiks experience will have the opportunity to be challenged with curriculum designed to take strategies to the next level. Minimum of 6 students for class to make as scheduled. Early (no pun intended) registration is suggested. E.A.R.L.Y. Robotics meets EV3 is designed as a semester long workshop
Thursdays 10:00am-Noon
Dates 9/10-12/17* *No class 10/1, 10/29, 11/26
Member $297, N 4:15pm-6:15pm on-Member $317
Thursdays 4:15pm-6:15pm
Dates 9/10-12/17* *No class 10/1, 10/29, 11/26
Member $297, Non-Member $317
Total fee for semester Member $297 Non-Member $317 Registration for E.A.R.L.Y. Robotiks Meets EV3 requires 50% of fee ($148.50) payable at time of registration. Remaining balance ($148.50) will be due 10/22. $25 discount applied to pre-paid semester registration. Museum refund policy applies. Please see registration form for policy terms.
Articles by Month of Posting