/

/

/

COVID test required for ALL U.S. Travelers to Jamaica until September 30, 2020
COVID test required for ALL U.S. Travelers to Jamaica until September 30, 2020
By:
Fox Travel - Associate, American Express | Published 08/17/2020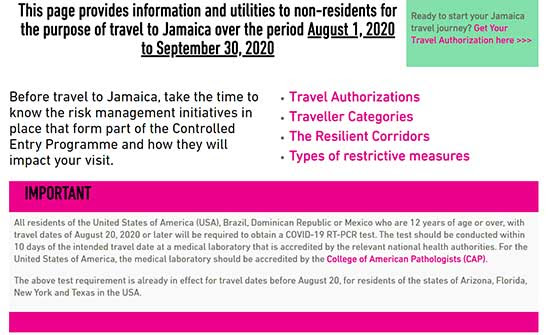 THE WOODLANDS, TX --
If you plan to travel to Jamaica in August or September, this affects you. See details below to report and pre-register Online before you travel.
For all U.S.A. travelers visiting Jamaica up to September 30, Jamaica requires a Covid test. The Travel Authorization online includes procedures to report online Covid results and immigration information before you travel.
See: https://www.visitjamaica.com/travelauthorization This site includes a lengthy FAQs section. See summary below and in this link.
For details, contact Jamaica Tourist Board in Miami at: 305-665-0557 or 800-233-4582. For assistance with the Travel Authorization form or FAQs, E Mail: support-jamcovid19@moh.gov.jm or call 888-786-2703 (you may hear a recorded message)