/

/

/

Water-saving Native Plant of The Week: Texas Clematis, Scarlet Clematis or Scarlet Leather Flower
Water-saving Native Plant of The Week: Texas Clematis, Scarlet Clematis or Scarlet Leather Flower
By:
Woodlands Water | Published 10/12/2020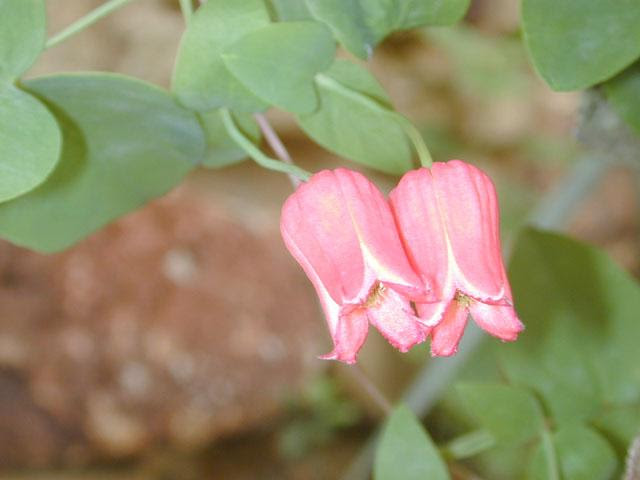 THE WOODLANDS, TX -- Texas Clematis, Scarlet Clematis or Scarlet Leather Flower
(Clematis texensis) - This is a native perennial vine common in Central Texas and Edwards plateau. It likes hot summers, blooms late summer-fall, red pitcher shaped flowers. This plant provides a subtle, beautiful accent to a shady moist area. It grows in any well-drained soil including alkaline calcareous soils, plumed seed balls, very showy, 6-8 ft. tall. Texas clematis is hardy to Z-5. It grows best with morning sun and afternoon shade. The plant is known to tolerate full sun, loose fertile highly organic soils with even moisture but it is very drought tolerant once established. The 1" long pitcher shaped flowers, bloom June/July to late autumn, often takes 2-3 years to establish before good blooms commence, will grow to 9' tall, often dies to ground in winter. It is host plant to the fatal metalmark buterfly (Calephelis nemesis). A few well known cultivars are: `Duchess of Albany', clear pink trumpets August-fall, vigorous climber 8-10', `Etoile Rose' - deep rose with paler center and margins `Gravetye Beauty' - star shaped flowers are deep satiny ruby red `Princess of Wales' - gleaming cherry red `Ladybird Johnson' - deeper huskier red.
Photo by Joseph A. Marcus, courtesy of Lady Bird Johnson Wildflower Center.
By: Bob Dailey
Articles by Month of Posting