/

/

/

Why Choose a Board Certified Oral Surgeon?
Why Choose a Board Certified Oral Surgeon?
By:
Northwest Oral & Maxillofacial Surgery - Technology Forest | Published 01/07/2021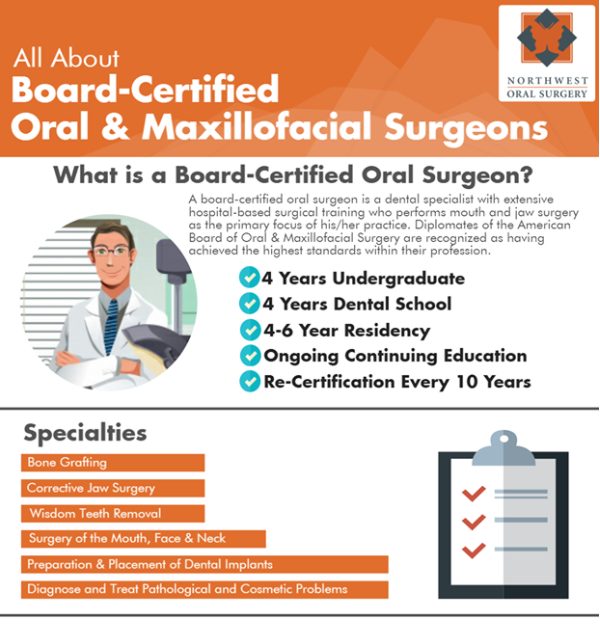 All about board certified oral surgeons image
Oral surgery probably isn't how you plan to spend your vacation days; it's not what most people consider to be fun. However, if you need surgery, your experience, including your recovery, will be better when you choose to see a highly trained and experienced Board Certified Oral & Maxillofacial Surgeon.
Yes, your dentist can extract wisdom teeth, place dental implants, and perform a variety of other procedures as part of their wide-ranging general dentistry practice. But consider that an oral surgeon has all of the training of a general dentist with an additional 4 to 6 years of specialized surgical training. Surgery is the sole concentration of an oral surgeon's practice. Additionally, oral surgeons have a wide variety of surgical instruments, equipment and specialized training to manage any complications or emergencies that may arise during surgery.
At Northwest Oral & Maxillofacial Surgery, our oral surgeons are board-certified by the American Board of Oral & Maxillofacial Surgery. Board certification is acquired after completion of a 4- or 6-year residency program, applying to take the board exam based on the case logs of training during residency, taking and passing written and oral board examinations and continuing education on an annual basis to maintain the board certification status. Board certification in Oral & Maxillofacial Surgery exemplifies the pinnacle of achievement in training and competency in the specialty. It is a marker that the surgeon has achieved the highest standards in the profession. All surgeons at Northwest Oral & Maxillofacial Surgery are board certified or currently pursuing board certification. They are also qualified by training and certified by the state board to administer IV anesthesia (deep sedation/general anesthesia) which allows for a more comfortable surgical procedure.
Before you ask your dentist to perform complex surgical procedures, contact Northwest Oral & Maxillofacial Surgery. We have seven board-certified oral surgeons, six office locations, and we accept most major dental insurances. Feel free to contact us through the website or call the office that is most convenient to you. We look forward to seeing you soon.
Articles by Month of Posting