/

/

/

Water-saving Native Plant of the Week - Sassafras
Water-saving Native Plant of the Week - Sassafras
By:
Woodlands Water | Published 01/25/2021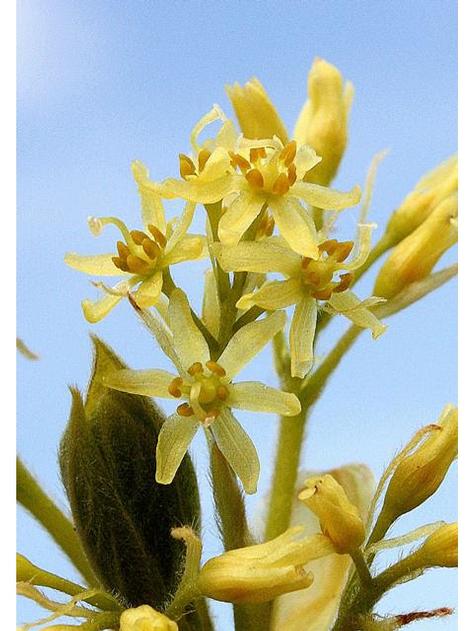 THE WOODLANDS, TX --
Small Trees - Late fall and winter are the times to plant trees. For the next few months, we'll be highlighting trees.
Sassafras
(Sassafras albidum) - The aromatic sassafras is a 35-50 ft. deciduous tree with horizontal branching in cloud-like tiers. The mahogany-brown bark is deeply ridged and furrowed. Little bunches of yellow-green flower balls are scattered profusely over the female tree, more sparsely on the male. Dark-blue fruits on scarlet stalks appear on female plants in late summer. Bright-green, mitten-shaped, oval, or three-lobed leaves have excellent fall color. The roots and root bark supply oil of sassafras (used to perfume soap), and sassafras tea have been used to flavor root beer. Very drought tolerant and will grow in sun to shade. Prefers moist, acidic soils, but almost any soil (rich, moist, sandy loams. Sassafras can sucker into a small grove but is easily controlled as a single tree. It is an appropriate tree to introduce into disturbed sites with infertile soil. It grows most quickly in fertile soil, and though it prefers well-drained situations, it will tolerate soggy feet. Except for occasional iron chlorosis caused by high pH soils, the tree is relatively free of problems.
Sassafras is allelopathic and can discourage the growth of certain other plants within its root zone. Birds like the fruit. A tea is made from young roots. Sweeten to taste. Only moderate amounts should be drunk. A spicy jelly can be made from strong tea with lemon juice, sugar, and pectin. Green winter buds and young leaves can be added to salads. The bark produces an orange dye, and the roots yield aromatic oil of sassafras, which has been used as a fragrance in soaps and perfumes.
Foliage is fragrant and good for birds and other wildlife. Larval host for Spicebush butterfly, Tiger swallowtail, Palamedes butterflies, and Pale Swallowtail.
Photo by R.W. Smith, courtesy of Lady Bird Johnson Wildflower Center.
Our Native Plant Rebate List now has color photos of each of the low-water-use plants for this area. Click here for the entire list.
By Bob Dailey
Articles by Month of Posting