/

/

/

Classes Next Week and Upcoming Events (March 8th - March 12th, 2021)
Classes Next Week and Upcoming Events (March 8th - March 12th, 2021)
By:
Memorial Hermann Canopy Cancer Survivor Center | Published 03/04/2021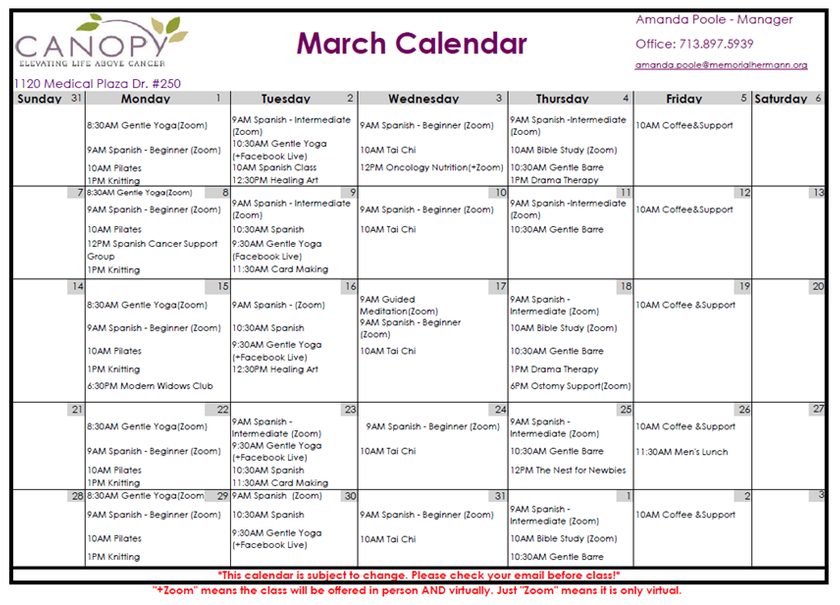 Happy Spring everyone! Well, almost Spring. In Texas I consider March 1 the beginning of springtime! I hope you are feeling hope seep into you like the warm sunshine we have today.
We are excited to relaunch a peer support group – The Nest for Newbies. This is for ALL newly diagnosed cancer patients, and we will talk about a different topic each month. Our first meeting will be in person here at Canopy March 25th. If you think this class should a a hybrid (in person AND streamed online) please let me know!
We continue to operate from 10AM to 4PM Monday through Thursday and 10AM to 2PM on Friday for the foreseeable future. Also , please remember that children under 18 are not permitted on campus, and to please wear a mask at all times unless eating/drinking or in an exercise class.
UPCOMING CLASSES (March 8th – March 12th)
Monday, March 8th
8:30AM -- Gentle Yoga: This is via Zoom: Yoga Link |Meeting ID: 822 5115 0553 |Passcode: 405134
9AM – Spanish for Beginners: Please email Cleo Lake for the link for this class at tildeken@yahoo.com
10AM – Pilates
12PM – Spanish Cancer Support Group: This is a peer support group for those impacted by cancer who speak Spanish as a first language.
1PM – Knitting
Tuesday, March 9th
9AM – Spanish for Intermediates: For Zoom meeting info, please email Cleo at tildeken@yahoo.com
9:30AM – Gentle Yoga: This will be in person AND via Facebook Live. Please go to Facebook, add Nuchapan Chianrapatanakom as a friend, and go to her page at 9:30 to follow along!
9:30AM – Spanish for Beginners: This class will be IN PERSON here at Canopy. You must RSVP to attend. Please do so by calling the Canopy front desk at 713.897.5939 or by responding to this email.
11:30AM – Card Making
Wednesday, March 10th
9AM - Spanish for Beginners: Please email Cleo Tilde at tildeken@yahoo.com if you're interested in participating.
10AM – Tai Chi
Thursday, March 11th
9AM – Spanish for Intermediates: For Zoom meeting info, please email Cleo at tildeken@yahoo.com
10:30AM – Gentle Barre
Friday, March 12th
10AM – Coffee & Support
Articles by Month of Posting