/

/

/

Are AP courses all that?
Are AP courses all that?
By:
Woodlands Test Prep | Published 03/15/2021
AP courses give students the opportunity to take classes with more advanced content and then demonstrate their mastery with an AP test toward the end of the school year. Many students (and parents!) find AP classes an excellent way to lower the cost of college tuition and move quickly to more interesting material in college. And while it's true that many colleges give college credit for certain scores on AP exams, taking AP courses and scoring well on the corresponding exams can be a boost in your college admissions process, even if you don't plan to use any of that credit in college. Since the College Board has now eliminated Subject Tests, AP exams are the one standardized measure of subject mastery. Many more competitive colleges will expect students to have taken the most difficult courses available to them at their high school, and these will usually be an AP course. So - yes - AP courses are all that!
What do my scores mean?
The College Board explains it this way: a 3 is "qualified" to receive college credit, a 4 is "well qualified," and a 5 is "extremely well qualified." In reality, each college decides what scores are required for what courses. Some colleges will give credit for a 3, while others require a 4 or a 5. Some colleges don't give any credit regardless of score; although a series of solid scores will enhance a college application regardless. It is more difficult to score a 3, 4, or 5 on certain tests. Below is a table with the scores from last year's AP testing to give an idea of each test's relative difficulty.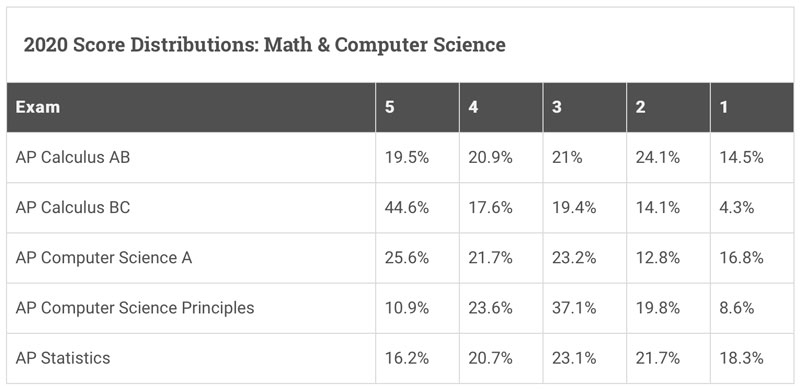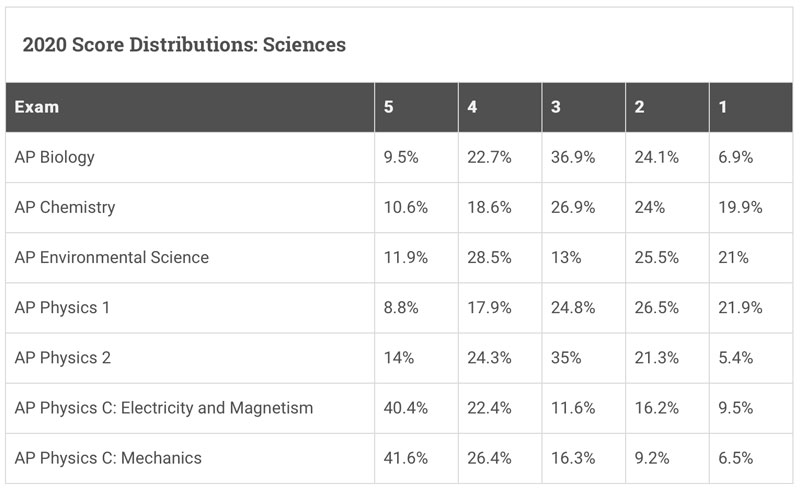 When is my AP test?
AP tests are given once per year, typically in the first two weeks of May. Last year's testing was beset by logistical challenges from the pandemic. This year's testing is expected to happen in a *mostly* normal fashion, especially here in Texas. If school closures prevent testing on the assigned day, back-up days have been created later in May and June. For up-to-the-minute updates on AP test dates and any changes, please visit the College Board website. The complete AP test dates for this year are found here.
How can I improve my performance on the test?
Like any skill, a student can improve his or her performance on an AP test with focused attention on mastering the content *and* mastering the techniques for taking that test. The College Board has provided a rich resource for both content and technique in AP Classroom. A student's teacher can (and hopefully has!) assign practice to do so that he or she can receive feedback on where his or her strengths and weaknesses lie. For students whose classrooms are bit behind schedule due to the pandemic, College Board has created AP Pacing Guides to help students get up to speed by their exam dates. Each week has a specific set of exercises to be done to augment the teacher's assignments.
Have more questions? Contact us at Woodlands Test Prep for answers to your AP and other testing-related questions. We love questions!
Articles by Month of Posting