/

/

/

New Providers Joining Our Team!
New Providers Joining Our Team!
By:
The Woodlands Behavioral Health & Wellness Center, LLC | Published 07/26/2021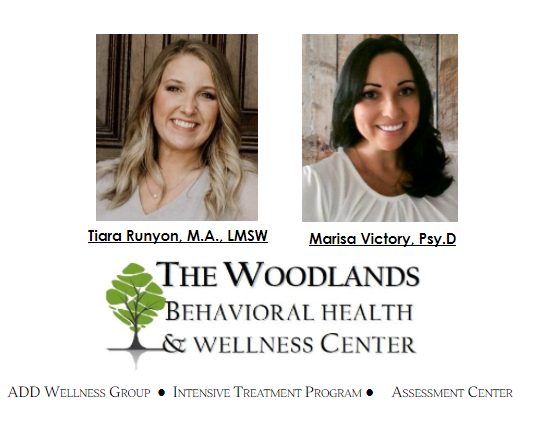 Dr. Marisa Victory graduated from Ohio University with a bachelors in Social Work and Ohio State University with a masters in Clinical Social Work. She proceeded to obtain a master of arts degree in Clinical Psychology at The Florida School of Professional Psychology (FSSP). She is now a graduate of FSSP with her Psy.D in Clinical Psychology and will be a postdoctoral fellow under the supervision of Dr. Jim Zettel, licensed psychologist, starting September of 2021.
Dr. Victory completed her pre-doctoral internship at the APA accredited Bay Pines Veterans' Affairs Medical Center where she gained extensive experience in the assessment of adults presenting with an array of diagnoses. Additionally, Dr. Victory completed doctoral training at an outpatient community mental health clinic as well as VA inpatient psychiatry consultative services, where she has worked with individuals from early childhood into late adulthood for a broad range of presenting concerns. These clinical experiences included extensive training in the assessment and treatment of neurodegenerative diseases, personality disorders, severe and persistent mental illnesses, trauma, and substance use disorders. Dr. Victory also has experience working in inpatient psychiatric units and has specialized training in gero-psychology. Her approach to treatment is integrative, merging an interpersonal and Cognitive-Behavioral model tailored to the unique needs of each individual.
Tiara Runyon holds her bachelor's degree in Psychology from Eastern Michigan University, a master's degree in Clinical Social Work from the University of Michigan and is a Licensed Master Social Worker.

She recently interned at a private practice and was also a group therapist intern at a residential facility. She has also worked as a behavior therapist for children with Autism for 3 years and is trained in Parent-Child Interaction Therapy as well as Executive and Life Skills coaching. Tiara is experienced working therapeutically with ages across the lifespan, with specific interest in working with children and adolescents who are going through life-transitions, behavioral issues, anxiety, depression and/or any other mental health disorders.

Tiara welcomes clients into a warm, judgement free, relaxed environment where they can explore themselves and the resources needed to achieve healing and growth.
---------------------------------------------------------------------------------------------------------
To schedule an appointment with one of these or an existing provider please call 281-528-4226.
---------------------------------------------------------------------------------------------------------
Articles by Month of Posting