/

/

/

Guide To Packing the Perfect School Lunch
Guide To Packing the Perfect School Lunch
By:
St. Luke's Health - The Woodlands Hospital | Published 08/31/2021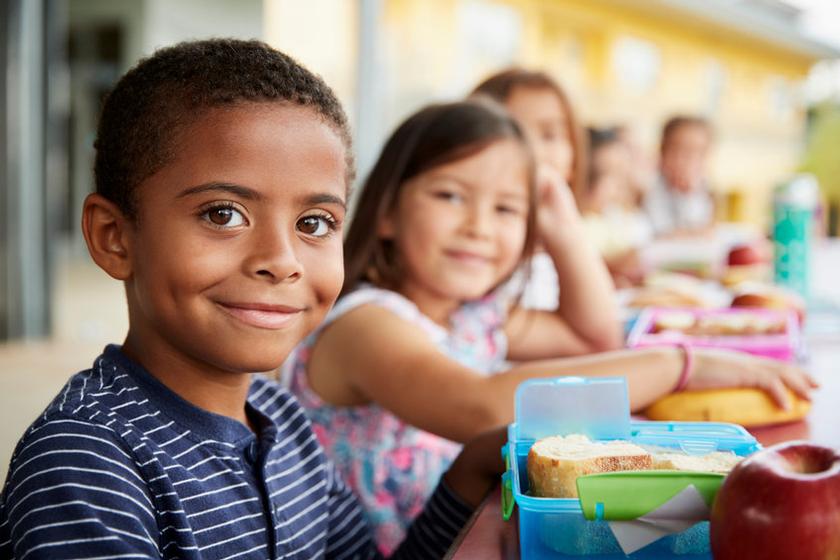 How can you help your child properly fuel to get the most out of their school day? We have a few tips for creating fun and nutritious packed lunches. Let's start with the basics.
A healthy school lunch should incorporate the main food groups.
While planning your child's lunch, you should keep the main food groups in mind to make a balanced meal. Every lunch should include:
One fresh fruit
You may add strawberries, blueberries, raspberries, or apple slices.
Two vegetables
Carrot sticks/chips, cucumber, broccoli, asparagus, and grape tomatoes are all great choices.
One healthy protein
Beans, mixed nuts, peanut butter, roasted turkey, and grilled chicken are respectable in this category.
One whole grain
You can substitute any bread item with the whole grain equivalent, such as pasta, bread, crackers, and oats.
One dairy item (optional)
Adding a greek yogurt, unflavored milk, or a small helping of cheese can benefit your child by giving them a good source of vitamin D, calcium, and potassium.
If your child has dietary restrictions that keep them from consuming milk products, dairy-free options, especially soy-milk and soy-yogurt, which provide excellent sources of the vitamins and minerals that milk supplies.
If you're concerned about your child's nutritional intake, feel free to adjust the servings to suit their needs better. Before changing anything up, it's recommended that you consult your child's pediatrician or family medicine physician so they can give you a better idea of what your child's nutritional needs are.
Examples of healthy school lunches to pack.
To get your creativity going, here are a few examples of healthy school lunches:
Chickpeas and wild rice, a cheese stick, sliced bell peppers, nuts, grapes, and a side of dip (hummus and ranch are great options)
Yogurt with honey, peas, black rice with olive oil, cheese, grapes, and nuts
Tuna, chocolate strawberries, and assorted veggies
Roasted turkey, coleslaw, strawberries, coconut shavings, and celery and carrots with a side of ranch dressing
Note that not all of these meals include every aspect of the main food groups. This is fine as long as you're adhering to the lunch aspects mentioned before. Feel free to adjust these meals to reflect the food groups better and make the meal more enjoyable for your child.
Use refillable water bottles.
A fantastic way to make sure your child gets the water they need while also helping reduce the usage of single-use plastics is to buy them a refillable water bottle. These handy bottles come in every shape and size, and some can even come with characters from your child's favorite show, game, or movie.
It's recommended that children aged 4-8 should drink 5 cups of water daily, children aged 9-13 should drink 7-8 cups of water daily, and children aged 14-18 should drink 8-11 cups of water daily. Drinking water instead of soda or juice has proven benefits that increase your child's brain function and physical performance. Again, water intake can vary based on your child's personal needs, so if your child's doctor recommends more or less water for them daily, follow their direction.
Have fun with the presentation.
It's probably not hard to believe that your child will most likely not care about how their lunch is presented, but don't worry because we have some fun and easy ways to make your child excited to eat their lunch.
Bento boxes
These Japanese lunch boxes are designed to hold every aspect of a single meal in different little compartments. They're great for kids who don't like their foods to touch each other and wonderful for separating sides from the main course. With small but deep pockets, they make the presentation easy and stress-free. They're great for the environment as well, as it reduces the amount of plastic bags and boxes one has to use when preparing food for their children.
Making food into fun shapes
Another fun way to make your child's lunches pop is by using cookie cutters to make some foods stand out. You can cut their sandwiches into little flowers or stars and use smaller cookie cutters to shape fruits like watermelon or bananas.
School lunch themes
Creating themes around the day's lunches can be fun for both you and your child. Maybe they have a presentation in a particular class or a music recital later that day; imagine your child's surprise when they open their lunch to see you've themed their meal.
The themes don't have to be too elaborate. For instance, if your child is having a ballet recital later in the evening, you could consider making them a lettuce wrap and calling it a "ballerina bun" or making one of the sides pink fruits cut into little triangles to mimic ballerina slippers. There's no pressure for the meal to be perfectly themed, just trying a little with the items you have can mean all the world to your child.
Notes for their lunch box
Our last recommendation is to include a small hand-written note with your child's lunch. It doesn't have to be much, but it could do a lot for the bond between you and your child, just by letting them know that you love them and hope that they have a great day at school. If you choose a theme, it might be fun to add a little hint or reference to what it is. For example, the aforementioned ballet-inspired lunch may include a note that says, "You've spun your way into my heart, my little ballerina. Have fun at school today! With love, Mom/Dad."
Articles by Month of Posting