/

/

/

Extra Room Ideas - How To Pick, Plan And Actually Finish Your Project
Extra Room Ideas - How To Pick, Plan And Actually Finish Your Project
By:
Mr Handyman of The Woodlands | Published 09/21/2021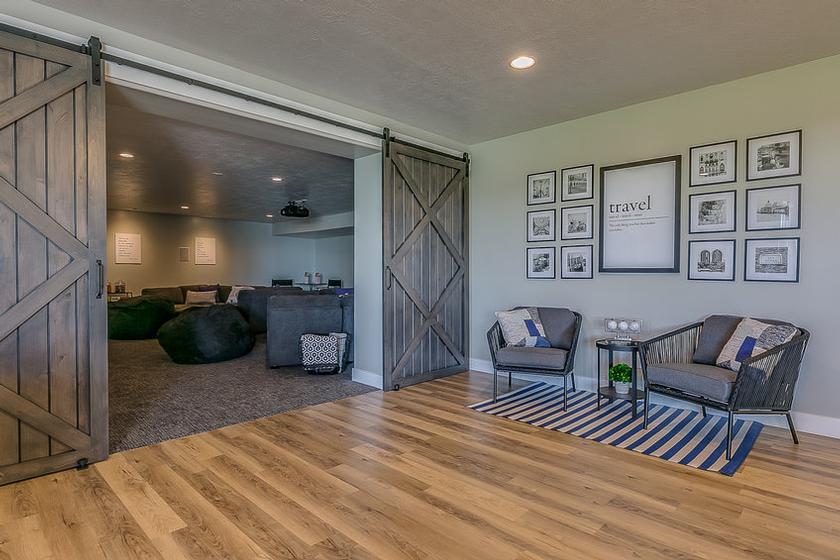 Have an extra room in your home that you are not sure what to do with? While there are plenty of great ideas online, it's difficult to figure out what to do. Plus, once you decide, planning and then finishing your project is a challenge, too! Whether you want to renovate your spare room yourself or need some assistance along the way, we can help you pick, design, and complete your project.
Pick an Idea
Before you decide to move forward with renovating your extra room or basement, you need to determine what will work best for you and your family. With countless suggestions - all of which may be appealing – you may feel a bit overwhelmed by the number of options. The best way to narrow down the choices is to prioritize the features that are most important to you. Start with the 'must-have' features and add on as your time and budget allow.
START WITH SAFE AND KID-FRIENDLY
If you have children or perhaps an elderly family member at home, it is essential to consider safety first. In other words, a gym or weight room may not be in the best interest of all family members, so cross those off your list. Determine what type of space would work well in the designated location of your home from a safety perspective. For example, depending on the size or location of your room, a playroom is an excellent option for parents with young children. Or, if the room has a separate entrance to your home or a bathroom nearby, it might make for an excellent mother-in-law suite or guest room. Either way, make sure the layout and design are safe, functional, and add value to your home.
THINK LONG-TERM
Once you determine the best option for your home from a safety perspective, the next step is to decide what would benefit you and your family long-term. If your children are older, a playroom may not be ideal - but a media, billiard or game room may be. If crafting is your passion, your extra room could serve as the perfect place to get creative and a little messy. If you know what you want and have a clear vision of how your room will be used in the years ahead, the possibilities are truly endless!
Related Topic: Renovations That Can Help Increase Your Home Value
ADD HOME VALUE
If you decide to merge your spare room with another room or remove closet space, this could potentially have a negative effect on your home's value. However, if you add closet space or extra features, such as a bathroom, this could potentially increase your home's value. Keep in mind that over-personalization of certain renovation or home projects, such as a hot tub or sauna room, could prove problematic when you decide to sell your home. So, it's in your best interest to select a type of room that has a more universal appeal or one that can be easily converted to meet another family's needs.
Planning Your Project
Once you have decided how to best utilize your space, it's time to create a solid plan to get it done. Like any good plan, yours should include a timeline, a list of materials, and a budget. If you fall short in any one of these three areas, your plan could be derailed before it even gets on track. Without a solid plan, you may eventually end up spending more time and money to fix problems than you would have spent doing it right in the first place.
BUDGET ACCURATELY
Setting a realistic budget is a key component to project success. Many projects fail or remain unfinished because the cost of material, time, and labor are not calculated correctly. Starting with a realistic estimate of material cost, time, and labor will go a long way to help you complete your project on time and within budget. If you fail to budget correctly, you may end up dealing with issues and repairs you can't afford. A best practice is to overestimate the cost of materials rather than underestimate them. List out every item you will need to bring your plan to completion - down to the screws, lightbulbs and wall plates needed. This will ensure your budget, and your project, stays on track.
GATHER THE MATERIALS
Taking time to gather the necessary materials, tools, and products you need for your project will go a long way toward helping you get it completed on time and within your budget. Keep track of how much you're spending as you go so you don't get overextended with either time or money. If possible, consider repurposing old or used materials to keep the overall cost down. The money you save using existing supplies or materials can be used for other parts of your projects. Make sure you keep all your receipts and maintain a running list of supplies and materials used throughout the project.
ESTABLISHING A REALISTIC TIMELINE
One of the most important things you can do before you start a project is establish a realistic timeline. The key here is realistic. Make sure to account for possible delays or times when you know you won't be able to work on your project. Write down target dates for each milestone and check them off as they are completed. Writing down your timeline and milestones may seem a little antiquated, but putting these things on paper makes them more tangible and real.
It's also a good idea to hold off on accepting too many social engagements, adding volunteer work, or planning a vacation during your project. It may sound drastic, but limiting other distractions and commitments will allow you to focus your time and energy on completing your project.
WHO DOES THE WORK?
Although you may choose to complete some tasks yourself, it's important to recognize your limitations and where you may need some help. Don't take on more than you can realistically (there's that word again) handle. Taking on too much or trying to do things out of your skill set could lead to frustration and delays, which could turn your DIY project into a DIY nightmare. If you need help, call the home project pros at Mr. Handyman to get your project completed.
If you want to get the whole family involved, create a display board that lists responsibilities for everyone. Assign each member of your family specific responsibilities that play to their strengths. Working together toward a shared mission and vision can be a rewarding experience for the entire family.
Celebrate Completion
Once you finish your project, it's time to celebrate! Set aside a day or night to celebrate with the whole family. Plan a special day at the beach or night at the amusement park. In addition to the satisfaction that comes with completing a project, a special reward can serve as a great added incentive.
Making better use of the extra space you have in your home is a great feeling, but deciding how you want to transform the space, planning, and completing the project can be a challenge. That's why we're here to help! At Mr. Handyman, we can help you budget, plan, and make your extra room project a reality. We'll help you decide exactly what your family needs while providing friendly, reliable service at an affordable price.
Articles by Month of Posting