/

/

/

Lazy Gardener & Friends - October 1, 2021
Lazy Gardener & Friends - October 1, 2021
By:
Nature's Way Resources | Published 10/01/2021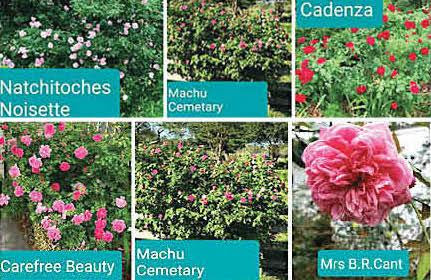 "Her lawn looks like a meadow, / And if she mows the place
She leaves the clover standing / And the Queen Anne's Lace"
- - Edna St. Vincent Millay. (1892–1950) American lyrical poet/playwright
We lazy gardeners picked up two great new words in recent weeks: "delawn" and "lawn herbs:
LAWN HERBS
Did you catch that clever play on words in John's
Sept. 3 (#403) column
? Worth repeating:
In some states what we call "lawn weeds" ecology-concerned folks are now labeling "lawn herbs."
Interesting alternative view for those of us who are coping with big water-guzzling, pollinator-unfriendly lawns for legal, financial, personal preferences or simply health/energy reasons.
?
But a change of perspective — looking at "lawn weeds" as "lawn herbs" — might make alternatives more palatable. Truth is, many of our weeds ARE attractive to the pollinators we're trying to attract to our gardens. Lawn grasses seldom are. They might be, if allowed to produce seed. Some, like dandelions, will even bloom on 1" stalks. But that defeats the highly-manicured lawn's
raison d'etre!
I love quoting two longtime friends:
Former Chronicle section editor BEVERLY HARRIS who always maintained, "a mowed weed looks just like mowed grass." And . . .
Longtime friend DAN SNYDER of NitroPhos Fertilizers, who frequently said pristine lawns today are to men what mammoths were in prehistoric times -- symbolic of macho masculinity.
Truth is, lawns aren't going away anytime soon, nor do probably the majority of folks want them to.
But lawns are steadily becoming more targeted, especially now that a growing number of homeowners are reported online to being paid to "de-lawn":
Minnesota is said to have allocated nearly a $1 million in incentives to transform lawns into bee-friendly wildflowers, clover and native grasses.
Grass front yards are banned at new developments in Las Vegas, where even the Strip's grass medians have been replaced with synthetic turf.
Assigned alternate day lawn waterings are common now in Western states and many Texas cities.
In Austin, current regulations require at least 50% of project's total required landscaped area must undisturbed natural area(s) or undisturbed existing trees with no potable (using water supply) irrigation. Watering lawn areas is not allowed before sunset with $400+ fines for running sprinklers in daylight.
Lawn watering penalties are being considered by North Carolina, where one option is a split water meter, one for lawn irrigations, one for household use -- with different base charges and alternate days for allowed landscape watering.
The term "lawn herbs" is still so new, I couldn't find much written yet, so not sure if they're referring to plants great for pollinators, or herbs we humans could actually harvest. But I'd bet money that in coming years, this is going to be a term we'll see a lot more often.
Most of us probably can't even identify the weeds/herbs we already have in abundance in our own lawns! Fortunately Texas A&M AgriLife has in
"Turfgrass Weeds."
Pictured: Arrowleaf Clover (
Trifolium vesiculosum Savi
) — white to pink blooms attract bees.
At our pre-Harvey home of 50+ years, my Lazy Gardener Laboratory (aka gardens) borders gradually moved outward to significantly reduce lawn area. Mowing-hating husband was bothered not at all. Had I "announced" my aim, he'd have probably pitched a deeply imbedded genetic macho fit. Hoping to gradually do same with new yard.
OCTOBER IS BONANZA PLANT SHOPPING MONTH . . .
for anyone hoping to add new garden plants, especially natives. Available at the Houston Arboretum Oct. 29-30 sale, eg, will be, l to r above, Swamp Sunflower, Scarlet Sage, and Goldenrod, among other landscape-friendly natives. Don't cringe at goldenrod! It does NOT cause allergies. The real culprit for this reaction is ragweed which, in the wild, is usually found growing in stands of goldenrod. (Check
Arboretum website
for parking tips).
NATIVE PLANT SOCIETY OF TEXAS/HOUSTON CHPATER'S WILDSCAPES 2021
is back and although it's already started, it is spread out over 4 evenings with an online plant & book sale afterwards. Online purchasing for registrants on October 10. Pickup will be on Saturday October 16, at a central location.
Details
. The Native Plant Society of Texas is an incredible group, so well worth joining if you're interested in, or looking for more, landscape-friendly natives. We have several very active area chapters.
Find a chapter close to you.
Also coming in October are . . .
FRI.-SAT, OCT 15-OCT 16: GALVESTON COUNTY MASTER GARDENER FALL PLANT SALE (Online). Noon Fri. to noon Sat. Browse begins Fri, Oct 8. store.galvestonmg.org
SAT., OCT. 16: MONTGOMERY COUNTY MASTER GARDENER HERB & VEGETABLE PLANT SALE and OPEN GARDENS, 9am-noon, 9020 Airport Rd., Conroe. Free. Online purchase pickup Oct.16 at sale site. 936-539-7824; mcmga.com
SAT., OCT. 16,: TEXAS ROSE RUSTLERS FALL CUTTING EXCHANGE & ROSE SALE, 10am, St. Mary's High Hill Catholic Church, Schulenberg. Free. Texasroserustlers.com.
FRI.-SAT., OCT. 29-30: HOUSTON ARBORETUM & NATURE CENTER FALL PLANT SALE, 9am-4pm, 120 West Loop North. (Inventory online Oct. 25). houstonarboretum.org; 713-681-8433
SAT., NOV. 6: THE WOODLANDS GARDEN CLUB PLANT SALE (at the) WILDFLOWER FESTIVAL, 10 am, Rob Fleming Park, 6055 Creekside Forest Dr, The Woodlands

.

thewoodlandsgardenclub.org
SAT. NOV. 13: HOUSTON FEDERATION OF GARDEN CLUBS PLANT SALE AND FOOD DRIVE.

10am-1pm, Trinity Episcopal Church, 1015 Holman.

houstonfederationgardenclubs.org. (MORE ON HFGC'S SALE NEXT WEEK!
?
Keep up with your county Master Gardener events at this link:
MORE THAN GREAT PLANTS can be found at these sales. Experienced gardeners behind the counter know about their offerings. Eg., Texas Rose Rustlers can advise you on which roses made it through Uri's February Arctic blast. TRR's Molly Buentrostro says these shown "had minimal cane damage and bloomed as well post Uri as they did pre-Uri.
Nature's Way Resources Blogs: (2)
Articles by Month of Posting