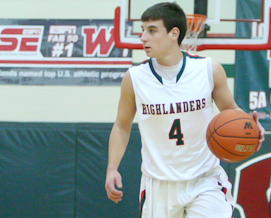 THE WOODLANDS, Texas – The Woodlands and College Park boys' basketball teams are headed on a collision course for Tuesday night at The Woodlands High School.

Both teams earned victories Friday night to remain unbeaten in District 14-5A play. The district leaders clash at 7 p.m. with the winner taking the early first-round lead in the battle for league supremacy.

"Huge game, going to be fun," The Woodlands coach Dale Reed tweeted shortly after the No. 11 state-ranked Highlanders (23-2, 4-0) survived a 47-44 scare at Kingwood.

Joey Trinkle scored 18 points and Nolan Cass added 14 more in the victory.

College Park kept up its end of the bargain as well. Riley Zinsmeister was nearly perfect Friday and the Cavaliers pulled away in the second half for an 83-51 victory over Atascocita.

Zinsmeister connected on eight of nine field goal attempts, including six of seven from 3-point range, to score 22 points. That keen shooting eye helped College Park to a 48-27 advantage over the final two quarters, extending a 35-24 halftime lead.

Evan Cooper also played a key role adding 17 points, five rebounds and four steals. Zach Wright contributed 11 points and six rebounds.

Justin Mauck and Jayden Holden scored nine points each while Bryon Makel added eight more. Layton Zinsmeister handed out eight assists and scored four points.

Vishal Duvvuru and Keanu Andaya rounded out the scoring with two and one point respectively. Desmond Fleming dished out four assists and grabbed two rebounds while John O'Donnell pulled down two rebounds and added an assist.

Elsewhere in District 14-5A action, Lufkin turned back Oak Ridge 60-49. Tanner Doyel led the War Eagles with 16 points.

Also, The Woodlands Christian Academy, ranked No. 1 in the state in Private Small Schools, downed St. Thomas Episcopal 68-45 behind a double-double from James Bento (16 points, 15 rebounds).