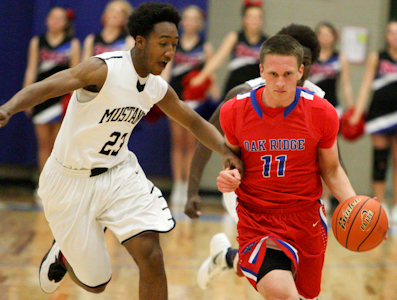 THE WOODLANDS, Texas – Joey Trinkle scored 21 points and controlled the game from the inside as The Woodlands High School boys' basketball team defeated the College Park Cavaliers 69-59 Friday. The victory avenged an earlier loss to College Park and kept alive a faint hope for a district championship.

Trinkle muscled inside to offset a 25-point performance from Cavaliers' Evan Cooper. Trinkle was one of four Highlanders to score in double figures. Garrett Burlas, called up from the junior varsity, scored 13 points while Brian Baehl and Garret Colonna contributed 12 points each.

Zach Wright scored 10 points and grabbed 13 rebounds while Layton Zinsmeister (seven rebounds, five assists) and Bryon Makel added nine and eight points respectively for the Cavaliers.

The Woodlands grabbed the early lead and maintained the momentum throughout the first half, extending a 16-10 first-quarter edge into a 37-27 advantage by halftime.

The home standing Cavaliers made a run early in the third quarter and cut the deficit to 40-38 with a 3-pointer from JT Mauck.

But Trinkle made sure the Cavaliers got no closer, hitting eight of 10 shots from the floor. The Woodlands held on for a 49-45 lead entering the fourth quarter and closed the deal with a 20-14 advantage in the fourth quarter.

The victory lifts the No. 16 state-ranked Highlanders to 28-4 overall and 9-2 in District 14-5A play while No. 15 College Park slips to 26-7, 10-1.

The Cavaliers can close out the district championship on Tuesday when they visit Lufkin. The Highlanders could pull into a tie for first place with a College Park loss and a Highlanders victory Tuesday (7 p.m.) over Conroe.