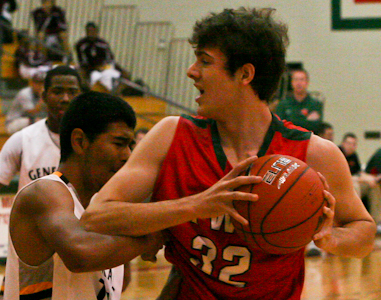 THE WOODLANDS, Texas – The Woodlands High School boys' basketball team advanced to the finals of their Thanksgiving Tournament before falling to Manvel 64-56 Saturday night.

The Highlanders were defeated for only the second time in seven games this season. They had breezed through the first three tournament opponents by an average of 30 points.

After defeating Houston Lee (90-67) and Westbury (80-38) on Friday, the Highlanders took care of Tomball (65-39) early Saturday in the tournament semifinals.

Junior Xavier Valdes scored 20 points, hitting 8-of-10 shots from the field, to lead the way. He was one of 10 Highlanders to score points. Senior Garrett Burlas was the only other to hit for double figures with 11 points.

Timi Adeleye finished with eight points while Cody Mason added six, Joe Primavera five, and Zach Manning four points. Garrett Smith, Clay Fisher, and Hayden Galatas contributed three points apiece and Garret Colonna scored two points.

The Woodlands plays at Klein Collins on Tuesday before participating in the Grapevine Tournament, Thursday through Saturday. The Highlanders' next home game is 7:30 p.m. Tuesday, Dec. 4, with Memorial.
The College Park High School boys' basketball team held off Willis 86-76 at home Saturday. A 30-point third quarter made the difference.
Jayden Holden led four Cavaliers in double figures with 16 points. Desmond Fleming and Keanu Andaya (six steals) added 14 points each while McKinley Green contributed 13 points. Bryon Makel, Tristan Newman and Sam Ossina finished with seven points apiece. Nico Chergotis and Chandler Morriss scored five and three points respectively.
The Cavaliers host Atascocita at 7 p.m. Tuesday before entering the Austin Bowie Tournament Thursday through Saturday.