/

/

Local business supports Habitat for Humanity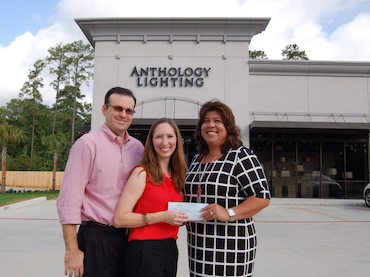 MONTGOMERY COUNTY, Texas - When the newly constructed Anthology Lighting store at 32411 FM 2978 in Magnolia held its weekend-long grand opening this summer, owners Jeff and Michelle Ber wanted to donate a portion of the profits from sales to benefit the Habitat for Humanity of Montgomery County.

Recently, the Ber's presented a $1,000 contribution to Isabel McDanel, Director of Development for Habitat for Humanity of Montgomery County.

"We were very honored to be contacted by Michelle and Jeff Ber and learn that they wanted Habitat for Humanity to benefit from the grand opening for Anthology Lighting," said McDanel. "It is heartwarming to experience the generosity of local business owners who think of those in need, and we are thankful for their support in our program and community we serve."

The 5,000 sq. ft. showroom is conveniently located at 32411 FM 2978 near Egypt Lane, between Woodlands Parkway and FM 1488. The Ber's previously owned French Market Lighting on I-45 North between Woodlands Parkway and Sawdust Rd. By expanding to their new location, the Ber's have now nearly tripled their retail space and service offerings.

Anthology Lighting offers stunning residential lighting products including the latest styles in chandeliers, wall scones, kitchen and bath lighting, LED lights, custom outdoor gas and electric lanterns in various metals, on-trend ceiling fans and alluring outdoor landscape lighting, as well as home accents.

"We are proud to give back to Habitat for Humanity as they do such important charitable work to help those who need a 'hand up' toward affordable decent housing which lends stability to family life," noted Michelle Ber. "We hope local residents will take note of our new showroom and stop by to peruse our beautiful offerings of distinctive home lighting."

Anthology Lighting is located at 32411 FM 2978 in Magnolia. The showroom is open Monday through Friday from 9 a.m. to 5 p.m. and on Saturday from 10 a.m. to 4 p.m. For more information, call (281) 298-5200 or visit www.AnthologyLighting.com.

Habitat for Humanity of Montgomery County, a non-profit interfaith ministry that brings the community together to build decent, affordable homes for those in need. For more information please visit www.hfhmctx.org.